Disney Cruise Line Reveals More Details on Newest Ship, Disney Wish
by Jessica Montevago /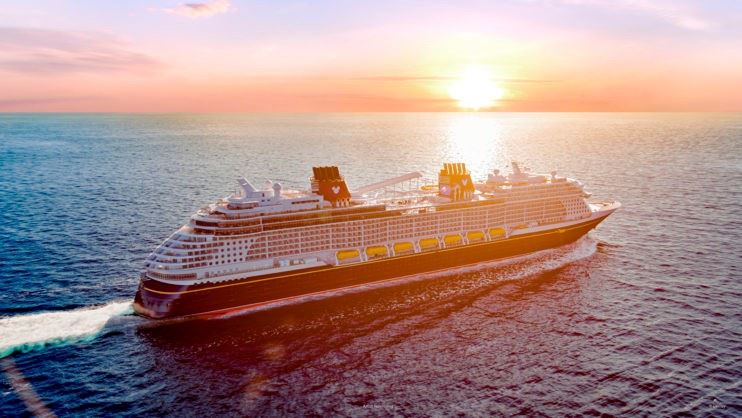 Disney Cruise Line unveiled more details Thursday for its newest ship, Disney Wish.
The Disney Wish will sail its maiden voyage — a five-night cruise to Nassau, Bahamas, and Disney's private island, Castaway Cay — on June 9, 2022, followed by an inaugural season of three- and four-night cruises to the same destinations from Port Canaveral, Florida.
Bookings open to the general public on May 27, 2021.
Most of the ship's 1,254 staterooms will offer an ocean view — including 877 with a spacious verandah — and there will be 451 connecting doors that adjoin rooms to accommodate larger families.
It will offer families new experiences and entertainment, including Mickey Mouse and Minnie Mouse aboard the first-ever Disney attraction at sea.
In another first, there will be a "first-of-its-kind" Star Wars experience onboard a Disney ship. Guests will embark on a space-jumping tour of the Star Wars galaxy at Star Wars: Hyperspace Lounge, a high-end bar styled as a yacht-class spaceship. This richly themed, immersive experience will be reserved for adults every evening, offering interactive tasting experiences and signature beverages inspired by destinations such as Batuu, Tatooine, and Mustafar.

Arendelle. Photo: Disney.
In line with the ship's theme of enchantment, a royal celebration will be held during a theatrical dining experience with "Frozen" friends. Arendelle: A Frozen Dining Adventure is Disney's first "Frozen"-themed theatrical dining experience that will bring the world of Arendelle to life through immersive live entertainment — featuring favorite characters like Elsa, Anna, Kristoff, and Olaf — and infused with Nordic influences.
This will be one of three new family-dining concepts set to debut.
Guests can also team up with the Avengers on a Marvel cinematic dining adventure. Worlds of Marvel is "the first-ever Marvel cinematic dining adventure," where guests will play an interactive role in an action-packed Avengers mission that unfolds around them, according to Disney, with a menu inspired by the Marvel Cinematic Universe.
1923, named for the year The Walt Disney Company was founded, will pay homage to the golden age of animation and with dishes inspired by California's unique fusion of cultural flavors.
In addition to the themed, upscale restaurants, the Disney Wish will offer a variety of dining options ranging from quick bites, casual dining, and 24-hour room service to specialty treats, gourmet cafes, and premium dining exclusively for adults.
The motif of enchantment can also be found across the ship's design, including a magical forest setting of the Walt Disney Theatre to storybook-inspired staterooms to the fairytale castle-inspired Grand Hall, where a dazzling wishing star descends from the shimmering chandelier above.
The Grand Hall will evolve from a fairytale gathering space into an environmental theater through built-in special effects and the first-ever atrium stage on a Disney ship.
"Daring to dream even bigger, our Imagineers are creating a breathtaking new world of enchantment aboard the Disney Wish," said Laura Cabo, portfolio creative executive, Walt Disney Imagineering. "This motif provides the perfect platform to infuse Disney storytelling into every aspect of the design, giving the Disney Wish its own unique personality and a completely new look unlike anything else at sea."
The entertainment hub, Luna, will transition from a daytime setting for family fun into an evening venue for adult-exclusive entertainment, offering a variety of live shows and interactive programming throughout the day.

Marvel Super Hero Academy. Photo: Disney.
At the Hero Zone, the sports arena will offer challenges and game show-style competitions for families to take on together.
The Walt Disney Theatre will host original Broadway-style stage productions developed exclusively for Disney Cruise Line.
Meanwhile, the Wonderland and Never Land Cinemas screening rooms will provide guests more to watch classic and first-run films from Disney, Pixar, Marvel, Lucasfilm, and more.
The Walt Disney Theatre is an opulent show palace that will come alive with original Broadway-style stage productions developed exclusively for Disney Cruise Line.
Disney Wish will also boast a brand-new family water attraction and three themed districts that offer dedicated space for families.

Aquamouse. Photo: Disney.
Guests will be immersed in "The Wonderful World of Mickey Mouse" animated shorts aboard the first-ever Disney attraction at sea, AquaMouse. Complete with show scenes, lighting, and special effects, the water ride will zig, zag, and zoom through 760 feet of winding tubes suspended high above the upper decks.
Families will have more pools, more deck space, and more dining than ever before in an expansive district themed to Mickey and friends, Disney said. In addition to AquaMouse, the area will feature six pools, staggered among tiered decks and surrounded by lounge chairs.
An all-new Toy Story-themed district is designed especially for families with toddlers and young children. This area will include a splash zone, wading pool, family waterslide, and smoothie bar.
For adults, the Quiet Cove will offer a peaceful refuge set away from the bustle of family activities. The secluded, adults-only district will feature an infinity pool, poolside bar, and cafe.
The ship will also offer dedicated clubs for every age group with programming facilitated by the care and expertise of Disney-trained counselors.