Lockdowns in Austria, Germany Force Christmas Market Cancellations
by Daniel McCarthy /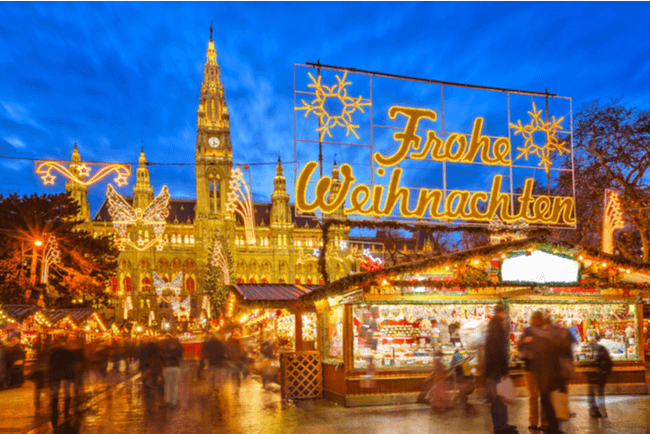 While travel restrictions have largely shrunk over the time since the COVID-19 pandemic began, news this week was a wake-up call for many in travel that its impact is still alive.
Austria last week confirmed it would be one of the first western European countries to head back into lockdown after its seven-day COVID infection rate hit a record 1,110 per 100,000 people.
Austria's lockdown, which started on Nov. 22 and includes a recommendation to work from home along with the closures of cafes, restaurants, bars, theatres, and non-essential shops, will last for 10 days and could be extended to another 10 days after.
At the same time, Germany, dealing with its own fourth wave of COVID with higher infection numbers than any previous waves (almost 40,000 per day according to Worldometers), is also starting to again restrict public activities, with government officials suggesting that another lockdown, including in many of the hardest-hit states, is not out of the question.
Those moves in both Austria and Germany have also forced the cancellation of some of the world's most famous Christmas markets, the second year many of the markets have been forced to close over COVID.
The closures, which began with Munich's market, now include those in the German states of Stuttgart, Bavaria (the Nuremberg, Passau, and Regensburg markets), Brandenburg, and Saxony (the famed Dresden market), along with Vienna (Dream Christmas Market), and more.
Because of what's happening in those countries, a number of river cruise lines have made decisions to either alter or cancel their Christmas Markets itineraries, sailings that have long been considered the most popular for the segment.
Tauck this week released a statement that "as a result of the current lockdown in Austria and the cancellation of all Christmas markets throughout Bavaria, we have made the difficult decision to cancel all 2021 departures of Christmas Markets Along the Danube and Holiday Magic: Danube Family River Cruise."
Tauck will still move ahead with its "Yuletide Spirit: Amsterdam to Brussels" itinerary this year, and said it expects that the cancellations will not have any impact on Danube sailings this spring.
Tauck's cancellations join both Avalon and Crystal River Cruises, two companies that have also opted to cancel a major part of their remaining 2021 season—both Avalon and Crystal have opted to cancel all remaining Danube river cruises through the end of the year.
AmaWaterways, in a statement to TMR, said that it has not yet made any cancellations but changes could come.
"We are aware of the recent announcement coming from Austria and are providing updates and options to travel advisors and their guests with immediate travel plans affected by the current situation. We will continue to monitor the fluid developments and encourage guests and travel advisors to check our Travel Entry Requirements webpage for the latest information," a spokesperson said.
Uniworld is also making changes.
"Due to Covid-related lockdowns in Austria and the closing of various European Christmas Markets, we will be suspending select Uniworld departures and are working on an alternative for guests still interested in experiencing the European holiday markets this year along the Rhine River," Ellen Bettridge, President & CEO of Uniworld said to TMR in a statement.
"Our 'Danube Holiday Markets,' 'Classic Christmas Markets,' and 'European Holiday Markets' itineraries scheduled to depart in the first two weeks of December have been suspended, and guests have been contacted to discuss replacement travel dates and sailing options."
Story updating.