Cruises will range from polar to tropical and sub-tropical expeditions.
Ponant, which has rebranded itself as a luxury expedition cruise line, unveiled the names and more details of its four new ships.
Dubbed "Ponant Explorers," the four will be equipped with the latest technology and possess Ice Class 1C certification, while keeping an intimate size of 184 passengers double occupancy. The first two ships will arrive in summer 2018 and the following two will be introduced in summer 2019.
Le Lape´rouse, Le Champlain, Le Bougainville, Le Kerguelen, the names of the four ships in the new Ponant Explorers series, pay tribute to great French explorers who set sail to discover new continents. Ponant said its name choice reflects its loyalty to the French flag. Ponant is the only cruise ship operator flying this flag, which it said is a guarantee of environmental quality, ship safety and good working conditions.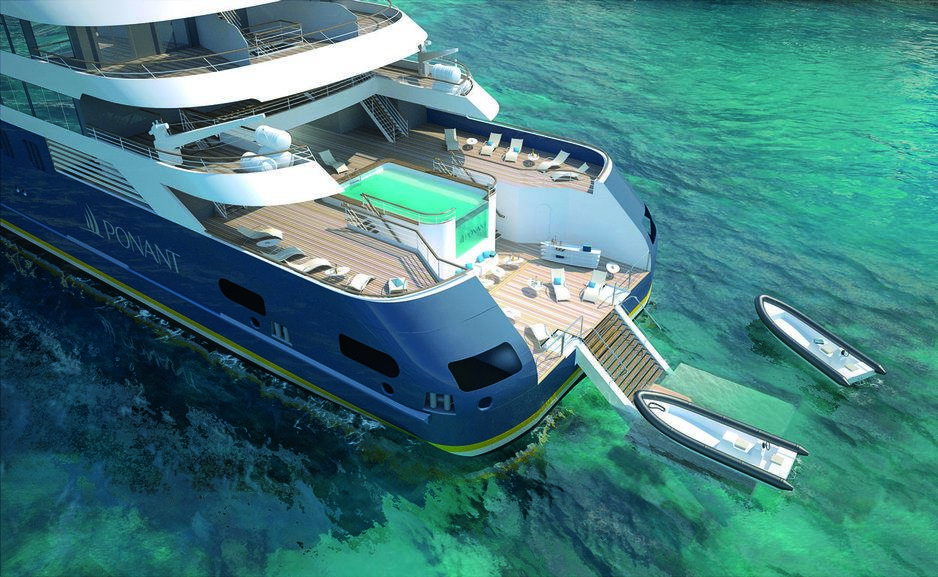 Ponant Explorers are designed to gain access to the most inaccessible locations in the world.
The four ships, each measuring 430 feet in length, will have 92 cabins and suites, and 110 crewmembers. They will comply with the international "Cleanship" label for innovative green equipment, including: a dynamic positioning system to avoid dropping anchor in order to protect the sea bed; silent and fuel-efficient electronic propulsion; FarSounder sonar providing 3D vision of the sea bed at different depths; diesel engines that can run on lighter, less-polluting marine diesel oil; wastewater and sewage treatment systems on board; and low-energy bulbs for lighting.

Rendering of the ship's main lounge.
They will feature shore visits and zodiac excursions, exclusive tours to previously inaccessible places, encounters with the locals, and opportunities to chat with experienced naturalist guides. Cruises will range from polar to tropical and sub-tropical expeditions in such destinations as Antarctica, the Arctic, the South Pacific, South America, the Amazon, Costa Rica, Papua New Guinea and the Indian Ocean.
Ponant was founded in 1988 by Jean-Emmanuel Sauvée and a dozen French merchant naval officers. It currently has four nearly identical 264-passenger ships—Le Boreal, L'Austral, Le Lyrial, and Le Soleal, as well as Le Ponant, the company's original 64-passenger sailing vessel. In October 2015, Ponant was acquired by Artemis Holding Company, owned by the Pinault family, which has focused on strengthening the brand and focusing on the luxury expedition market.