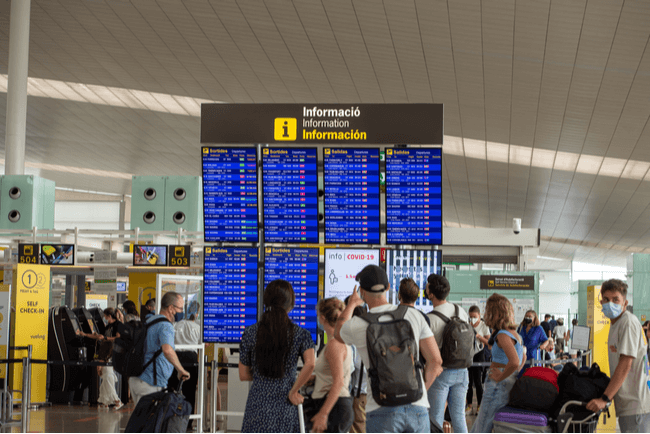 Just as The Netherlands has boosted its entry requirements in light of the European Union's most recent recommendation, Spain has announced its own new set of mandatory travel protocols for U.S. travelers.
Travelers will have to provide proof of full vaccination or recovery in order to come into Spain. Unvaccinated travelers will not be permitted to enter the country.
Spain will continue to admit vaccinated travelers from the U.S. who have received both doses of the Pfizer or Moderna vaccines, or the single dose of the Johnson & Johnson vaccine (or any other vaccines approved by the WHO), at least 14 days prior to arrival in Spain, as well as unvaccinated children under 12 years of age who accompany them.
All vaccinated travelers must also complete Spain's Sanitary Control Form or download the Spain Travel Health (SpTH) application. That will get them a QR code that they can present at boarding and upon arrival into Spain (no paper form will be accepted).
The move comes as the U.S. continues to outpace Spain when it comes to COVID-19 infections, averaging around 350 infections per 100,000 residents a day compared to Spain's 79. It also comes in light of the E.U.'s decision last month to take the U.S. off of its Safe Travel List, which, while non-binding, recommends all E.U. nations to reinstate restrictions against Americans and slow down the arrival of tourists because of a rise in COVID-19 cases.
In a statement reacting to the news, U.S. Travel Association Vice President of Public Affairs and Policy Tori Emerson Barnes said it was a "disappointing development."
"This is a disappointing development following the boost in inbound visitation by vaccinated travelers that many E.U. countries experienced this summer. It's a setback despite the uptake in vaccinations—the tool that's highly effective against the variants—which are on the rise on both sides of the Atlantic.
"Travel is a crucial component of the global economy and will be necessary for a full recovery from the economic devastation of the pandemic. We encourage the E.U. to remain open to vaccinated Americans, and likewise urge the United States to take immediate steps to begin welcoming vaccinated individuals and restoring our travel economy."