Sandals Royal Bahamian Delays Reopening as Refurbishment Expands
by Jessica Montevago /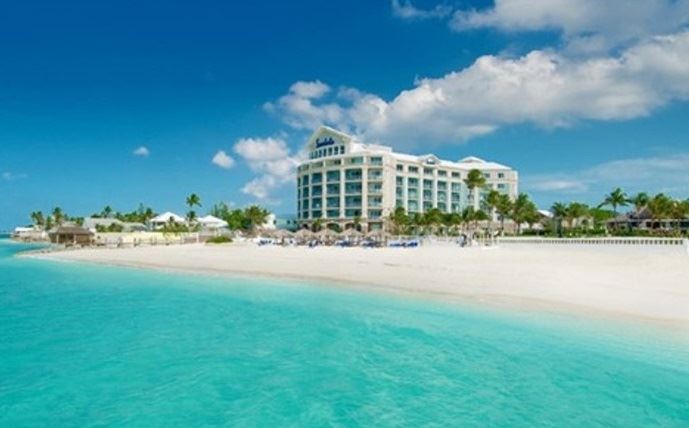 Sandals Royal Bahamian in Nassau will push back its reopening date to Jan. 27, 2022, as it expands the current multi-million-dollar renovation.
The resort will remain closed while construction is underway and will reopen for the 2022 season. Sandals had earlier announced that the resort would reopen on Nov. 4.
In addition to the already-announced river suites and refurbishment of over 200 rooms and suites, the project now includes a new concept, Coconut Grove, an expansive lounge area in the center of the resort with gourmet food trucks and views of the sea.
Sandals Cay, the resort's private island, will include updated lounge settings and new culinary experiences.
"Moving the opening date from November 4th was a very difficult decision," said SRI Executive Chairman Adam Stewart. "While we could reopen much of the resort, worldwide demand for commodities and supply chain disruptions are delaying our ability to complete the project's full scope. Keeping this hotel under wraps until it is absolutely ready is the right thing to do.
"We're in an environment of great expectation and when our guests arrive, it will be a place of Caribbean calm and cool that will definitely have been worth the wait."
Guests with reservations at Sandals Royal Bahamian during its closure will be accommodated at the available Sandals Resorts location of their choice including Sandals Emerald Bay in Great Exuma for guests wishing to keep their reservation in the Bahamas. Sandals Resorts will assume all airline change fees.
It's one of several projects Sandals currently has underway. The all-inclusive resort operator recently broke ground on Sandals Dunn's River, the first of three new resorts coming to Jamaica as part of a development project valued at $230 million. Sandals will transform two properties acquired last year, plus beachfront land, into three distinct resorts in Ocho Rios.
Once completed in Q4 2022, the new Sandals Dunn's River will offer 260 rooms including 48 signature SkyPool Suites, a first for Jamaica, which will feature a private cantilevered, solar-heated plunge pool with an infinity edge. There will also be 12 Swim-up Rondoval Suites with a Rooftop Terrace, both signature Love Nest Butler Suites, as well as 10 restaurants, including a specialty rum bar inside the brand's newest Latin Fusion restaurant concept 'Azuka', nine bars, seven pools including two river pools, and the Red Lane Spa.
Sister-property Sandals Royal Dunn's Rive will sit adjacent to Sandals Dunn's River. It's slated to be completed in 2023 with 250 rooms and suites.
A $250 million renovation of its third new location in Ocho Rios will see the Beaches Runaway Bay Resort become the third family-friendly Beaches Resort in Jamaica, boasting an estimated 400 one-, two-, three- and four-bedroom suites.