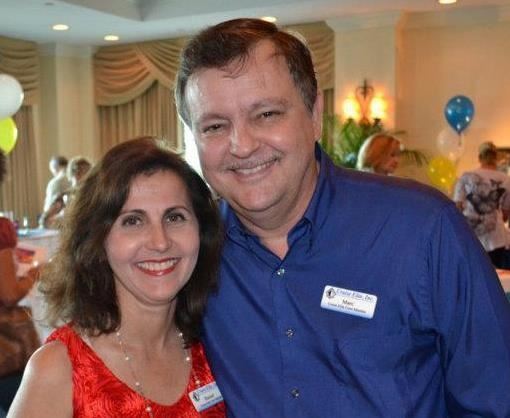 For Marc Hayes and Marisel Aleman, cruising holds a special place in their hearts, not just because it's the core of their business at their Cruise Elite, Inc. travel agency, but it's where they began their 17 year relationship.
It was thanks to a bit of fate around June 2003.
Aleman, who at the time was living in Miami, wasn't originally supposed to sail on Royal Caribbean's Adventure of the Seas. She had a different trip planned, but when her oldest son wanted to go on a cruise with friends, she decided to change plans and bring her other two sons so they could all travel together.
Hayes, meanwhile, was just getting involved in the travel industry. "I took my first cruise and got hooked," and flew down to San Juan to sail on the Adventure of the Seas with friends.
As Hayes describes it, he noticed Aleman dancing while at the ship's nightclub. "I happened to see this gorgeous woman. I waited until the music stopped and she sat down alone at a table, so I walked over to her and we ended up talking for four hours."
They hit it off, and soon would be flying Southwest Airlines from Miami to Ormond Beach to see each other. After six months together, Marisel moved to be with Hayes full time.
Once together, the two combined their passion for travel and love of cruises to start Cruise Elite, Inc. in 2004.
As they got to know their Royal Caribbean BDM, Hayes hatched a plan to propose to Aleman in the very same chair he met her in. With the help of Richard Spacey, cruise director at the time, and a production staff member, they pulled it off, and Hayes proposed in front of their close friends and family on board the Adventure of the Seas once again.
About a year later, the Mariner of the Seas moved up to Port Canaveral, and the two decided they would be married on board. Once again surrounded by 40 of their close friends and family Hayes and Aleman said their vows aboard another Royal Caribbean ship, where it all started, sailing a seven-day western itinerary.
"As we were about to say our vows they forgot to turn off the speakers 'Let's Play Bingo,'" Aleman laughed as she recalled the ceremony.
As their relationship blossomed, so did business.
"We started in our attic, and it really started for us because of our passion, and then it exploded," Hayes said.
Cruise Elite, Inc. became the number one seller of Royal Caribbean cruises in their market. In 2007, Aleman, vice president of Cruise Elite, was one of 20 advisors chosen from over 15,000 to serve on the Inside Sales Travel Agent Advisory Board for Royal Caribbean International thanks to her expertise.
"She doesn't stop working," Hayes said of Aleman. "There's no such thing as time off when you're a real travel advisor; you're never off duty."
Thanks to her dedicated work ethic and repeatedly helping clients at all hours ("She gets calls 2 in the morning. I will toot my horn for her, and she's fabulous.") Aleman won the 2019 ASTA Travel Advisor of the Year.
As for running a business with her husband, "I think we have different roles we play, so were not stepping on eachother's toes," Aleman said, adding that Mark handles the marketing and social media, while she focuses on selling and administration. "I think because of our passion of travel that's how we met, that's our glue."
The coronavirus pandemic has presented a new set of challenges.
Hayes said "the year before we had 17% increase in businesses, now all of a sudden it's like somebody unplugged a hole in the wall." A bright spot has been ASTA, who have "done a great job representing us."
"We have people who are ready to book, the 'cruise-oholics', and then there's the clients who want to wait and see how everything plays out, Aleman added. "We're basically rebooking everyone for 2021. Everything else we're doing is following up on FCCs. A lot of them have been coming in incorrectly and our people have to sit and wait on hold for the corresponding departments."
Aleman said she's taking it day by day and believes in seeing the cup half full.
Hayes, who together with Aleman have sailed upwards of 150 cruses, believes "it's going to take people like us and other travel advisors that take lots of people that are known to step on these ships to let everyone know it is okay."