Differentiation Pushes Bookings at Uniworld to Record Levels
by Dori Saltzman /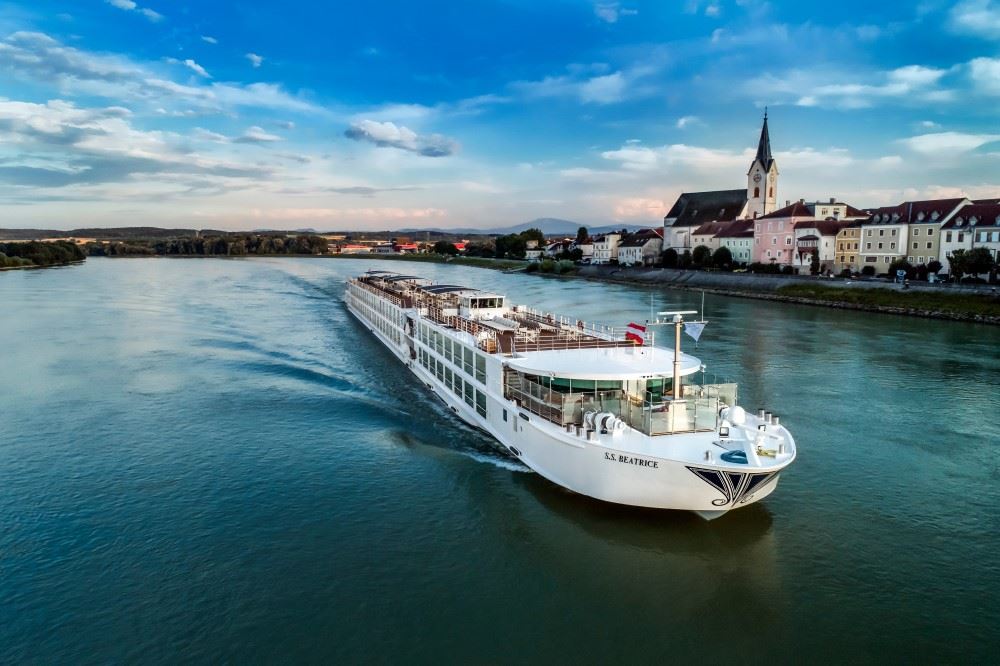 Like most other cruise lines – both ocean and river – Uniworld Boutique River Cruises had a phenomenal Wave Season this year.
"January, February, and March were record months for us, booking wise," CEO Ellen Bettridge told Travel Market Report. "In March, we had more visitors to our website than we've ever had at one time in a month."
Though Bettridge said she believes the desire to travel and the excitement to travel are a part of what's pushing bookings in general, specifically she believes what Uniworld is doing to differentiate itself accounts for much of their demand.
"My team and I have been focused on how do we put out things that get people excited about travel, things they can't get anywhere else," she said.
For instance, the company has been able to pull in a new customer through the growth of its cruise and rail program. A "Sacred Ganges & the Maharajas' Express" itinerary in 2024 is already sold out, she said.
"Someone who has been into rail in the past, they see the opportunity with our cruise and rail," she added.
The Mystery Cruise is another experience that's new and different for travelers.
"Those things are exciting for them. And they're aspirational."
Along the same lines, Uniworld is looking at new ways to expand its pre- and post-cruise land options. In recent months, the line has added Greece extensions and even customizable extensions.
Like the cruise and train offerings, the availability of a variety of land extensions appeals to a new customer.
"People who maybe have not considered cruising at all, maybe they have never ocean cruised and they're not sure about river cruising. To me, this is a great way to introduce them by offering a great land experience."
"It's also for our current customers and travel advisors" Bettridge added. "It's about creating something that's easy for them. One booking, one phone call, and have it all booked and taken care of."
Booking Window Still a Mix
One trend Bettridge said she finds surprising is the resilience of the last-minute booking.
"We're still seeing really close-in bookings. I am absolutely shocked."
As an example, she said Uniworld was able to fill a small number of vacancies on this June's Mystery Cruise by sending out an email last month.
"People are booking right now for June, which is crazy to me. That would never have happened in the past."
At the same time, the cruise line is getting plenty of bookings for 2024 as well.
"We're seeing the shorter bookings but we're also seeing amazing activity for 2024. You've got these close-in bookings, and then you have these other people who are booking far out."
The end of this year is also looking great.
"The Christmas Markets, for example, we have the highest occupancy than we've ever had at this point in the year."
The Uniworld Client
Travel Market Report asked Bettridge to offer advisors some insights into the Uniworld customer.
Uniworld cruisers, she said, are typically 60 years or older, and well-traveled. They appreciate nice things, expect good food, and prefer to stay at five-star hotels.
In terms of past cruise, experience, they might have sailed on Regent Seven Seas or Silversea Cruises before.
Perhaps most importantly, they have a desire to learn.
"What we hear from our customers over and over, what they appreciate so much about Uniworld and our excursions is just how much they learn. They still have that desire to keep learning even as they get older."
Of course, the best way to understand the Uniworld client is to sail on Uniworld, Bettridge said.
"We need travel advisors to see Uniworld, experience Uniworld, because we are different. We want them to see what the Uniworld difference is, from the style of our ships to the incredible service they get from our employees, which is what the crew is. They're our employees versus being contractors."