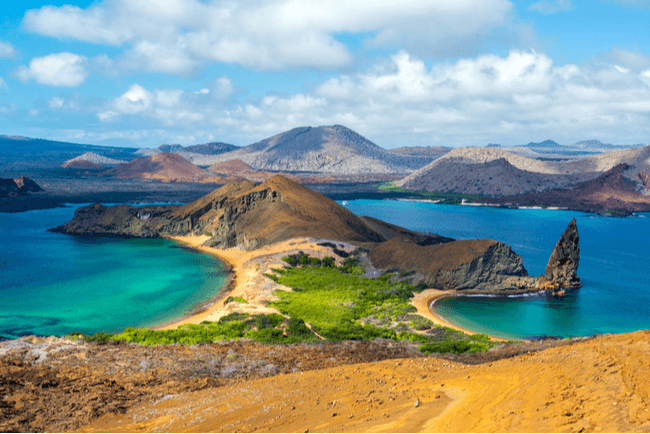 The International Galapagos Tour Operators' Association (IGTOA) has called upon the Ecuadorian government to better manage overtourism on the islands.
In a letter to Mauricio Efraín Baus Palacios, the permanent delegate of Ecuador to UNESCO, the group of tour operators urged Ecuador to set regulations to curb the negative effects of growing land-based tourism in the Galapagos.
"Ship-based tourism in the Galapagos has been an ecotourism success story and model for others to follow around the world in fragile natural habitats," Jim Lutz, president of IGTOA and president and founder of Vaya Adventures, told Travel Market Report. "Land-based tourism has been much less regulated and is growing at unsustainable levels and the more awareness is raised about this the better."
IGTOA wants Ecuador to implement its zero-growth tourism strategy that the country introduced in 2017. In the letter, IGTOA also asked for a raise in the park entrance fee, which is currently $100, and more funding for biosecurity and park management.
Calls to regulate land-based tourism came after UNESCO released a report outlining a rapid increase in visitors to the Galapagos in 10 years. Visitor arrivals grew nearly 60% from just above 170,000 in 2010 to more than 270,000 in 2019. In comparing pre- to post-pandemic tourism numbers, there was a 24% increase from March 2019 to March 2023, with nearly 33,000 visitors arriving in one month alone this year.
The Galapagos set a cap on the number of tourists arriving from passenger cruise ship fleets in 1998; therefore, it is believed that all growth in tourism is now land-based. For more than two decades, Ecuador has only allowed small ships with less than 100 passengers.
"Most ships are 16 passengers. It is smaller scale, high quality, highly regulated, limited, nature-oriented tourism. This is an ecotourism success story," Lutz said. "What would really be helpful is if the government of Ecuador realizes that people are paying attention and that its reputation for managing the Galapagos so successfully is in danger due to lack of attention to the issue of uncontrolled tourism growth in land-based tourism."
The archipelago is popular for its rare species of wildlife that have not survived on any other part of the planet. But the high volume of visitors increases the risk of introducing new invasive species that could threaten certain species' survival.
"More land-based travel and ever-growing land-based travel means more flights, more cargo shipments, more infrastructure, more food shipments, all of which means increasing risks of invasive species arriving with those shipments into a very fragile environment whose uniqueness is a direct result of its biological isolation over millions of years," Lutz said.
Lutz believes the islands, which are designated as UNESCO World Heritage Sites, are in danger of becoming an "overdeveloped tourist destination," noting that the Galapagos are "not a place to develop tourism unrelated to nature-based activities."