Lindblad Expeditions Expands Strategic Relationship with National Geographic, Walt Disney Company
by Dori Saltzman /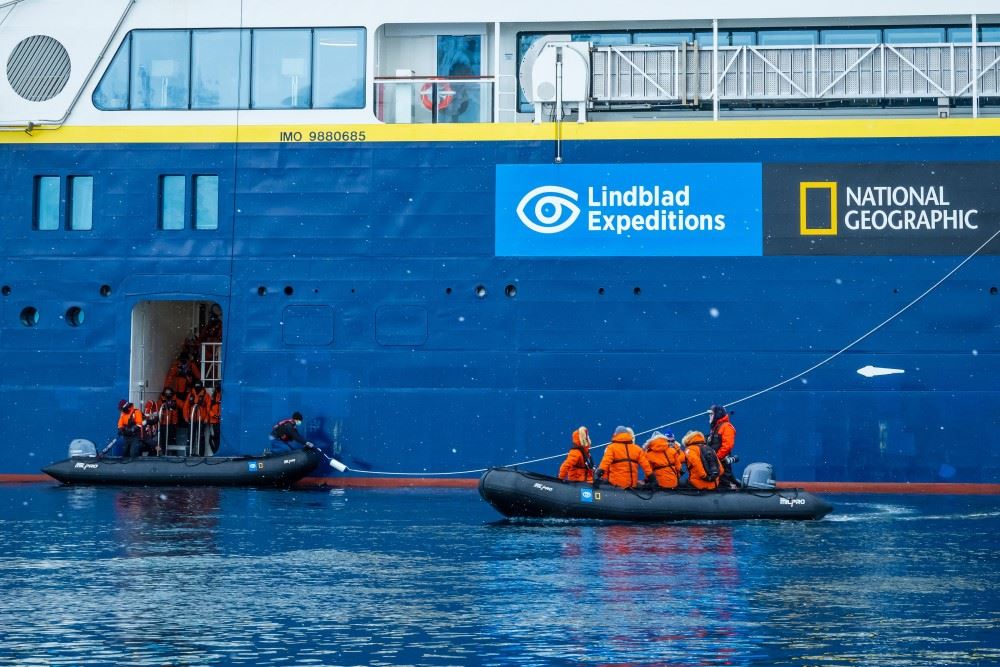 Co-branded Lindblad Expeditions and National Geographic Europe river cruises may soon be a thing of the future. So might a Lindblad-National Geographic-Adventures by Disney cruise, thanks to an extension and expansion of the relation between Lindblad Expeditions and National Geographic.
The expanded relationship brings Lindblad a further 17 years of National Geographic branding rights, as well as opens up worldwide sales and marketing opportunities with National Geographic's parent company, The Walt Disney Company.
Under the new agreement, Lindblad Expeditions gains global co-branding rights for expedition cruises, as well as co-branded river cruises. Previously, Lindblad could only market and sell co-branded Lindblad Expeditions-National Geographic cruises in the U.S. and Canada.
Currently, Lindblad operates river cruises on the Amazon, Snake/Columbia, Mekong, and Nile Rivers, with the Snake and Columbia itineraries onboard co-branded Lindblad Expeditions-National Geographic vessels, and the rest on charter ships.
In the United States and Canada, Lindblad will have exclusivity to operate National Geographic Expeditions on ships up to 295 passengers. Lindblad also maintains the right to expand its exclusive licensing of the National Geographic Expeditions brand globally, and to expedition ships with guest capacity of up to 530 passengers.
"This enables us to further expand into other rivers and even some more traditional river cruising markets, but with the brand lens of it being an expedition," Noah Brodsky, chief commercial officer for Lindblad Expeditions, told Travel Market Report. "We can now develop programming that is more in line with the National Expeditions brand. Think Zodiac cruising and kayaking, standup paddle boarding. It gives us all these opportunities to bring river cruising with our brand lens into more destination."
New branding and logo
A new logo and related marketing materials are scheduled to debut in 2024. As part of the new branding, Brodsky said, advisors can expect to see an elevation of the National Geographic piece of the brand. The Lindblad Expeditions component will still be there but more as a "signifier of the quality, authenticity and the pioneering nature" of the product.
"The Lindblad Expeditions is very strong with people who know us, the National Geographic brand has unparalleled recognition in pretty much every market in the world," he added.
Disney affiliation
Additional as an affiliate of National Geographic Partners, Lindblad will soon be able to distribute its product through Disney's sales channels and be supported by joint marketing campaigns.
According to Lindblad, access to Disney's distribution system will be "instrumental in reaching key new-to-expedition and new-to-brand travelers around the world…"
As part of the relationship, Lindblad will be doing a "robust marketing campaign" with Disney starting next year, Brodsky said.
"In addition, we'll be opening up sales through the Disney sales channels, so the Disney sales team will start representing National Geographic Expeditions for us," he added. That includes access to Disney's co-called Earmarked travel agencies.
"What's exciting about it for many of the Earmarked agencies is you may have clients that are looking for the next thing," Brodsky said. "They've taken their kids to Disney World and Disneyland for a decade and then they did the cruises and now they're asking what's next. There's a large audience of people who love the Disney experience and service levels and we're proud that we're a part of that and they certainly won't be disappointed when they come and travel with us."
As for whether advisors might see a Lindblad Expeditions-National Geographic-Adventures by Disney co-branded sailing, Brodsky simply said, he has nothing to announce but he's "excited about the future potential of where the relationship could go."
In the meantime, Lindblad is planning "significant" new training for Disney advisors, which should be available starting in fall 2024, about the same time advisors will be able to book Lindblad Expeditions-National Geographic sailings via Disney sales channels. Lindblad Expeditions' training will also get updated as pieces of the expanded relationship role out.
"We'll keep all of our trade partners very well informed as we make any real changes," he said.
More Nat Geo onboard
Finally, Lindblad is also looking to further enhance the onboard guest experience with more immersive storytelling and experiences fueled by its relationship with the National Geographic brand.
Currently, National Geographic touchpoints are found throughout each expedition, including the presence of a certified photography instructor, with National Geographic training to help guests hone their photo skills.
Under the new agreement, guests will enjoy more National Geographic content throughout each step of their expedition, from booking until after they return home, as well as enhanced in-field interactions with National Geographic experts.
"We're going to further deepen the way that we use National Geographic content onboard to tell stories and enrich the experiences in the places we go through the National Geographic lens," Brodsky explained.