MSC Seascape to Feature High-Tech Fun, Including a Robotic Arm That Flips Riders
by Dori Saltzman /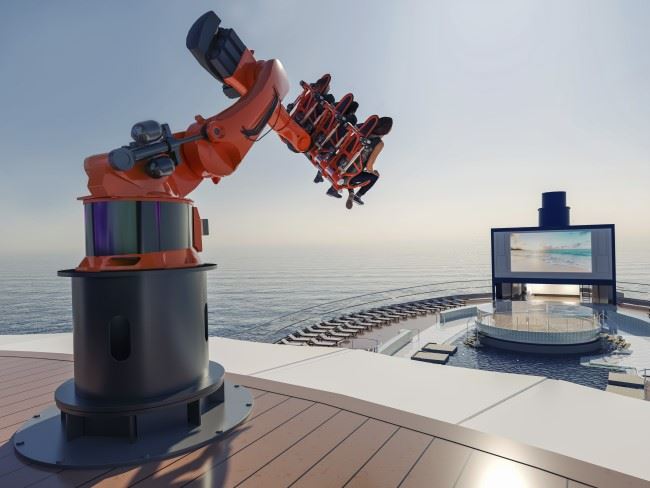 MSC Cruises' new North American flagship, MSC Seascape, will feature a variety of high-tech fun, including a funky robotic arm that lifts and flips passengers upside down, and two new VR experiences.
"We are excited to give our guests more access to cutting-edge experiences," said Ruben A. Rodriguez, president of MSC Cruises, USA. "We're the first cruise line to offer something like Robotron at sea and we can't wait for thrill-seekers to discover the ride of their life surrounded by the beauty of the Caribbean. "Our new virtual reality motorcycles and flight simulator – plus fan favorites like the MSC Formula Racer and XD Cinema – will also feature truly immersive experiences, providing the most exhilarating line-up of rides we've ever offered."
The high-tech highlight of the ship will be Robotron, a robotic arm with an attached gondola that seats three guests, taking them up nearly 175 feet above the sea. The experience gives riders an unobstructed 360-degree view of the horizon as they hang over the deck, flip upside down and move in all directions.
Robotron riders will be able to select their desired level, ranging from family-friendly to high intensity. They can also set the mood with a variety of colored lights and music preferences.
New VR experiences will include a VR 360-degree flight simulator and VR motorcycles, complete with wind and water effects.
MSC Seascape arrives in New York City on December 5 after a 17-night crossing from Civatavecchia. The ship will be officially launched during a naming ceremony on December 7. The ship will then move to its homeport of PortMiami for year-round Caribbean cruises.