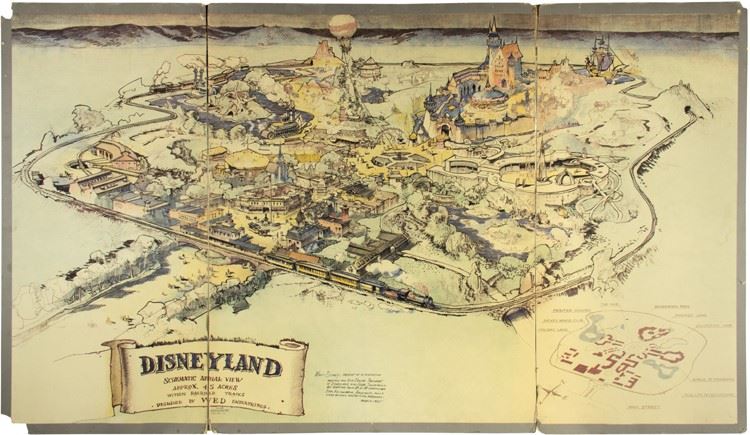 A rediscovered original map of Disneyland, co-created by Walt Disney when the park was being imagined, has sold for $708,000.
The map, said to be key to obtaining the financing the Disney brothers needed to begin construction of Disneyland, has not been viewed by the public in more than 60 years.
In late 1953, Walt's brother Roy Disney scheduled meetings in New York with leading banks and the three television networks – CBS, NBC, and ABC – to try to obtain financing for Disneyland. The brothers had technical drawings and a few blueprints, but employed friend and former employee Herb Ryman to draw an artistic rendering of the theme park.
Over a weekend, Walt Disney and Ryman created the drawing that was used to successfully win the financing, and was eventually enhanced with color for display purposes and as a promotional image in magazines and newspapers.
The map, which was expected to sell for $750,000-$1,000,000,was part of a 800-item collecton of original Disneyland props, costumes, souvenirs and artifacts auctioned off at the Sherman Oaks location of Van Eaton Galleries.