February 9th at 1pm TMR MasterAdvisor Series - What's Trending in Expedition Cruising and How to Sell It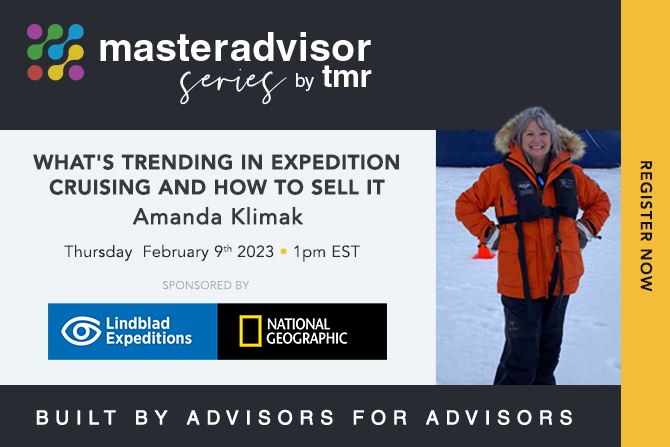 Got a client interested in Expedition Cruising? You don't know where to start? First off, you will need to inform yourself of the various expedition cruise offerings and know how to get your client qualified and placed on the right offering. You will also need to know how to explain the difference between a small ship expedition and a larger ship cruise. Overwhelmed? Don't worry, we have an expert.

Amanda Klimak, President & Co-Owner of Largay Travel, has always had a passion for adventure, so a career in the travel industry was the perfect fit. She believes the best way for advisors to learn how to communicate with their clients and book the right expeditions for them is first-hand experience, which she has plenty of in her 30+ year career. Join Amanda on a live and free Zoom session sponsored by Lindblad Expeditions-National Geographic on Feb. 9th at 1 PM EST to learn how to sell expedition cruises.