A Look Inside Heckfield Place, An English Country Palace
by Mary Gostelow /

Olivia Richli is Lady of the Manor at an epitomal English country-house hotel, Heckfield Place. The combination of flair and style of a GM who spent years at Aman properties (Adrian Zecha remains her mentor), and a product that is an 18th-century country palace set in 400 acres of exquisite landscape complete with forests, lakes, and a working farm … what more could anyone want? Oh yes, it is only 40 miles west of Heathrow, and it is owned by a passionate U.S.-based art collector.
Entrepreneur Gerald Chan had, it seems, an endless collection of stunning 20th-century oil portraits and black-and-white photographs, plus hundreds of beautiful antique chairs. Fortunately, in 2002 he bought Heckfield Place, and ran it as a conference center for some years before deciding it would be more suitable as a hotel.
Under Chan's care, what was originally intended to open in 2012, in fact, accepted its first guests on Sept. 1, 2018. With the combined Chan-Richli marketing skills, they hosted an afternoon tea party for locals. To spread the word about the 47 bedrooms, they invited five influencers, from different target markets, each to host one-night house parties for 12 guests, all of whom later posted and chattered - and the hotel got off to an immediate much-acclaimed start.
Olivia Richli partners with Virtuoso, but without additional consortium support, she still believes Heckfield Place will easily achieve the intended 50% average occupancy in its first year.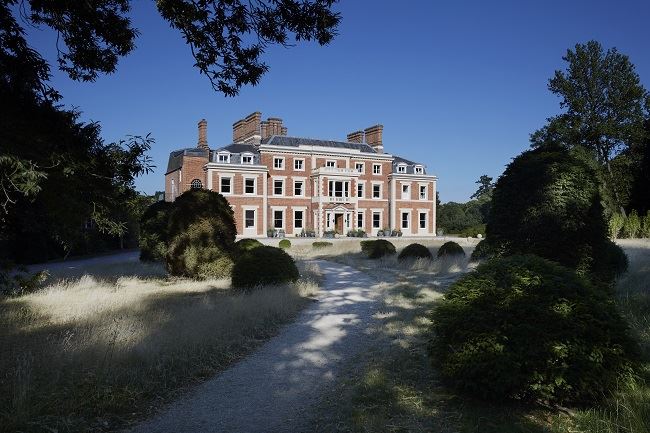 Heckfield Place, the English country-house hotel. Credit: Heckfield Place

A glimpse inside
What is it like staying here? After a long private driveway, "Downton Abbey"-style, you arrive at the statuesque front door of the original two-floor mansion. A couple of bellmen have been alerted by security back at the outer gate: These two, like all of the 170-strong team who are customer-facing, are clad in absolutely adorable period uniform, vaguely 1910-style – all the fashion is by Maureen Doherty, whose clients range from Mrs. May to actors, Maggie Smith and Tilda Swinton.
In through the front door, you gasp at high ceilings with chandeliers, and polished oak floors, and walls and furniture chosen, with discreet style, by designer Ben Thompson, a name to watch. You immediately have a view straight through the house and across sculpted gardens to a massive lake with a jet d'eau as high as Geneva's. Around you, there are displays of fresh flowers (home arrangements rather than hotel show-off displays). A half-finished jigsaw puzzle will, eventually, show Heckfield Place in the snow; in summer, another jigsaw shows the same picture, in the sun. Public rooms, like bedrooms, are hung with over 350 pieces from Gerald Chan's art collection, which he seems to change daily when he is in residence.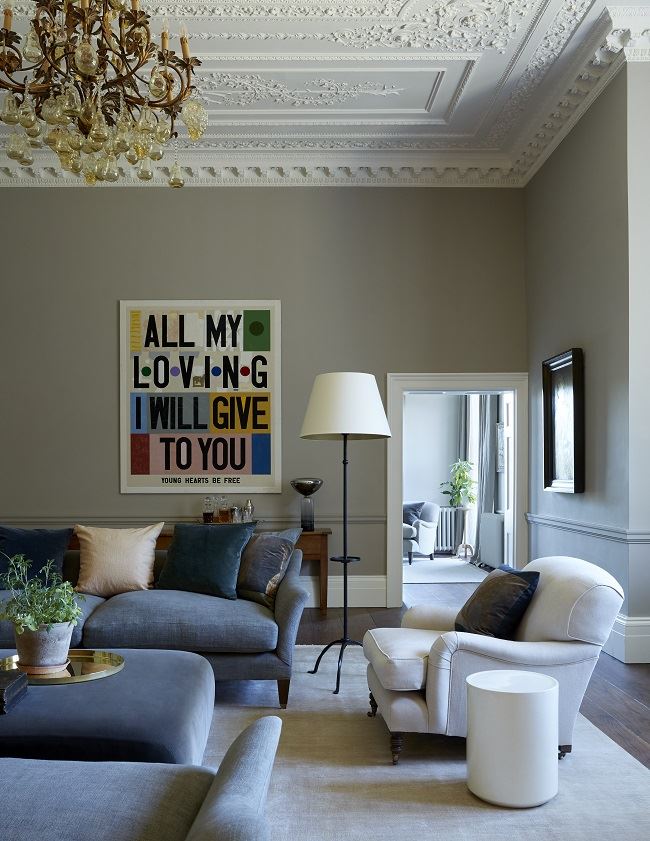 The mansion hotel is filled with luxurious rooms. Credit: Heckfield Place
Olivia Richli says one of the success secrets here is that accommodations vary from 330 to 1,900 square feet. I was in #30, a 550-square-foot space in the old stable block. It was styled with soft avocado walls, some hung with rush hats and baskets; matching cashmere throw on the bed that has a rush headboard; a bathroom with heated towel rail and Victorian roll-top tub, and cuddly Ploh robes; add half a dozen significant living green plants; and dozens of fascinating reads, including Virginia Woolf's "A Room of One's Own," chosen by Daunt Books.
The refreshment center is unique. Complimentary soft drinks include hotel-bottled still and sparkling waters, and lemonade. Instead of the now-ubiquitous espresso machine, there is an exquisite black cast-iron tea kettle: Place it on its stand and it boils, quickly (the ground coffee has a china filter holder and papers).
For the fit and farm-to-table foodies
The hotel is a base for the fit, and farm-to-table foodies. Following a printed map that shows what trees to look out for, I took a hike around a couple of lakes. Food is overseen by Skye Gyngell, whose addictive food first came to prominence at Petersham Nurseries. At dinner, I loved her burrata with crispy artichoke and confit lemon; followed by local River Test trout with samphire, and cauliflower purée, with a side of greens with Capezzana (Moraiolo) olive oil; and, to finish, a single scoop of homemade cardamom ice cream. I also liked the house red, Gayda En Passant 2016. (I had toured the 360-bin wine cellar.) The restaurant, which flows out to a garden-view terrace when the weather allows, is open to the public, and is full most nights.
The hotel serves gourmet farm-to-table food, which is overseen by Skye Gyngell. Credit: Heckfield Place
Non-residents are already coming from London, about an hour away, for special events. An Assembly program, overseen by exhibition specialist, Lucy Hyslop, has at least one event a day, including talks on memories and scent; and, using the 67-seat movie theater (which has holders for your wine glass), showings of, say, "Front Runner" and "Mary Queen of Scots." Separately, the educational company, Hole & Corner, offers day-long courses; coming up in April are learning rush weaving, and bench woodwork.
As you can see, there is so much to do at Heckfield Place, it is easy to understand why one party has already stayed four times, and there is a wedding buy-out next week (gosh, which of the many semi-hidden pagodas in the grounds would you choose for the ceremony?).
Coming up is the seven-room Bothy Spa, with 30-foot pool – and the Technogym is already open. Coming up, too, is the arrival of 40 Guernsey cows, who will hopefully coexist with Heckfield Place Farm's well-established chickens and sheep. As a former trainee lawyer, who swapped that life for working here as a bellman, said as I left, "This place is lots of fun and you learn something every day."