ASTA Gears Up for Second-Annual Advocacy Awareness Day
by Daniel McCarthy /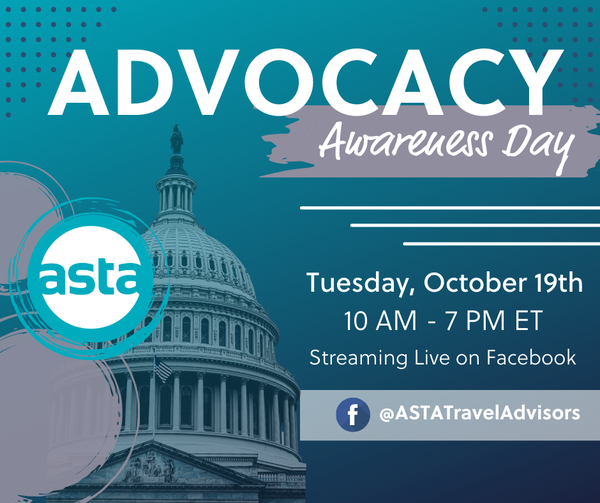 Tuesday, October 19 will mark the second-ever Advocacy Awareness Day for the American Society of Travel Advisors (ASTA). The day is another opportunity for ASTA members and non-members to get involved in supporting an organization that has helped the trade survive the pandemic, one of the most consequential events in the industry's history.
Vanessa McGovern, the co-founder of Gifted Travel Network and one of ASTA's newly elected national Directors-at-Large, spoke to TMR this week about the plans for Advocacy Awareness Day for 2021.
2020 was one of the most important years in the travel trade's history, and this year will be focused on sharing those stories of survival in order to allow U.S.-based advisors to rally and unify under ASTA.
"Many travel advisors who collected unemployment benefits over the last 18 months have no idea that was a direct result of ASTA," she said. "The content is focused on raising awareness for ASTA's advocacy activities so we can support our trade association more largely across the industry."
Last year, ASTA put the day together during the ASTA Government Affairs and Committee quarterly meetings. The goal was to implement ways that ASTA can raise money for its PAC, which was in the middle of a battle to get members the funds and support they needed to survive. The project would allow ASTA members to pitch in, something that is just as important as the big, headline-grabbing donations that ASTA gets from suppliers, McGovern said.
"Too often donations come from a partner in the form of large sums and equally as important are donations that come in from advisors as low as $25. Imagine if all travel advisors and agency owners donated $25? A lot more doors would open in Washington for us," she said.
McGovern and ASTA hosted seven Facebook Live sessions between 10 am ET – 4 pm last year, with an average of 100 to 150 attendees attending. Overall, the event raised just under $40,000, a huge amount for ASTA.
The plan this year is to do the same—welcoming members onto Facebook live to talk about the issues and to raise money for the PAC. The event will run from 10 a.m. to 7 p.m. EST, giving advisors the chance to login throughout the day.
"The plan for 2021 is to build on the success of 2020. We will host the event in the same format and feature advisors, agency owners, and proud partners to ASTA for conversations about how ASTA's work directly impacted their business in the pandemic," McGovern told TMR.
While ASTA's efforts over the last 18 months have been "herculean," McGovern said, there is still more work to be done.
The biggest issues this year continue to be additional relief for its members and pushing once again to open up international travel and harmonize entry standards worldwide, including the SAVE Act, the Hospitality & Commerce Job Recovery Act, and extending the ERTC.
Ultimately, ASTA's hope is that the normalization of travel rules and protocols would allow its members to take advantage of the pent-up demand and support themselves.
A healthy ASTAPAC
After large donations by partners in August at ASTA's Advocacy Dinner, ASTAPAC is in better shape than ever, something that was sorely needed after the investments in 2020 and 2021.
"Supplier partners believe in the viability of our profession and we thank the partners who have made donations to ASTAPAC! This sends a strong message to travel advisors that you believe in our work and support our channel," McGovern said.
Those donations, which came from a number of longtime ASTA members along with Royal Caribbean Group and Richard Fain personally, brought the PAC to $547,000 total with more donations yet to count.
Advisors need to understand that, without that money, and without ASTAPAC, "we can't open doors in Washington and get our voices heard."
"It is pay to play on the Hill and money talks. If we want to ensure that lawmakers understand the nature of our industry and more specifically our profession, we need to secure more seats at more tables. Donations to ASTAPAC, big or small, directly impact our ability to be heard on the Hill," McGovern said.
How to get involved
There are three ways both members and non-members can get infield. The first is by attending Tuesday's events on Facebook live, all of which can be found here on ASTA's Facebook page.
The second is by making donations on the 19th—ASTA looking for $25 from all members, though there is no amount too small.