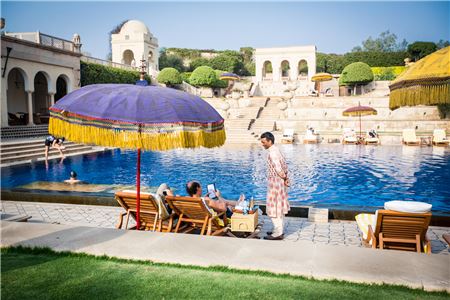 Abercrombie & Kent (A&K) introduced a new series of tours it calls Wellness-Inspired Luxury Small Group Journeys.
The programs are a specialized set of culturally immersive trips that focus on health and wellness practices from various countries and cultures abroad. The initial roll-out includes programs in India, Southeast Asia, Kenya and Peru.
Although it's the first time A&K has offered a series of programs under the specific title of "wellness," they are very close to the model that A&K has been offering for years with its Small Group Journeys, which carry a maximum of 18 guests. A&K's traditional escorted tour programs carry a maximum of 24 guests, which is still a fairly small number compared to traditional mainstream escorted tours, which often host as many as 60 guests.
Defining the product
The new series is a response to the growing demand for cultural immersion and niche programs that address specific interests. Its debut comes after a long product development cycle.
"We started the initial brainstorm and research phase over a year and half ago," said Stefanie Schmudde, A&K's vice president of product development. "We really took our time with it. We wanted to make sure that we developed something that was multilayered and really works within A&K's existing brand at the luxury level."
The programs are designed to connect guests "to timeless traditions," according to Schmudde, and to provide "a perfect balance of expertly-led cultural experiences in luxurious A&K style that also nourish the mind, body and spirit."
Once the product concept was defined, Schmudde relied heavily on input from A&K's destination experts at its more than 50 international destination management companies.
"The good thing about our entire team at A&K is that everybody is really well traveled," said Schmudde, "so we already had a lot of on-the-ground experience in all these destinations, which helped in the brainstorm sessions.
"I like to be collaborative whenever we're talking about launching something new and I like getting a lot of different points of view. At the end of the day, we start drawing up the various brand standards and finalize what makes sense for A&K."
Essential components
A&K's product development team isolated several components that would be essential inclusions in every program in the series.
"What we've tried to do with creating these new wellness-inspired journeys is that we combined the hallmarks of A&K Travel, which are luxury and cultural immersion. And then we've added various components that we've defined as being part of wellness for A&K. We've sprinkled those into these new itineraries with the hopes of making each one a complete holistic journey that is meant to make our guests come away being impacted and feeling something from the destination."
The team determined that, at a minimum, the new programs would match all the brand standards that are featured on A&K's Luxury Small Group Journeys, "so you're not missing out on any of those five-star luxury inclusions that would be on any other of our journeys," said Schmudde. "But on the wellness journeys, you're actually getting a few extra experiences that we have defined to be included in every destination."
Good for the body, mind and spirit
Each trip includes specific activities and experiences designed to address the wellness needs of three areas: body, mind and spirit.
The special components that define the wellness journeys include a spiritual component, an active component, some personal free time for "self-discovery," and a visit to one of A&K's philanthropic projects to allow interaction with locals as well as to provide an opportunity to give back. Each program will include at least one spa treatment and at least one day for "designing your own day" based on choosing among a few options that are offered.
Although the programs in the series focus specifically on wellness, the underlying principle of the programs is cultural immersion.
"We've tried to focus on what A&K does best and that's cultural immersion," said Schmudde. "We're so good at it because of our local offices that we have scattered around the world. Our teams are so imbedded in every destination that we visit, so we are able to foster those interactions with local people. And I think at the end of the day, that is what makes the destination come alive and what gives travelers meaning when they come home from their vacations, those experiences of actually being able to meet people in those destinations and learn about their way of life."
The wellness components are part of the cultural immersion. "Rather than having a wellness expert from the United States join us on each one of these journeys, we've instead opted to bring in local experts who are residents of that destination who can teach us through experience about life in that area," said Schmudde. "We have a meditation expert in Luang Prabang, and a lecturer on ayahuasca in Peru. We are using experts in the fields in those destinations."
Because groups are small, the trips are able to use accommodations in boutique properties as well as lodges and camps that would be out of reach for large groups.
The roster of new programs includes the following: "Wellness India: Ancient Traditions and Inspiring Icons;" "Wellness Southeast Asia: Timeless Rituals of Indochina;" "Wellness Kenya: Cultures and Wildlife;" and "Wellness Peru: Spirit of the Incas."
The programs are open for booking for departures in October, November and December 2019. Schmudde said the early response has been encouraging.