Airlines Issue Waivers as Nor'easter Expected to Cause Travel Delays Along East Coast
by Jessica Montevago /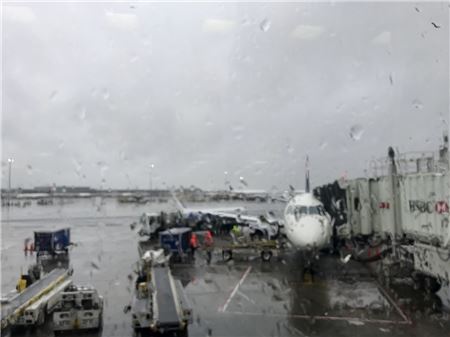 Remnants from Hurricane Willa will bring the East Coast's first nor'easter of the season this weekend. Heavy rain and strong winds will spread up the coast Friday through Saturday or early Sunday.
Power outages, travel delays, and coastal flooding are all likely from the storm, according to AccuWeather.
Gusty winds in the Northeast will be as high as 30 to 40 mph, and near 50 mph at the coast. As the storm system moves from the Gulf Coast into the Northeast, 1 to 3 inches of rain are possible for major cities along the way.
Delta Air Lines has issued a weather waiver for New York City area airports ahead of forecasted strong winds and rain for the area. Airports included in the waiver are John F. Kennedy International (JFK), LaGuardia (LGA), Newark Liberty (EWR), and White Plains (HPN). The waiver allows customers traveling to, from or through the affected cities on Oct. 27, to make a one-time change to their travel plans without incurring a fee.
United also issued a travel waiver for Saturday for the same airports.
JetBlue will waive change/cancel fees and fare differences for customers traveling on Saturday, Oct. 27, 2018 to/from the following cities: Boston, MA (BOS); New York, NY (JFK); New York, NY (LGA); Newark, NJ (EWR); Newburgh, NY (SWF); Providence, RI (PVD); Westchester County, NY (HPN); Worcester, MA (ORH).