Airlines Up Miami Service for Super Bowl LIV
by Daine Taylor /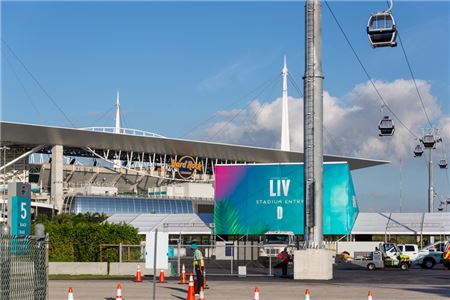 As football fans all over the country prepare to enjoy the big game in a couple of weeks, several major airlines have begun offering added or expanded service to help accommodate the influx of game day spectators.
Here is a quick guide to the service additions and schedule changes major airlines are introducing in preparation for the Super Bowl.

American Airlines
American is adding special flights to Miami from Kansas City, Missouri (MCI); and San Francisco (SFO) and San Jose (SJC), California. The airline is also incorporating the larger Boeing 777-200s from its hubs in New York (JFK), Dallas-Fort Worth (DFW), Los Angeles (LAX) and Chicago (ORD) to accommodate additional traffic to Miami for the game.
"In the coming days, tens of thousands of football fans will be making their way to Miami, many arriving by air through our Miami hub, home to more than 13,000 American team members and to the airline's largest international gateway," said Juan Carlos Liscano, American Airlines' vice president of Miami hub operations. "As Miami's hometown airline for the last three decades, we understand the important role that air service plays in the continued success of our community."

United Airlines
United Airlines will be expanding its once-a-day roundtrip flight service between San Francisco International Airport (SFO) and Miami, to three-times-a-day, giving football fanatics an additional opportunity to make it to the game.
JetBlue
JetBlue announced it will be adding flights to its schedule to accommodate for the Super Bowl travelers. JetBlue will add more than a dozen flights between San Francisco International Airport (SFO) and Fort Lauderdale from Jan. 30-Feb. 3.
The carrier is also expanding service to South Florida from New York, by adding 10 flights to its schedule on Jan. 30-Feb. 4. Additional service between John F. Kennedy International Airport (JFK) to Fort Lauderdale will result in more than 2,000 additional seats for fans flying to the big game.

Southwest Airlines
Southwest Airlines has also added more flight options to accommodate football fans traveling to Miami.
On Friday, Jan. 31, 2020, Southwest will offer nonstop service from Kansas City to Fort Lauderdale, providing a total of five nonstop flights. The carrier will also add a new service from San Jose, California, to Fort Lauderdale. The service will add one new nonstop flight, in addition to the connecting and one-stop service already available.
When the game is over, Southwest will help travelers get back home with additional nonstop options offered on Monday, Feb. 3, 2020. The carrier will provide five nonstop flights from Fort Lauderdale to Kansas City, as well as one additional flight from Fort Lauderdale to San Jose, California.
"Our extra flight options are designed to make it easier for more fans to get to and from the championship weekend," said Brook Sorem, senior director of network planning. "Our all-star teams across the nation, especially in South Florida, will provide exceptional hospitality for fans that's sure to be scoreboard-worthy."