Athens' Hotel Grande Bretagne Is Once Again at Full Throttle
by Mary Gostelow /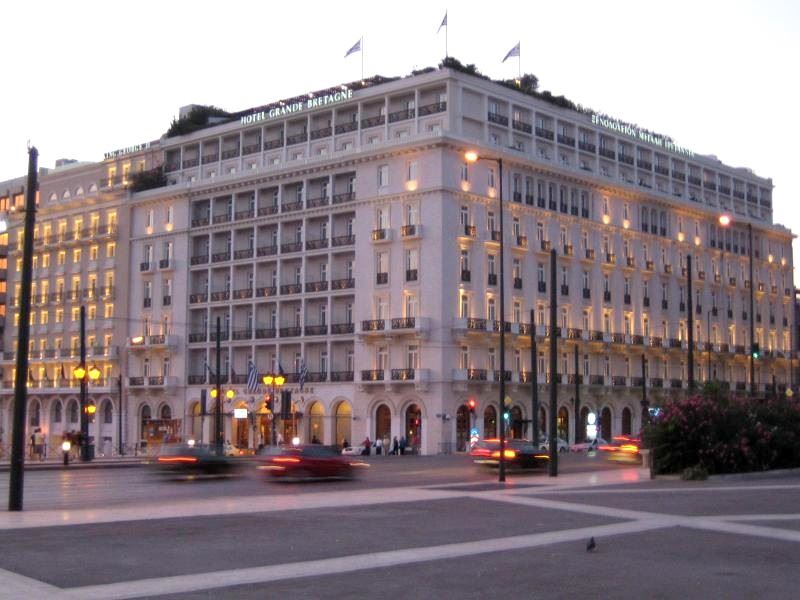 Athens is back in business, says Tim Ananiadis, GM of that city's legendary Grande Bretagne, a Luxury Collection hotel that is universally known as the "GB." He had noticed international tourists returning to seasonal resorts on the Greek Islands for the last two years and some, notably Mykonos and Santorini, were relatively unscathed, since 2010, by the country's government debt crisis. But, he says, it is only now that Athens is seeing visitor numbers recovering.
The first to come back were Greek diaspora, those living overseas, especially in North America and Australia. It is thought there are up to three million Ellinoamerikanoi, Americans with at least partial Greek descent, in the U.S.; and Melbourne, Australia, is the world's third-largest "Greek" city, after Athens and Thessaloniki.
Tim Ananiadis expects to close the 321-key GB's 2018 occupancy at 78 percent. In 2011, it was down to 24 percent — yes, financiers and politicians were still coming to town, even while his first-floor windows and doors were boarded up as protection against protestors in Syntagma Square, immediately outside. Throughout, he never laid off any of his 600-strong team, though retirees were not replaced, and everyone from the GM down accepted pay cuts and line staff on hourly rates had their hours slashed. Now, everyone is once again working at full throttle.
The eight-floor hotel was opened in 1842 by Stathis Lampsa, a former chef. Today, it is owned by brothers Panos and Thanasis Laskaridis, shipowners and businessmen whose diverse holdings also include Lucknam Park, in England; and a significant share of Aegean Airlines, the Skytrax-applauded, Athens-based carrier that now also oversees Olympic Airlines. The Laskaridis brothers are determined that their heritage treasure, the GB, should be continually updated: Tim Ananiadis has recently supervised the transformation of the GB Corner first-floor lounge into a first-class concept store, with highly desirable Greek fashion and accessories, plus Ermenegildo Zegna items, and macaroons and a coffee shop.

Tim Ananiadis lunching, as he often does, pool-side at the GB.
The views, the food, the people
An ideal day at the GB could start with waking up in any south-facing room. Guests can look straight out over Syntagma or face left to Parliament, with its 24/7 patrol of Greek guards wearing characteristic white, pleated-skirt uniforms and red clogs with black pompoms. Turning right looks out towards the Acropolis.
For service that is even better than the norm, guests can choose a butler-service room, with separate sixth-floor check-in, and glasses of Veuve Clicquot at the ready. What to do during the day? Concierge Apostolos Papayiannakis will arrange a guided sightseeing tour, of course to include the Acropolis and, perhaps, some walking. At some point, however, suggest that travelers schedule a visit to the hotel's spa, for an ESPA massage to soothe muscles. If they want yet more, and strenuous exercise, it is adjacent to the gym, open 24/7.
After years of quietly dining and entertaining in their own homes, local residents are, by the way, once again showing Greek conviviality, and spending hours chatting over coffee in the first-floor Winter Garden and sunset-watching on the roof. For hotel guests, memorable breakfasts are also up there, looking at the Acropolis. There is also the knowledgeable lunch, whenever they can, of cooked-to-order souvlaki kebabs with tzatziki dipping sauce, and other national favorites, at the Grill counter next to the seventh-floor outdoor pool (which is exclusive to hotel guests). Dinner on the rooftop definitely needs reservations — the best tables are those at the front of the terrace, booked to catch the sunset and the floodlit Acropolis.
"Sadly, first-time visitors to Athens never allow enough time for this city," says Tim Ananiadis. "There is so much to do, even the sunsets magically seem to change every night — the emotional effect is transformational luxury." This might not be Athens' best-choice hotel for noisy toddlers, but, for adults, the GB is a truly memorable experience. Stay over, for pre- and post-cruises and for people-watching, seeing how Greeks, both locals and Ellinoamerikanoi, enjoy the art of happiness and the good life.