Building a Business: Best Practices to Become a Successful Advisor
by Jessica Montevago /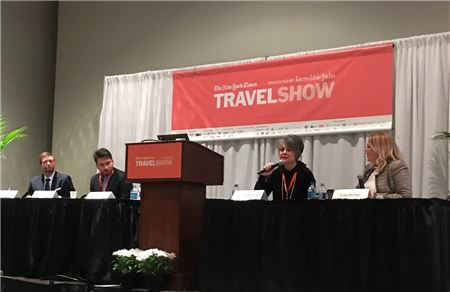 Maybe you got into the business because you have a passion for travel. Maybe it was a side hustle that turned into a full-time gig. Whatever the case, as a new travel advisor, it's important to build an entrepreneurial business sense in order to develop a viable business.
Speaking at the New York Times Travel Show last week, agency owners and executives discussed what it takes to grow your new business into a thriving one. Here are some of the tips they offered.
Establish loyalty with customers and suppliers
For starters, they said, work on establishing loyalty among your existing client base. "It costs ten times as much money to go out and get a new customer rather than retaining a current one. If you do a really good job for someone, and establish that trust and loyalty, they will be a customer for life," said Rob Karp, CEO and found of MilesAhead.
Keep in mind, relationships are not only with your clients, but with your supplier partners as well, said Joshua Bush, CEO of Avenue Two Travel; they are delivering that experience on your behalf.
Find the right training program
Training is widely available from a host of outlets. Whether you pick a destination, a supplier, or industry organizations such as ASTA and The Travel Institute, the educational courses will improve your knowledge and give you a good sales foundation.
To find the right program, "the critical place to start is to do your research," said Kerry Dryer, director of talent development at Brownell. Seasoned advisors can benefit from continuing their education; focus on running your business, and take courses on legal and sales.
Host agencies have different programs. Whether you are brand new to the industry, a career switcher or an experienced agent, find what is right for you. Consortia and host agencies have dedicated training programs, and they allow you to specialize in such areas as cruises, multigenerational travel, etc.
"To better yourself, the more you can travel and visit these destinations, the better it is for you, and that's where fam trip opportunities come in. You need to spend some money to make you better," said Chris Seddelmeyer, owner of Travel Concepts.
Don't box yourself in
The panel believed that while expanding your knowledge with courses is an asset, the more you drill yourself into a niche, the more you are limiting your opportunities.
Bush admitted that while the trend seems to be pointing to specialization, he doesn't deem it necessary. "If you're just a ski specialist, you're limiting yourself to ski trips. And while you might have a ski fanatic, what are you going to do when they want to go somewhere warm or they want to go to Europe," said Bush.
Instead, he said, challenge yourself to become a specialist of your clients' likes and dislikes.
Join a consortium or host agency
Both a consortium and host agency are there to nurture and guide you as you grow your business. A host agency is your advocate and mentor, providing training and sales leaders; consortia serve as your connector with suppliers, providing added perks and benefits that you wouldn't have access to otherwise.
Similar to training programs, finding the right fit requires some research. By vetting your options, you can test the waters and determine which collective best suits you and your business.
Host agencies provide another kind of support, as well. "Being an independent advisor can feel lonely, it can feel like you're out there by yourself. And the point of a host agency is to have a family, to have a community, to have colleagues who have your back," said Dryer, adding that both a host agency and consortia help with marketing, which can feel overwhelming.
"Many of us want to be entrepreneurs, but we don't want the hassle of being a true business owner, from the legal ramifications to the back office to the insurance. Host agencies can handle that for you, if that's not something you want to deal with," Bush said.
Build your client base
If you're a new advisor, your education can help you feel confident as you go out and seek clientele, Seddelmeyer said. As you venture out, make sure you have professional business cards. "If you're very serious about making this a profession and a career, and making some real money, you need to think in a business-like manner and have a professional persona."
Connections within your local community will also be a great start to generating new leads. Consider what your hobbies are that are excuses to travel, Dryer said, and join those clubs and organizations to better network within your community.
Erika Richter, director of communications for the American Society of Travel Advisors (ASTA), said to make sure you have your elevator pitch down pat, because "you never know where you'll meet your next client." In two minutes or less, say succinctly what you do and why you do it, and you'll be better suited to bring in new customers.