Carnival Corp. Launches Chinese Cruise Brand, Targets 2019
by Daniel McCarthy /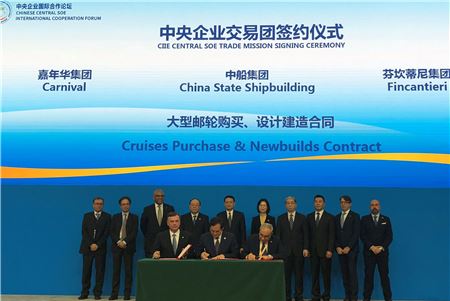 Carnival Corp. has officially named its Chinese cruise brand under a partnership with the China State Shipbuilding Corporation (CSSC). The brand, which was initially announced in 2015 and is expected to start welcoming guests by the end of 2019, will operate under the name CSSC Carnival Cruise Shipping Limited.
"The official launch of our cruise joint venture in China is a significant milestone in the strategic development of a strong and sustainable cruise industry in China," said Arnold Donald, CEO of Carnival Corporation. "Together with our partners, we are excited about our ability to launch a new cruise line in China based on existing ships and new China-built cruise ships tailored for Chinese travelers."
The line will purchase two ships from another Carnival brand, Costa Cruises. Costa Atlantica will be transferred to the new brand by the end of 2019 and Costa Mediterranea is expected to join it soon after. The brand will then add two more new ships built in China, the first being delivered in 2023, with four more possibly to come as part of an option in the contract.
The new ships will all be built specifically with the Chinese guest in mind.
"China represents a tremendous opportunity for the entire cruise industry," said Giuseppe Bono, CEO of Fincantieri, the shipbuilding company that is a partner in the new venture. "We look forward to working together with our partners to leverage our collective expertise and leadership in the cruise sector to support China's goal of developing its cruise shipbuilding capabilities and becoming a leading global cruise market."
While some cruise lines have pulled ships from the region — Norwegian Cruise Lines notably moved Joy, a ship built for the Chinese guest, to Alaska earlier this year — statistics seem to show that there is still room for growth in the region.
Last year was a record for Asia, according to CLIA, with 4.052 million Asian passengers having taken an ocean cruise — a record high for the industry and up about 20 percent compared to 2016. That number is 15 percent of the total global ocean passenger volume in 2017.