Carnival's Christine Duffy Says Line is 'Working Towards' July Restart
by Daniel McCarthy /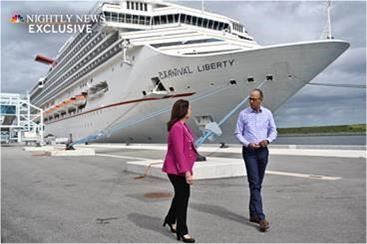 Because of the cruise line's commitment to restart out of the United States, Carnival Cruise Line has been one of the only major cruise lines to not yet announce some kind of return to service. However, there was some optimistic words from Carnival Cruise Line president Christine Duffy on Monday about a potential restart this summer.
During an interview on "NBC Nightly News" on Monday night with Lester Holt, Duffy spoke about the ongoing process with the Centers of Disease Control and Prevention (CDC). Duffy told Holt that after some time not speaking to the CDC, the world's largest cruise company has again reengaged with the CDC in hopes of getting sailings started.
July had been the goal for a number of American cruise lines and as the calendar keeps turning there has been less and less optimism about the possibility. Frank Del Rio, CEO of Norwegian Cruise Line Holdings, said earlier this month that a July restart was becoming increasingly unlikely because of a lack of moment with the CDC and an August restart was also in jeopardy.
Duffy told Holt that discussions have been ongoing since early spring and that the CDC and other interagency groups have the same goal laid out by President Biden—to reopen America by July 4.
"It's been a long 15 months and I think we're the only industry that is shut down in the U.S. So while we're hopeful that we're on a path to restart we're not there yet," she said. "I think the CDC and the interagency groups that are working with us now have that same goal in mind as President Biden said, he wants to reopen America by the Fourth of July and we want to make sure that the cruise industry can be part of that reopening of America."
As far as whether or not Carnival's restart could include a vaccination requirement for its guests, Duffy said that as of right now, the answer is no.
"There's no mandate for any other business to have that requirement. We certainly are encouraging everyone to get a vaccine…We don't want to be treated different than any other parts of travel, tourism, entertainment, or society," she said.
A vaccine requirement for a July restart could also potential lock a lot of children under 12 out of Carnival sailings, which is a major part of Carnival's brand.
"For our cruise line, children under 12 are a big part of the cruise experience in a summer…family vacation, and as it stands right now, we wouldn't be able to have kids under 12 onboard."
Duffy added that Carnival is helping its crew to get vaccinated.
If Carnival is allowed to restart in July, the plan would be to start sailing Carnival Vista and Carnival Breeze form Galveston along with Carnival Horizon from Miami. Then, if it is able to find a solution for the Alaska issue, which is currently being taken up by the U.S. Senate, Carnival Miracle would be able to start sailing some departures from Seattle.
All other Carnival sailings through July 30 on other ships have been cancelled.