Cruise Lines Hope to Hold on to Alaska Season After Canada's Ban
by Jessica Montevago /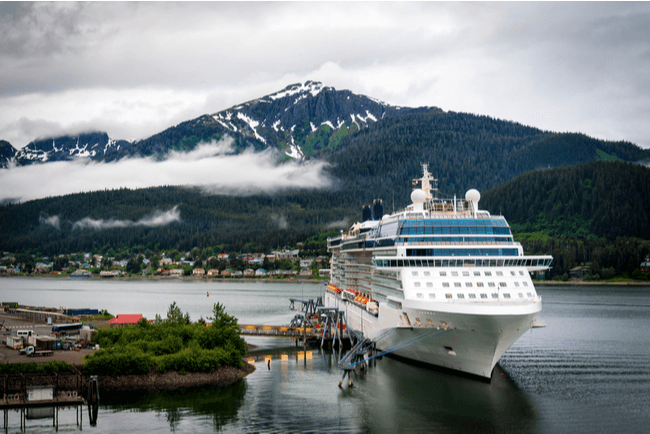 Canada has extended its cruise ship ban until February 2022, affecting sailings that visit ports along the Pacific Coast, from Victoria and Vancouver to Alaska's Skagway and Juneau.
Canadian Minister of Transport Omar Alghabra announced on Thursday that cruise ships that ferry more than 100 passengers will still be prohibited from sailing in its waters and calling on Canadian ports.
Alghabra noted that if the pandemic situation "sufficiently improves" the ban could be lifted earlier than February 2022.
The news delivered a blow to cruise lines that were hoping to operate the Alaska season this year.
Due to the Passenger Vessel Services Act, only vessels flying a U.S. flag may transport passengers directly from one U.S. port to another. All others must make a stop at a foreign port.
Because most cruise lines are registered with foreign nations, they are unable from carrying out itineraries in the northern waters of North America while the ban is in effect.
Princess Cruises and Holland America Line both expressed disappointment with the interim order, saying it will cause the cancellation of Alaska (West Coast) and Canada/New England (East Coast) cruise seasons this year.
Both Princess and HAL said it will take some time to assess whether there are any options to preserve a portion of the 2021 Alaska season. In the meantime, both lines have temporarily stopped selling 2021 Alaska and Canada/New England cruises which call on Canadian ports, adding it will be consulting authorities in both the U.S. and Canada before taking any additional action
"We recognize our importance to the economic health of many Alaskan communities and will continue to pursue any option which might permit safe operation of any portion of the season."
Norwegian Cruise Line Holdings Ltd. Said it has not yet cancelled any cruises that visit Canadian ports.
"We are currently exploring several initiatives that may allow such cruises to continue, especially for the important Alaska season. Given the fluidity of the current environment, we will also continue to work with the Canadian government to amend their current suspension," a spokesperson told Travel Market Report.
"We are working through all available options as quickly as possible and as a result we have not canceled our 2021 cruises that visit Canadian ports. We will continue to keep all travel partners and guests updated as the situation progresses."
Adventure Canada, small-ship expedition travel in the Canadian Arctic and Greenland, has already made the decision to cancel its 2021 expedition season as a result of the news.
While Adventure Canada CEO Cedar Swan said he "genuinely supports this decision," he recognizes that the extension of the ban further challenges the travel industry, not just Adventure Canada's passengers, but also its valued travel advisors, local economies that count on tourism, and its staff.