Cuban Tour Operators Report All Clear in Wake of Surprise Tornado
by David Cogswell /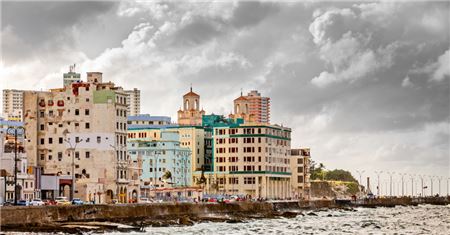 A savage tornado that whipped through Havana and left three dead and 172 injured has apparently had little, if any, effect on tour operators in Cuba and their guests.
CNN reported that winds up to 62 miles an hour uprooted trees and caused severe damage to buildings and cars, and there was flooding in low-lying areas in Havana. The tornado also affected the province of Pinar del Río. But reports indicate that the tourism areas were not among those afflicted.
"International Expeditions is fortunate to have one of our Alabama-based travel planners on the ground this week in Havana," reported Emily Hartley, the director of marketing and media relations with International Expeditions. "He is reporting that the primary tornado damage was in the Naranjia and 10 de October neighborhoods. While we are saddened to hear this rare Cuban tornado has caused both property damage and loss of life, these are not areas where travelers would be visiting and it is unlikely to impact operations for any tour operators."
"The tornado hit some of Havana's residential neighborhoods away from the traditional tourist sites," said Ronen Paldi, president of Ya'lla Tours USA. "The damage, as well as fatalities, are bad, but have no effect to the tourist sites."
"We have people in Cuba right now," said Peggy Goldman, president of Friendly Planet. "One group was departing today, and their flight did get off on time. Our casa in Centro Havana has lost power, but had no other damage. We have a group at the Melia Cohiba, which didn't suffer any damage at all. In fact, our tour manager wasn't even aware of the tornado until we woke him up early in the morning to find out if he and our group were okay.
"Our partners in Cuba will be keeping us posted all day. None of our passengers have been injured, and the program will be going on as usual, except for visits to Regla, which I understand was hit hard."
Robert Drumm, president of Alexander & Roberts, also gave the all-clear signal. "The tornado had no impact on any of our guests now traveling in Cuba," he told Travel Market Report.
The tornado has also apparently had little effect on forward bookings. "We have not had any calls pertaining to or cancellations regarding the tornado in Havana," said Arthur Berman, vice president for Central, South America and Cuba for Central Holidays. "As a matter of fact, we have received a large number of calls this morning from agents wishing to book trips for their clients to Cuba.
"Our office in Havana has advised us that the tornado did not strike Central Havana, but hit suburbs on the outskirts of Havana. Everything in Havana is operational and running normally."
Cuban resilience in action
Tom Popper, president of insightCuba, was in Cozumel, Mexico, at the time of the storm and said the area was also hit with a freakish storm.
"It was crazy," said Popper. "We had a similar storm out of nowhere, not a tornado, but a huge storm that wreaked havoc on the island of Cozumel. It slammed into us, took out a pier and a dock and trashed a restaurant. Everybody was shocked. There are thousands of tons of seaweed and sand all over the place. It was quite an event. It's calming down now."
From Mexico, Popper is in close touch with ground operations in Cuba. "To have a tornado in Cuba was completely unexpected," he said. "We're used to heavy winds and unexpected storms on the coastline, but to have a tornado whip through a couple of neighborhoods was almost unheard of."
The last time a tornado hit Cuba was 79 years ago, in December 1940.
"I'm in touch with our people," said Popper. "A lot of the power was down. Power in most of the essential neighborhoods is back. Regla was hit pretty badly. It's across the harbor from old Havana. So, it's in clean-up mode. It will take some time to get the power restored. But all the offices, all the people we communicate with, are back up and running."
Though there were power outages around Havana, most of the power has now been restored.
"The hotels have back-up generators," said Popper. "Our staff and all of our passengers are okay. Right now, they are clearing debris off the roads. All the tourist areas are okay. Jose Marti Airport had a slight delay, but all the flights are running. For those traveling to Cuba this week everything's okay. We've had to make a couple of slight itinerary changes, but nothing major."
With a history of dealing with adversity, when disaster strikes in Cuba, it's always a time when the Cuban spirit shows itself at its best.
"What's always interesting at times like this is the way communities in places like Havana just come together," said Popper. "Cuba will bounce back in a New York minute."