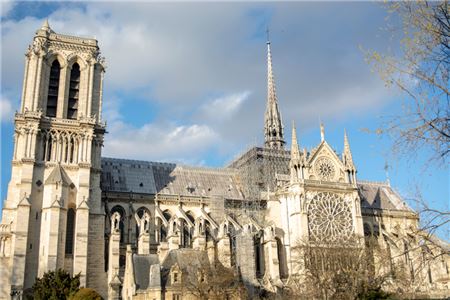 A massive fire engulfed Paris' Notre Dame Cathedral on Monday, collapsing the landmark's 315 feet spire and sending heavy smoke up into the air above the city around 6:30 p.m. local time.
The fire has spread to one of the church's iconic rectangular towers, the Associated Press reported, and Fire Chief Jean-Claude Gallet told the outlet, "We are not sure we are capable of stopping the spreading" to Notre Dame's second tower and belfry.
France's civil security agency are deploying "all means" except for water-dropping aircraft to put out the fire, as dumping water on the building could cause the whole structure to collapse, the agency said in a Twitter post.
According to a statement from a Notre Dame spokesperson, the cathedral's wooden frame will likely come down, and further damage is probable. "Everything is burning, nothing will remain from the frame," Notre Dame spokesman Andre Finot told French media, according to the Associated Press.
Paris Mayor Anne Hidalgo said on Twitter that Paris firefighters are trying to control the flames and urged citizens to respect the security perimeter around the cathedral. Hidalgo also said authorities are working in close connection with the Paris Diocese.
Emergency services are trying to salvage the famed art pieces stored in the cathedral, the AP reported.
The cause of the fire is unknown and is being treated as an accident, though local media are reporting that it may be linked to a recent a $6.8 million renovation project on the spire.
Residents and tourists are being told to stay away from the area.
The moment #NotreDame's spire fell pic.twitter.com/XUcr6Iob0b

— Patrick Galey (@patrickgaley) April 15, 2019
One of the city's most visited landmarks, Notre Dame is more than 800 years old. It is one of the most visited tourist sites in Paris, with around 13 million people annual, 30,000 everyday, visiting the cathedral.
This story will be updated as it develops.