First Look: Universal Orlando's Volcano Bay
by Cheryl Rosen /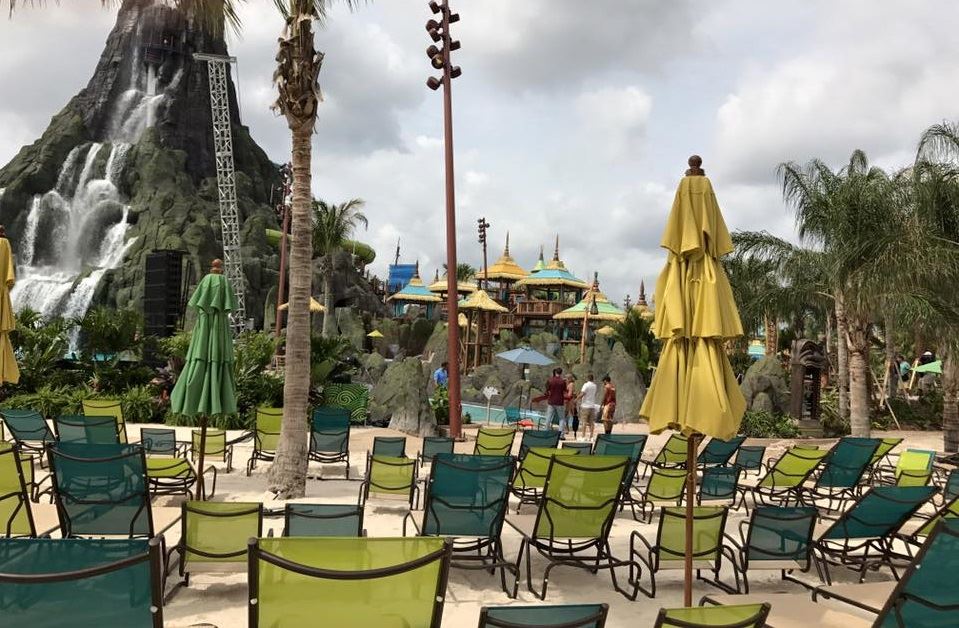 Racing approaching thunderstorms and a competing Grand Opening by Disney's Pandora: World of Avatar attraction, Universal Orlando opened the gates to Volcano Bay today to give the press a quick first look.
Volcano Bay, which Universal points out will be not just a water park but a unique water theme park, will open to the public tomorrow; Pandora will open on Saturday. But for today, dueling press trips had reporters from around the world hurrying to see what they could before torrential rains and 50 mph winds break the drought Florida has been experiencing on just the wrong day of the year.
On assignment at Volcano Bay, TMR got to scope out the soaring volcano, the lush grounds and a few of the rides.
The biggest "buzz" about the new park surely comes from the sound of the volcano itself, the unmistakable rumble of water hitting stone. Sitting on the beach or standing in the surf before the colossal mountain, the "immersive experience" Universal promised is so strong you can't help but expect Kong to appear in the giant archway.
Most of the rides, from river rafts to water slides, will not open until tomorrow. But the photo ops were bountiful and beautiful.
Of note to travel agents and high-end travelers are the private cabanas, which feature concierges, towels and snacks, food servers, and express passes that take guests to the front of the lines, said John Brisendine, lead for premium services. And corporate executive chef Steven Jayson noted that just as every part of the park is themed, "whether you think Hawaii or the Caribbean, we want you to feel it in the food, to incorporate those flavors into the dishes our guests will eat. From sushi rolls to tropical salads to puu puu platters to chocolate pineapple upside-down cake, we tried to take the ingredients and the flair and bring them here."

Volcano Bay's Cabanas.
We will note too that the TapuTapu wearable devices worked great. The wristbands, enabled with Bluetooth and RFID, enable every guest "to not have to wait on line, to tap to pay for things. You don't want to worry about your phone or your wallet; you can just go to an attraction and receive a return time, and not have to feel rushed," said Kristin Ong, VP of marketing and experience transformation (and how's that for a job title?)
"This is just the start of a big transformation across Universal," she told TMR, though she declined to provide further details. "We are focused on getting guests to the fun faster. It's a great opportunity to enhance the guest experience across all the parks."