Headquarter Happenings: MAST Travel Network Marks 50 Years
by Cheryl Rosen /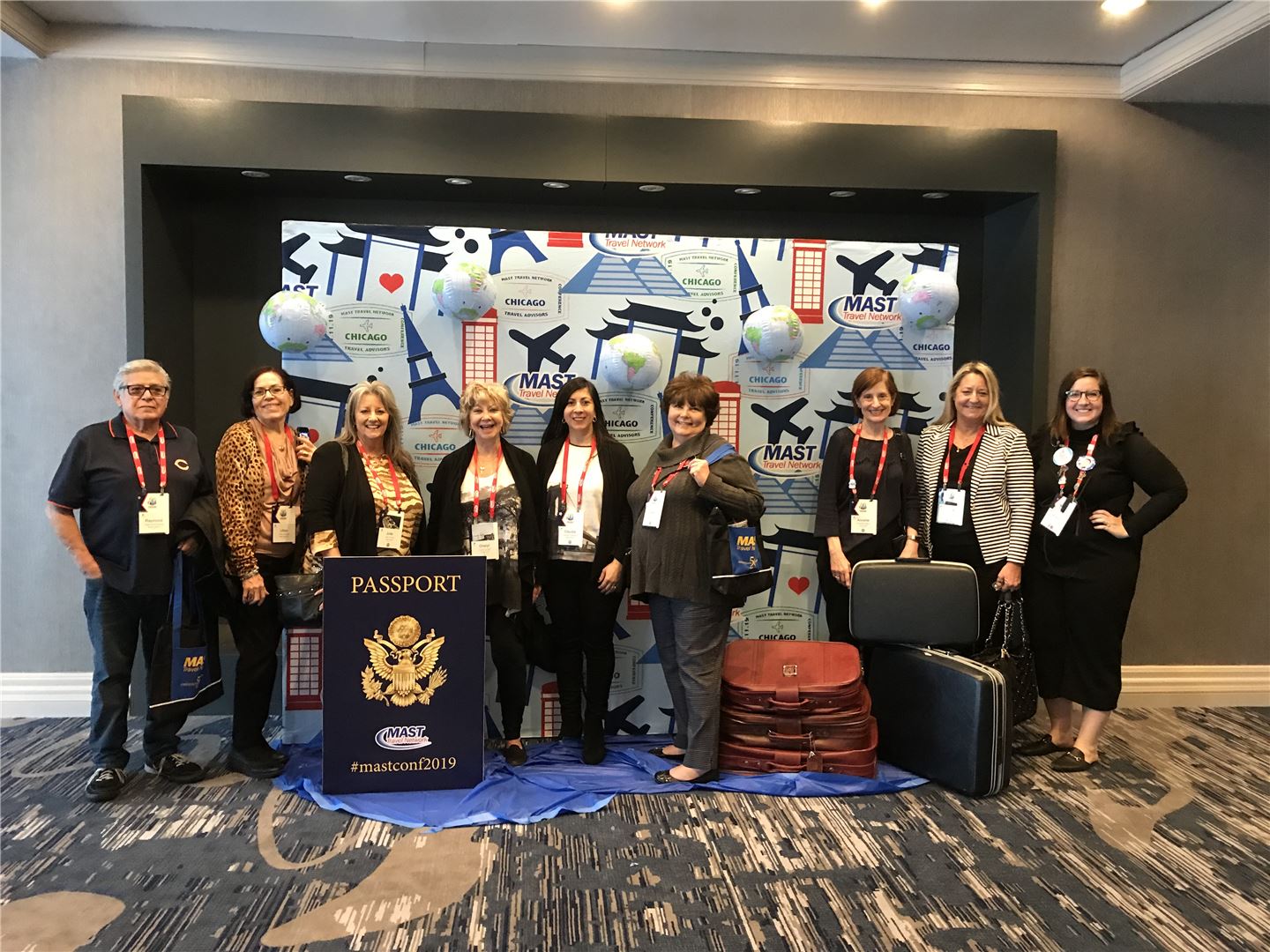 The times were a-changin' back in 1969, and many of today's top travel agency consortia were born. In Chicago, a group of travel agents, friends through ASTA, followed the model of Ensemble and Signature and banded together to support and learn from one another. Half a century later, they find the need for education and support just as vital, as a new generation of travel advisors joins the industry.
More than 400 travel advisors and 80 suppliers turned out to celebrate MAST Travel Network's Golden Anniversary in the Windy City last week, the largest turnout ever for a MAST conference.
At the helm for the past 17 years has been John Werner; during his presidency, the group has grown from 140 member agencies to 220, with 1,000 travel agents, 11 full-time headquarters employees, and more than 80 preferred suppliers.
During a conference full of educational sessions, private supplier meetings, and fun events at Second City and Unnamed Supper Club, MAST debuted a number of new initiatives for the coming year.
New educational programs
Topping the agenda are educational programs — the top priority, given that, in one of the best years for travel in recent memory, "Our member agencies are hiring and more independent contractors are affiliating with them — and they just don't have the time to create training programs for their new people," Werner told Travel Market Report.
To meet the demand, MAST is expanding its Xpedition training program, a series of self-paced courses that run from 6 to 12 weeks three or four times a year, allowing working travel professionals to take them at their leisure during each week. Amber Zakem, at headquarters, sends out the materials and monitors each person's progress. Courses cover Mexico and the Caribbean; ocean and river cruising; and Western Europe and Hawaii, incorporating supplier training materials and certificates. A new course added this year focuses on Australia, New Zealand and the South Pacific.

Educational Content at MAST Travel Network's Golden Anniversary conference.
In addition to the annual conference, MAST will offer two, full-day educational Travel Forums with a mini trade show; these also will be broadcast online for those who cannot attend in person. There are also destination immersion workshops, webinars, and Coffee Talk, where members chat about operational issues; and ClientBase training will be added soon.
One program Werner thinks is being underutilized is MAST business coaching, where "we come into your agency for about two hours and talk about whatever you want, compensation or liability or goal-setting. It's a great way for experienced agents to choose goals and develop a marketing plan."
On the technology side, MAST is working to create a booking platform for member agencies, more reporting capabilities to track sales, and technology to help members better manage their mailing lists.
But it's fair to say that, here in Chicago, the focus is more on the one-on-one than the back of the house. With 400 travel advisors, this year's conference attendance is up 25% over last year. The point is to "talk to one another and learn from each other, but also to spend three or four days with our suppliers. At most sessions, they are in it together, talking to each other every day."
Eye on the next 50 years
As for the future, Werner — like every one of the attendees with whom Travel Market Report spoke — is feeling optimistic.
"There was a time when everyone worried about the aging of the [travel agent] community, and there is still some concern over that," he said. "But we have been seeing a lot of younger people coming into the business and owning agencies, and also people in their second or third careers. They want to be entrepreneurs, to own their own businesses. And we definitely need more people because business is growing. It's very gratifying."
In general, Werner said, total sales of member agencies, as well as of MAST as a whole, are up for 2018; and new suppliers tend to be at the higher end and luxury markets, like Regent Seven Seas and AMA Waterways.
But still, travel "is a tough business; no one outside the industry understands the how much you need to know to do this job well." Hiring and training are the biggest challenges.
Werner's tip for travel agents, both new and seasoned? "Hold onto your clients," he said. "Do everything you can to solidify those relationships, because there are a lot of places where they can buy travel. Too many agencies tell me their referral business is so good, they don't need to market themselves. And I just say to never take your customers for granted."

Cruise line executives talking to attendees at MAST Travel Network's Golden Anniversary.
Other take-aways from the conference
Another tip came from three different speakers at the conference: The importance of personal storytelling when you sell travel.
"Show off your credentials," said consultant and Travel Market Report columnist Steve Gillick at his morning breakout session. Post photos showing off what you are doing on social media and "sell the dream of repeating your adventure" to your customers.
"Storytelling is a relationship-oriented sales strategy," Gillick said. Don't just talk about the features of a destination; mention the benefits for you and to your customers and tell a story about why those things were meaningful to you.
Meanwhile, Ryan McElroy, CEO of Travel Agency Tribes, cautioned not to let yourself be overwhelmed by social media. Write down your goals for the two biggest, Facebook and Instagram, and start small, somewhere that plays to your strengths. If you are a writer, start a blog. If photography is more your speed, create some videos. "Don't worry about what others might think; put yourself out there" and tell your story. And always refer your followers back to your home base, your website.
"Expedia sends you an email every single day, but travel advisors are afraid to do that because they are afraid of annoying a customer. Think instead about how much value you are adding [with daily communications]," McElroy said. "Create a newsletter of pure value, not a commercial — and get to even your dormant customers before these big companies do."
Keynote speaker, John Chernesky, senior vice president at Princess Cruises and Cunard, also spoke of the lure of a good story. Research shows that messages delivered in stories are 22 times as effective; personal reviews are 12 times as influential as other posts; and 92% of consumers prefer word of mouth to ads, he said.
"When I talk about Alaska, I tell my personal story and show pictures of my family," he said. So, show your pictures — and if you don't have your own story to tell, ask clients to post their pictures and tell their tales on your Facebook page.