Headquarter Happenings: Virtuoso Takes Travel Week Online
by Daniel McCarthy /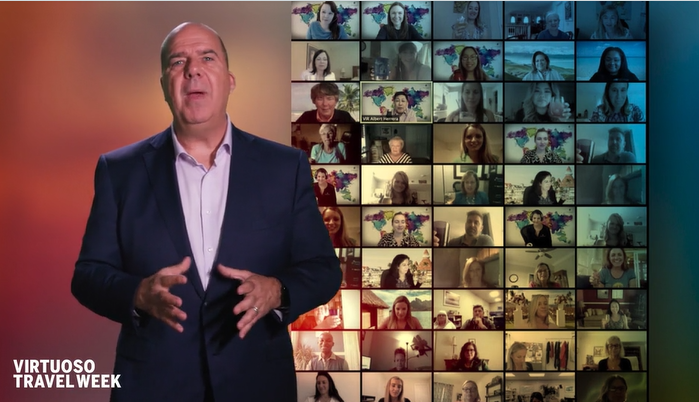 Virtuoso this week kicked off its annual Virtuoso Travel Week. This year's edition, forced online because of the continuing impact of COVID-19, looks a little different than in years past, but still included the same networking and business building opportunities that have become a staple for the organization's annual Las Vegas August residency.
Travel, Virtuoso's CEO Upchurch told reporters during a press conference this week, is a $9 trillion industry, three times the size of agriculture and the largest service industry in the world. And, while almost all sectors in every industry have been impacted by the COVID-19 pandemic, travel has been one of the worst ones hit.
"One of the things that has been so difficult…is the staggering job losses and effects," he said. "While the rest of the world is dealing with a recession, our industry is literally dealing with a depression."
The pandemic has made the conversation of overtourism, one of the hot topics at conferences and trade shows in 2019, change to one of undertourism. The pandemic brought an abrupt stop to a travel economy that was going to see, for the first time in history, five different generations all wanting to travel at the same time and a significant shift from goods to experience that was a boom for the travel industry.
"We have to really think about the effects of undertourism in so many different ways," including how it impacts local economies that rely on tourism around the world.
The good news is that the demand is still there, Upchurch said, noting that search for "vacations" for 2021 on Google was up 125% over last year and that Virtuoso offices in China are seeing travel come back to a 60% to 80% occupancy rate.
And, he added, "the fact that there are three different vaccines in the last stage, that testing is getting better, that treatment is getting better."
Virtuoso, a longtime supporter and member of the World Tourism and Travel Council (WTTC), is pushing for "better governmental collaboration based on science and facts and things we can do" in order to help restore travel confidence among consumers.
"One of the things that's causing travel confidence to be lower…is that lack of coordination."
Business update
Virtuoso, which produces $30 billion in annual sales, said that the numbers at the end of 2019 where "really robust."
"Everyone was looking really robust here and, in January, when we polled our advisors 84% expected their sales to be higher," Misty Belles, Virtuoso's managing director, global public relations, told reporters during a press conference.
That sentiment was bullish not just on the fact that a majority were expecting higher sales, but that a majority were expecting that to happen during an election year where there is typically a dip or at least smaller growth.
"We were bolstered when we found people were so optimistic," Belles added.
April turned into a low points for bookings for Virtuoso, and since then it has seen a modest recovery and "we are hopeful that August continues," Belles said.
The majority of Virtuoso advisors still aren't seeing significant 2020 bookings, but its European agencies are getting new bookings for 2020. Ocean cruising is doing well particularly in the U.S. and Canada and beach destinations, especially domestically, are also doing well.
The most important factor for clients who are booking international are flexible cancellation or postponement policies, Belles said.
Looking ahead, data is showing that 2021 bookings are outpacing those for 2018, especially in certain segments including river cruising, which is up 14%.
"We know travel is going to look different," Belles said. Almost universally advisors said now is the opportunity to reimagine what we're seeing in the industry."
Virtuoso Wanderlist
Virtuoso announced Wanderlist in 2019, an online tool that was one of the highlights of Virtuoso Travel Week 2019. The tool allows consumers to input their travel interests, creating a travel wish list that Virtuoso advisors can use to help create a comprehensive long-term travel plan.
The tool also allows Virtuoso to see an overarching view of where consumers want to go, and to spot trends in destination preferences.
This year, the most anticipated destination internationally was South Africa, followed by Italy, Australia, France, and Japan.
Domestically, California, Hawaii, Alaska, Washington, and Montana, all ranked highly, destinations that allow people to get back to nature and also allow them to physically distance.

Virtuoso's David Kolner.
Insights from Virtuoso
During the opening general session, Virtuoso's senior vice president of strategy David Kolner took to the stage to share insights that Virtuoso had gathered from both its advisors and its clients.
Though, Kolner said, Virtuoso "utterly missed our expectations for 2020…there are some signs of hope."
Virutoso conducted a survey in late June, which asked its travelers "Are you ready to travel again?" The results showed that there is some opportunity for advisors in younger travelers where the interest is much higher.
"About one-fourth to one-third of Baby Boomers were ready to go now, while a majority of Millennials, Gen Xers and Gen Zers were ready to travel now," Kolner said.
Aside from the generational trends, Kolner highlighted three other trends that Virtuoso is seeing sourced from the group's hotel data.
The first, is that the Virtuoso traveler is staying closer to home, with a 30% bump to those staying in hotels 1,500 miles or closer.
The second, is that consumers are making plans in a tighter booking window—Virtuoso, Kolner said, is seeing a "good size swing in bookings two weeks or less out," which is "clearly an opportunity" for its advisors.
The third, is that there is some big movement in the type of hotels that consumers are seeking, with adventure, seclusion, golf, and wellness properties seeing more interest than other categories.
Kolner also spoke about festive season travel and cruising—according to the data, over half of Virtuoso travelers like to go somewhere during festive season and while one-third are not going to travel, one-third are ready to plan now and another one-third said they are going to plan later.
That festive travel pool is also looking to return to farther-flung destinations with 89% of them saying they are ready to get on a plane this holiday season.
As for cruising, overall cruise sales for Virtuoso are pacing just 6% below 2019, a record year for Virtuoso. A lot of that interest is in the luxury and premium segments of the industry.