Here's What United Airlines' COVID-19 Pilot Testing Program Looks Like
by Daniel McCarthy /

United Airlines this week kicked off the first of its flights that include free COVID-19 testing for all passengers.
For the first time for United, passengers over two-years-old, flying from Newark International Airport to London Heathrow were able to get tested, free of charge, before boarding the plane. Each passenger was given a rapid Abbott ID Now COVD-19 test, administered near the Newark United Club near Gat C93 at the airport.
All passengers who opted-in were notified prior to getting to the airport so they could schedule an appointment with Premise Health, the company administering the test. They were then notified about the test results prior to getting onboard.
Those who opt-out of the testing were given the option to be accommodated on another flight.

Photo: United Airlines.
While the testing won't relax any U.K.-quarantine requirements—the U.K. has a 14-day mandatory quarantine in place for all inbound passengers—but the hope is that it will demonstrate United's, and the air travel industry in general, ability to safely bring its passengers across borders without COVID-19 worries in mind.
"These flights are a good proof-of-concept for governments around the world that are considering making testing part of the travel experience," said Toby Enqvist, chief customer officer for United.
"Expanding our testing efforts with pilot programs like this one not only helps guarantee passengers* onboard test negative for COVID-19, it also adds another element to our layered approach to safety and demonstrates a way to work within quarantines to key international destinations."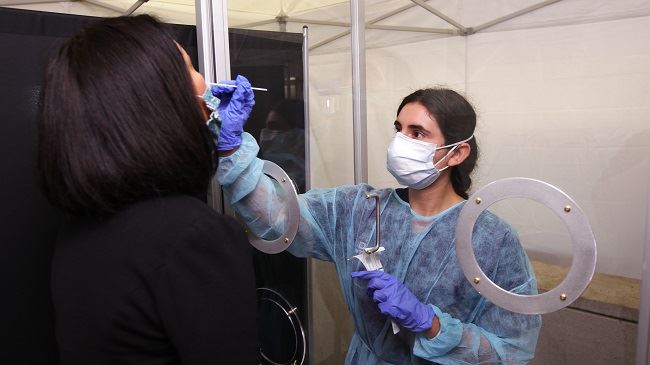 Photo: United Airlines.
The plan going forward for United is to continue with the pilot program for the next four weeks for passengers traveling between Newark Liberty International Airport and London Heathrow Airport. The test will be given to passengers specifically traveling on United Flight 14, which departs 7:15 p.m. on Mondays, Wednesdays, and Fridays from Newark.
United it planning on showcasing the program to governments "on both sides of the Atlantic" to demonstrate just how effective it is. According to the carrier United has already seen a positive impact on bookings for the flights were testing is available.

Photo: United Airlines.