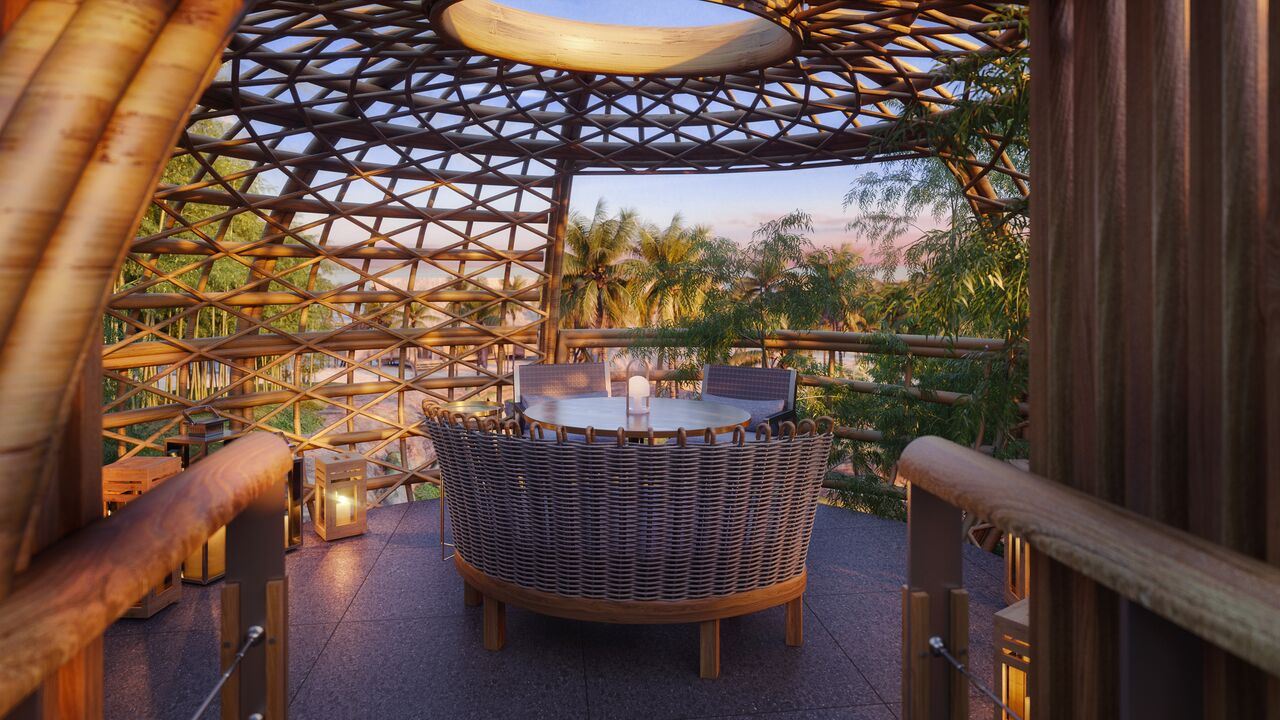 Hilton is going two rungs up the luxury ladder in The Maldives, in the Indian Ocean.
First, the established and highly popular Conrad Maldives Rangali Island has added a unique two-floor, over-and-under Muraka (meaning coral) suite. Unlike the existing 151 villas, which are thatched in typical Maldivian style, Muraka is a flat-roofed white structure. Costing $15 million, with interiors by Yuji Yamazaki, it was made in Singapore and towed around.

The Murkaka suite. Photo: Justin Nicholas.
Above water, you enter the 5,500-square-foot top floor, which has an additional 1,350 square feet of deck. You have a white-walled theater looking out at a significant private pool and decking. Here, there is dining for eight; two main bedrooms; sleeping areas for butler or maid; and security; plus, a jolly good, little Technogym. You go down in an elevator, or take 45 spiral wooden steps, under the water deep into the ocean. The lower level, at 1,011 square feet total, is like living with the fish: Here, the double bedroom, bathroom and living room have five-inch thick curved acrylic walls and a ceiling that looks out and up at the continuous kaleidoscope of marine life.
For $50,000 a night, you also get all food and drinks, including your choice of wines, and other perks.
The main resort, by the way, is a popular honeymoon destination. For weddings, there is a white, glass-sided tent-chapel; and GM Stefano Ruzza is happy to officiate.
Next, I was the first outsider to have a preview of the Waldorf Astoria Maldives, scheduled for opening in May 2019. Even my arrival was superlative. Most Maldivian resorts are reached by seaplane from Male International Airport. But transport to and from Waldorf Astoria Maldives requires a 30-minute speedboat ride, in a 70-foot Princess, three-cabin boat - one of four the resort's owner has purchased.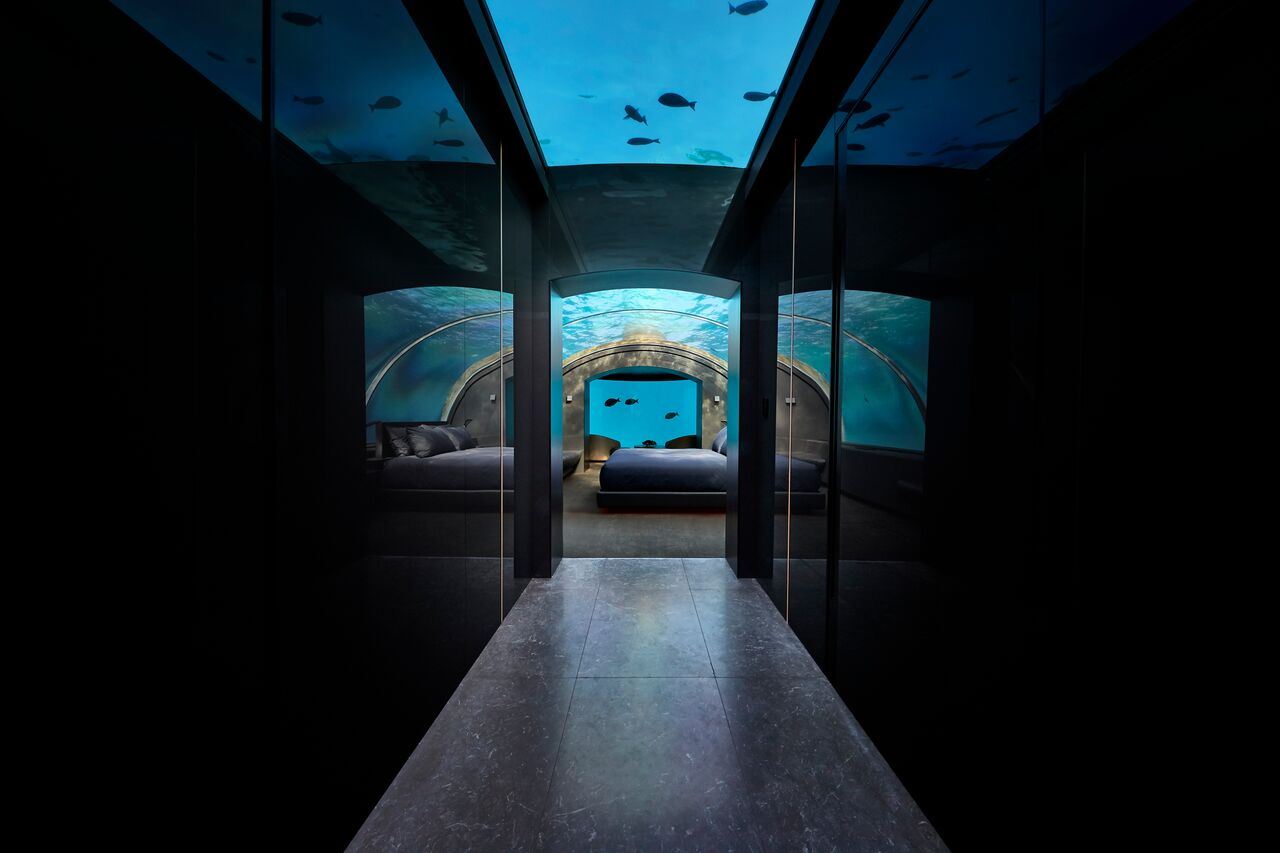 The undersea corridor at Muraka. Photo: Justin Nicholas.
In all, he has invested a third of a billion dollars in this development, linking three small islands by boardwalk to give one large open horseshoe shape, two miles from tip to tip. There are 121 thatched villas. The smallest is 800 square feet inside plus 1,490 square feet of garden. Every villa has its own pool, from 50-feet long. Accommodations were designed and built by the owner's team.
There are stunning restaurants and bars, designed by Stickman. The Syrian restaurant looks plausibly like a village in the countryside: You dine in peripheral alcoves that evoke house courtyards. The Chinese restaurant, embellished with lots of gold, offers inside dining and outside, on-beach dining. Of course, there is an all-day restaurant, with an adjacent family-friendly room and, throughout, cathedral-high ceilings (this resort is all about space). It also has a sensational, jaw-dropping wine cellar. You enter into what looks like an ancient stone tunnel – admittedly carved in the last few months – to the cellar dining room, which seats 12, surrounded by wine storage caves.
And now, for the highlight of highlights. Those who know the bamboo walkways above, say, Soneva Kiri in eastern Thailand, or the vertically oval restaurant walkway of the Flying Elephant at Park Hyatt Chennai, will find a relation here at Waldorf Astoria's outdoor treehouse restaurant, Terra. You walk up around a curved, granite walkway flanked by bamboo sculpture – you are actually above the wine cellar, though you would not know it. As you go up and around, you pass seven adjacent open-air pods (one big enough for four diners, and the others for two diners with completely private dining), looking down through bamboo at the resort and its beaches and royal blue and azure waters.
Can you see why this property, run by GM Etienne Delancon (formerly at Park Hyatt, Shanghai), will be another memorable Hilton luxury resort?

Waldorf Astoria Maldives' Terra. Photo: Waldorf Astoria.