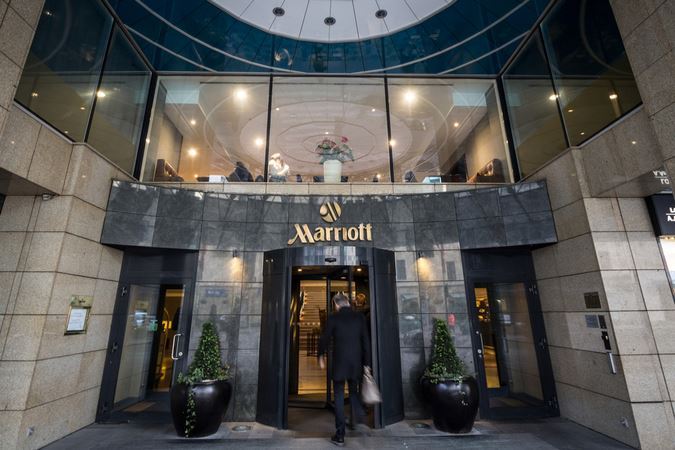 While a full recovery is expected to take time, hotel industry CEOs are optimistic the travel landscape will improve in 2021.
On a panel as part of the online NYU International Hospitality Industry Investment Conference on Monday, Marriott International CEO Arne Sorenson said "by the end of 2021, I'm optimistic that a lot of this will be behind us and we will be moving toward recovery. Although we may have an economic crisis rather than a health crisis, we know how to rebuild from that."
Chris Nassetta, president and CEO of Hilton, expects 2021 to be the biggest growth year for RevPAR (revenue per available room) in the company's history. However, performance will be "choppy to stable" until spring as Asia improves and the U.S. remains relatively stable while Europe "seems to be going backward."
Industry performance may be up as much as 45% in 2021, said David Kong, president and CEO of Best Western Hotels & Resorts. As multiple countries develop vaccine treatments, more people will feel comfortable traveling, he said.
Until vaccines and other measures are more widely available, "we have to bridge this industry" through the pandemic and then "this industry will come back incredibly strong," said Keith Barr, president and CEO of InterContinental Hotels Group.
Barr added "we need to continue to speak with governments about the importance of this industry," noting that after a spike in cases, Europe is back on lockdown.
Next year will be "a magnificent inflection point and will provide a tremendous level of hope," said Mark Hoplamazian, CEO of Hyatt, adding "wellness will be big, and the mental mindset will be very different."
Hopes for another round of economic relief
"We are very disappointed about the lack of a stimulus," said Nassetta, but the election "put us in a position where it is politically possible."
The consensus among panelists was that this year may see a bill pass, focusing on reopening the Paycheck Program for small business loans, but the new Biden administration will push for a greater stimulus plan.
"The challenge we faced heading up to the election wasn't President Trump. You had [Sec. of the Treasury Steven] Mnuchin negotiating with [Speaker of the House Nancy] Pelosi, and if they had come to a deal, they would have never gotten Senate support for it. The Senate was always the one out of play in that moment in time," AHLA CEO Chip Rogers said during the conference.
"The interesting change has been the day after the election with [Sen. Majority Leader] McConnell coming out saying we have to get something done by the end of the calendar year, and, more recently, Speaker Pelosi coming out and echoing that sentiment."
"Hopefully with some fresh eyes, even at the Treasury Department, we will have some sort of opportunity to continue to make our case and have folks really do something for our industry that will help us," said National Association of Black Hotel Owners, Operators and Developers CEO Andy Ingraham.
Ingraham also pointed to the industry's backing of a $4,000 tax credit from travel to stimulate demand. "This is not only a way to stimulate travel but stimulate the entire economy," Ingraham said. "Travel impacts every aspect of the economy, both domestically and internationally."