How is a Travel Agency Like a Box of Candy? Ask Royal Caribbean's Vicki Freed
by Cheryl Rosen /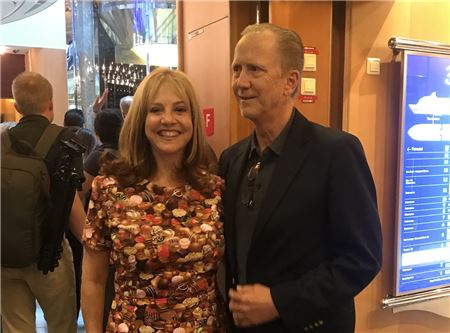 A travel business is like a box of candy, says Vicki Freed.

Whether your business is large or small, established or new, it's always great to have a variety pack — where each piece is different, but they all fit together in an interesting assortment.
In her keynote speech at the national Avoya Travel conference onboard Navigator of the Seas last week, Royal Caribbean's Vicki Freed, senior vice president of sales, trade support and service, noted that everyone likes a little assortment — and travelers are no exception. "Clients may want one kind of candy today and a different kind tomorrow," she said.
Like Avoya, you might consider adding more all-inclusive resorts to your candy mix. Their shorter booking windows and young client base will bring faster commissions into your revenue stream and new clients into your customer base. And that's particularly helpful to new independent agencies.

Here are some other lessons travel advisors can learn by copying the traits of top chocolatiers, according to Freed:

1. Consider the packaging.
Are you out there in the community, making contacts and partnerships? If you are home-based, your website is your retail store. Is yours enticing and fresh? Does it make customers want to reach in and grab a piece? Does it truly reflect what you do and the niches you sell?

Do you take advantage of social media? Wherever you go, whatever fam trips you attend, take lots of colorful pictures to post and share your adventures. Be consistent; don't let days go by without posting and checking what others have posted on your site. "Storytelling and pictures are a powerful way to sell your business," Freed said.

And don't forget your business cards. Freed has 30 different pictures on 30 different cards. Feel free to use the ones suppliers offer on their travel-partner pages; the ones on the Royal Caribbean site are license-free.

2. Highlight your specialty.
You know how each box of Godiva chocolates has that little map on top that shows which candy is which? Make your best chocolates stand out in the same way.
Are you a group specialist or a family travel specialist? Destination weddings or river cruises? Make sure your website and business cards remind prospective customers where your expertise lies.

3. Be sweet and not salty.
Always be cordial and inviting. Put a smile in your voice when you answer the phone, and be welcoming when customers want to meet you.

4. Mix in some local flavors.
Some of the most successful travel advisors partner with local businesses to cross-sell travel to their respective customers. Is there a wine shop or a beer distillery or a bridal shop in your neighborhood whose customer base is aligned with yours? Perhaps they would like to co-host a cruise night with you, and you can meet each other's customers.

5. Add some sprinkles.
Mix some social causes into your business model. Get involved in the charities in your community — it's good for the soul, and for the business.

6. Keep your candy fresh.
Don't let your relationships with customers get stale. "Don't think for a minute that email will keep the relationship fresh," Freed said. Email is a one-way conversation; pick up the phone instead and start talking to your clients before they melt away. Three out of five cruisers book through a different travel agent than the one they used last because they just don't feel a connection.

7. Throw out the candies that are too sour.
Sometimes you just have to kick out the clients who are wasting your time and hindering your growth. Bite the bullet and then move on.