Ian Schrager's New EDITION Hotel Brings Cool Back to Times Square
by Jessica Montevago /

As you walk through Times Square, where dizzying neon signs shine bright, and enter the new Times Square EDITION hotel, you're transported from the chaos outside into a serene and refined atmosphere.
Ian Schrager achieved exactly what he wanted. The hotel is meant to be a juxtaposition of Times Square itself, the famed hotelier said during a media event Wednesday kicking off the hotel opening, along with Marriott International CEO Arne Sorenson. "Inside is very pristine and very sophisticated. Everything was kind of juxtaposed against each other. When you go out there, you're going into the noise and raw energy."
The Times Square EDITION is a haven away from that. Upon entering, the EDITION's minimalist-chic aesthetic is on display with an ivory hall with Venetian plastered walls and a ceiling that is punctuated with a large, floating sphere. The black-and-white color scheme of the lobby and lobby bar are meant to offset the vibrancy of Times Square.
The outdoor terrace is a lush space, with vine-covered ceilings and spherical plants hanging down overhead, along with other plants and trees that evoke a Parisian garden rather than an industrial Times Square atmosphere.
The 452-room property also boasts the district's first Michelin-starred chef, John Fraser, who will spearhead the food and beverage outlets, including the fine dining restaurant called 701 West.

701 West is helmed by Michelin-starred chef, John Fraser.
As for the location, Schrager said he wasn't worried when asked if people would come to a luxury hotel in Times Square. "Times Square used to be the cultural mecca of not only this city, but of this country, and it stopped being that," he said. "If you build something, special people will come."
As the ninth EDITION property, with 18 more under construction, "you see already the momentum that is behind this brand," Sorenson said.
Each one is made to feel unique to the city it is located in, but "across the world, you see a portfolio that connects; there is a design and an ethos that transfers from one to the other, and it makes the hotels more prominent and more successful," he said.
The Time Square EDITION, has artistic touches, like an exhibit of specially curated images of "the real New York City" by renowned photographers hanging outside the entrance to the Terrace Restaurant.
It also boasts the 3,000-square-foot Paradise Club, where "we will be trying to capture the energy of the entertainment that was here before with a multimedia performance," Schrager said. Brooklyn-based collective House of Yes will perform modern-day cabaret, though it can't be put in a box, he said. Sorenson expects that the club will be a draw to both locals and travelers alike.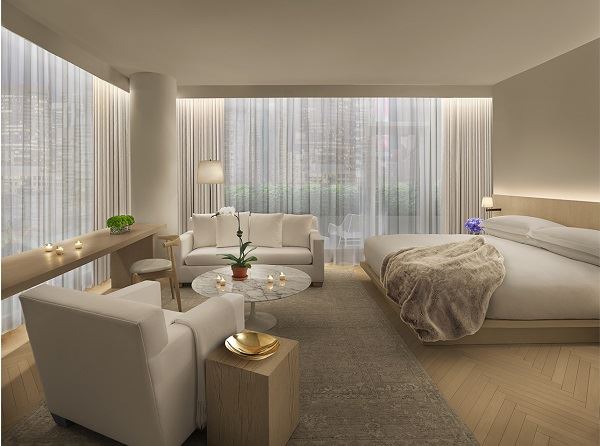 Of the 452 guestrooms, 27 are spacious suites.
Accentuating each other's strengths
"Everyone was skeptical about our relationship, but everyone has always been skeptical of anything I've ever done," quipped Schrager about his partnership with Marriott.
The collaboration may have seemed to be a departure for both parties, with Schrager as a risk-taker credited with inventing the boutique hotel and Marriott as a storied legacy company.
But, it's been 12 years since Schrager and Marriott began working together, launching the EDITION lifestyle concept in 2007. They both describe it as an organic partnership that has melded the best of what they each bring to the table.
"It became clear there is something about this [lifestyle] space that really turns travelers on and turns local folks on," Sorenson said. "Ian had expertise, and also was the father of the boutique hotel space, but we were going to somebody who would give us that permission and it seemed like an obvious marriage."
With Schrager behind the visuals and the narrative, coupled with the great service and global reach of Marriott, "When you put that creativity together with that operational excellence and reach, nobody else out there is anywhere near that."