International Women's Day: Two Tour Operators Striving for Change
by Jessica Montevago /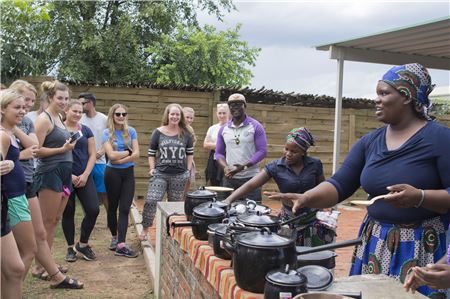 While International Women's Day (Mar. 8) is in part a celebration, it also serves as a wider call to action for accelerating gender balance. This year's theme is #BalanceforBetter, underlining the central idea that gender balance is essential for economies and communities to thrive.
With that in mind, several travel companies are working to achieve just that, through various community development projects that directly support and empower women around the world. Here are examples of how two tour operators are making a difference.
G Adventures' Planeterra Foundation
G Adventures introduced four new projects through its Planeterra Foundation that are helping to empower women through travel.
Tribal Textiles in Mfuwe, Zambia, was created to address the need for employment opportunities in rural parts of the country. The female-run fabric workshop, café and hand-painted textiles market is visited by all of G Adventures' "18-to-Thirtysomething Tours" traveling through the area.
Through the Lusumpuko Women's Club, a group of 20 women host cooking demonstrations with farm-to-table meals for guests visiting Victoria Falls, Zimbabwe, creating sustainable income opportunities and support for the women involved.
After partnering with the Princess Sewing Cooperative, G Adventures provided business training to the 10 female members of the co-op, giving them increased job security in the future. G Adventure guests in the Victoria Falls township of Mkhosana can visit for reasonably priced laundering and tailoring services.
Finally, working with the local organization, AidChild, and its Equation Café and Gallery in Kayabwe, Uganda, this new "G For Good" project invites G Adventures travelers to enjoy the paintings and crafts made by local artists, and share a traditional Ugandan meal. Visits support the nonprofit's mission to provide medical care and education to the 130,000 children living with HIV in Uganda, and training for the staff members who work there.
The Travel Corporation's TreadRight Foundation
The Travel Corporation also helps to empower women globally in local communities, in partnership with its not-for profit TreadRight Foundation.
A selection of Insight Vacations trips feature TreadRight experiences, including the recently added Iraq Al-Amir Women's Cooperative. While embarking on Insight's "Israel and Jordan" trip, guests have the opportunity to visit this foundation, managed and run by local women, experimenting in pottery making, cooking together and sharing meals. The cooperative aims to make women in the area financially independent and to raise their standard of living by increasing their income and preserving local heritage.
Through African Travel, another TTC brand, guests receive beaded rhino gift trinkets made by the women of the eKhaya eKasi. They learn beading and weaving skills at the Home in the Hood Art and Education Centre; and the artisanal gifts they make and sell allow them to support their families while improving the health of their local community.