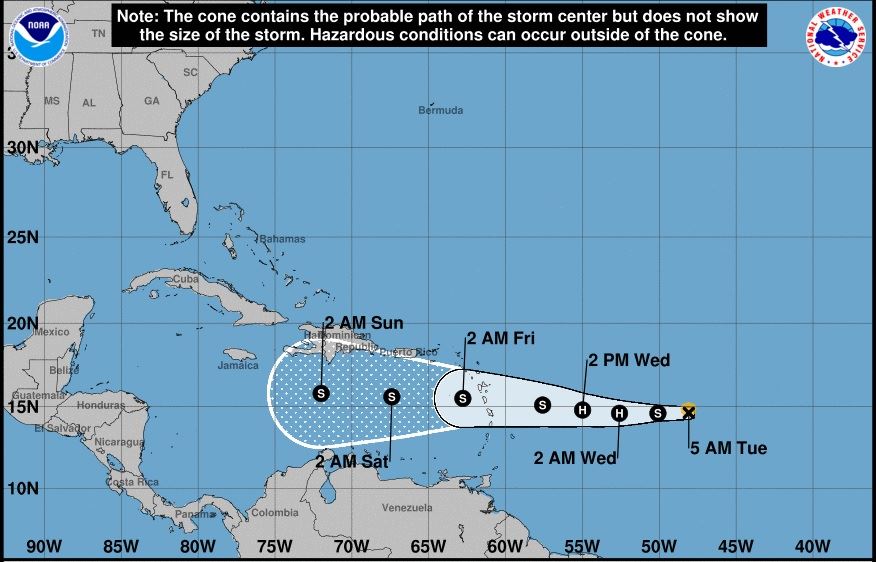 At the peak of hurricane season, three major systems have developed. As the Carolinas prepare for what's predicted to be a catastrophic Category 4 hurricane, Tropical Storm Isaac is forecasted to effect parts of the Lesser Antilles later this week and Tropical Storm Olivia is headed toward Hawaii.
Isaac was a strong tropical storm as of Tuesday morning, located 880 miles east of the Lesser Antilles, including the Virgin Islands, Anguilla, Saint Kitts and Nevis, Antigua and Barbuda.
Tropical storm force winds (39 mph or higher) could arrive in Guadeloupe, Dominica, Martinique and surrounding islands by late Wednesday or Thursday, and reach Puerto Rico on Friday morning.
Rainfall totals of 2 to 4 inches, with isolated areas receiving totals up to 6 inches, are expected across the Leeward Islands. The Windward Islands may receive 1 to 2 inches of rainfall.
Isaac may bring a moisture surge to Puerto Rico and the Virgin Islands, increasing shower and thunderstorm activity there late this week.
It has been nearly a year since Irma and Maria battered some of these same islands, which have spent the past 12 months recovering and rebuilding.
So far, Carnival Vista has reversed its itinerary. It will call on St. Maarten, Saint Kitts, San Juan and Amber Cove, and is expected to return to Miami on Sept. 16 as scheduled.
The US Coast Guard set Port Condition Whiskey, a readiness condition in which hurricane force winds are possible within 72 hours, at 8 p.m. Monday for ports in Puerto Rico and the US Virgin Islands.
American Airlines, Delta, and Southwest are among some of the airlines offering waivers for travel to, from, and through select Caribbean cities.
Meanwhile, in the Pacific, Tropical Storm Olivia is still moving toward Hawaii, where tropical storm warnings and watches are in effect, according to the Pacific Hurricane Center. Expected to pass late Tuesday night into Wednesday, Olivia will bring damaging winds, floods, high surf and storm surge.
Several major airlines, including American and United, have started waiving travel change fees for those with scheduled flights to or from Hawaii over the coming days.
According to local Khon2, on Norwegian Cruise Line's Hawaii-based Pride of America, "normal days in port on Maui will be done by the time the effects of the storm come through, so no Maui cruise visitor impacts are expected." It also reported ports on Maui and other Hawaiian Islands are ready to close.
Airlines also began offering waivers for flights in the path of Hurricane Florence. American Airlines will waive fees for passengers who are booked on flights Thursday through Sunday on flights to, from or through about two dozen cities in the Southeast, if they reschedule no later than Sept. 19.
Southwest Airlines customers booked on flights Wednesday through Sunday in six cities, including Charlotte, can rebook or travel standby at no additional charge.