MGM Resorts Will Open Vegas Properties at 25% Capacity to Start
by Daniel McCarthy /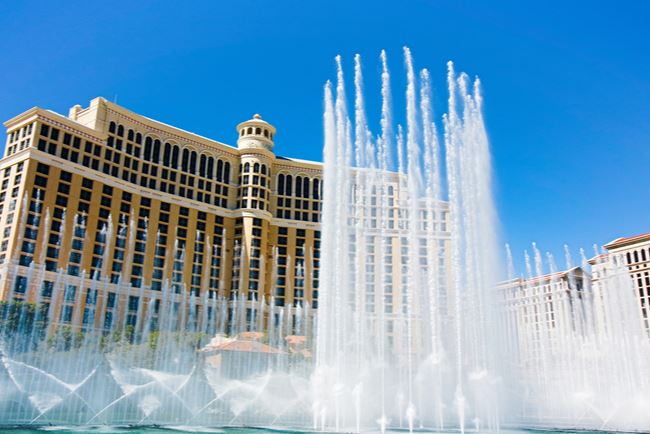 Once the COVID-19 shutdown is lifted, MGM Resorts International will open its first couple of Las Vegas hotels at 25% capacity, its CEO Bill Hornbuckle said this week.
Hornbuckle told the Today Show that the 25% capacity limit, along with a new set of health and safety measures that MGM also unveiled this week, will set up "a very, safe, controlled environment."
"In the short-term, Vegas done safely, I think, is still Vegas."
MGM's seven-point safety plan, which it unveiled on its website this week, calls for a new set of health protocols for both its employees and its guests including: temperature checks and health screenings for employees and self-screening for guests; mandatory masks and personal protective equipment required for employees and recommended for guests; six-foot of physical distancing; new handwashing and sanitization stations throughout properties; air quality and HVAC checks; new incident response protocols; and digital innovations.
The physical distance protocol will see every other slot machine in MGM's casinos placed out of service and a reduction in the number of guests allowed at blackjack and other gaming tables. Employees will also discourage guests from standing at tables (aside from Craps) and plexiglass will be placed at tables where physical distance isn't possible.
All gaming machines and other touchpoints will also be frequently cleaned.
MGM's digital innovations include a new, touchless check-in procedure that will have guests avoid the front desk and waiting in line. Instead, guests will be able to complete the check-in process on the MGM app before coming into the lobby. They will then receive a notification when their room is ready and will be able to unlock their door with a digital room key.
MGM will still offer a traditional check-in process, changed to be contactless, for those who want to use it.
MGM is still likely to start with just two of its Vegas properties when it again begins welcoming guests—New York-New York and the Bellagio. Those two properties will allow MGM to offer experiences for different budgets on the strip.
Hornbuckle, in that Today interview, said that he sees three buckets of guests that come to Las Vegas and the first will come "immediately, irrespective of health concerns." There's also a group that will need to be convinced that it is safe before coming, which MGM hopes to accomplish with the new set of safety protocols, and a third group that's going to "wait to see how this plays out."