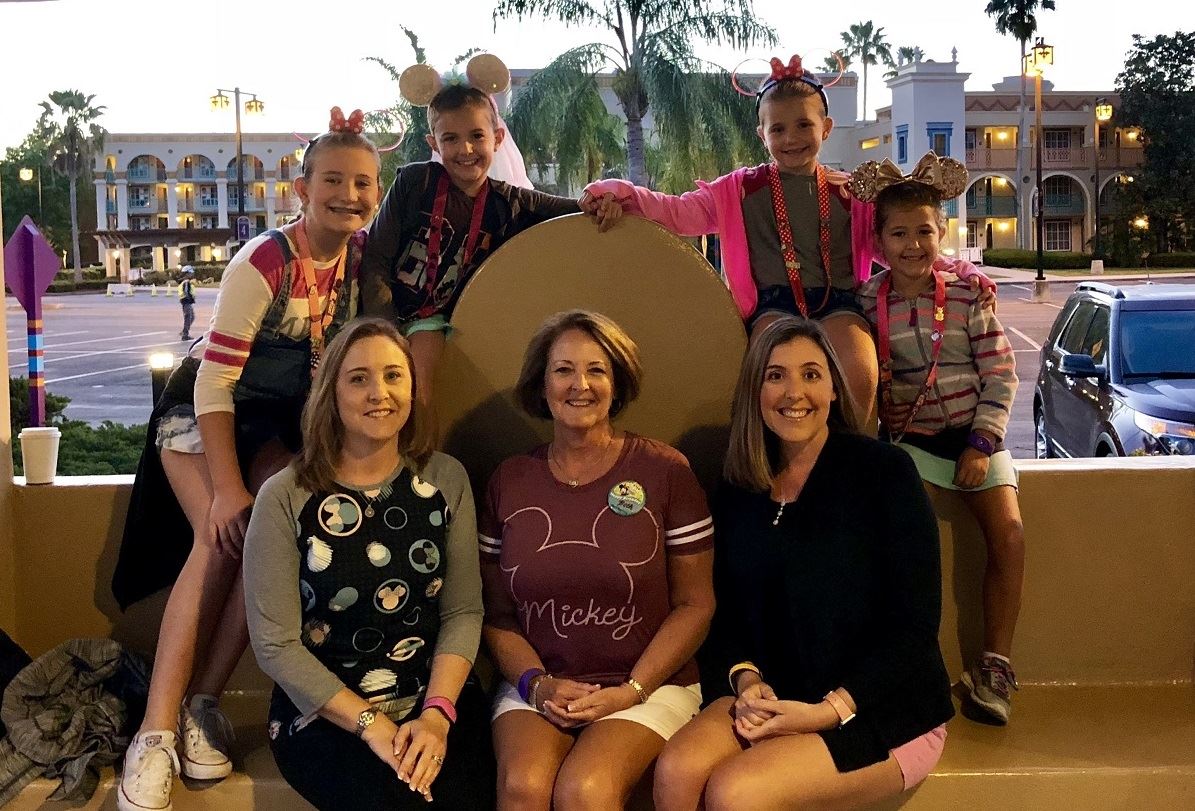 Mother's Day is always a special celebration in the travel agency profession. The U.S. Bureau of Labor Statistics estimates that about 85 percent of professional advisors are female.
At Premier Travel Escapes, in Jacksonville, Florida, this Sunday will be a double celebration for Jenny Oldham. In February, Oldham added her first full-time employee – her recently retired mother Beth Stubbs – adding the skills and knowledge Oldham needs to expand her corporate travel business, and take Premier to the next level.
"I was grooming her to come aboard for a while," said Oldham, president and sole proprietor at Premier. Stubbs worked for about 20 years as an executive administrative assistant for the top-tier executives of a local development firm. She gained extensive experience arranging corporate meetings and events, including choosing venues, negotiating contracts, and handling logistics on site.
Meetings and incentives is "a good portion" of Premier's business, Oldham said, and she has been looking to grow that side for several years. "It seemed like a natural fit to have Beth come on," said Oldham.
"Jenny's been dropping hints for years," said Stubbs, Premier's newly appointed vice president, corporate meetings and events.
Three months into this new phase of their relationship, Oldham and Stubbs are seeing the benefits both personally and professionally. Stubbs is helping to grow Premier's corporate travel and meetings business, while also filling in for Oldham when she needs to travel.
Meanwhile, Oldham is teaching her mother the ins and outs of leisure travel, as well as the industry's technology tools – like the agency's TESS customer relationship management (CRM) software.
"When you own your own small business, you need to have that trust factor with anyone you bring on. I can't just let anyone come in and have access to critical information like my CRM," Oldham said. "To have that immediate trust in somebody, because you have known them your whole life, makes such a big difference."
"It's worked out perfectly, so far," said Stubbs. "I have admired Jenny for what she has accomplished, building this business from scratch. Not a lot of people have the opportunity like I do to work alongside her, and help her grow the business more."
Motherhood always at the core of Premier Travel
Oldham has owned Premier Travel for about ten years, starting the firm to fit her busy life raising two girls. "When I had my first daughter, I wanted to work from home," Oldham recalled. She eventually started her own home-based agency for the flexibility. Like most start-up agents, Oldham mostly booked vacations for family and close friends those first few years.
After her second daughter was born and the girls were in school, "I was putting myself out there more, and the business started growing," Oldham said last year was a "banner year," notching enough sales to make her one of Travel Planners International's (TPI) top 2018 travel agency producers.
"This year will be even better, and I realized I need more help. That is where I can pass off the corporate room block and meeting business to mom," Oldham said.
"If she can take more of that, I can take on more of the family travel and luxury travel sales, because that is my favorite thing to do," Oldham said.
Having Stubbs onboard also helps with being an entrepreneur and mother. "If I have a meeting and I need to be there, I'll call my mom and ask her if she can pick the girls up from school, or take them to an activity they have," Oldham said.
"And I'll jump in the car and go get them. We have the relationship to do that. I don't feel like an employee. I'm her mom," Stubbs said.
Helping each other grow
Premier's corporate business is mostly focused on smaller groups, about 20 attendees or less. Managing very senior executives, and often boards of directors, Premier is working with five-star hotels and resorts, and offers high-touch service for trip elements like flights and transfers.
"These meetings definitely take a lot more time and effort, because of who you are dealing with," Oldham said. "Beth has done this for 20 years, so she understands what goes into satisfying these clients."
For example, many corporate clients want an onsite meetings manager to handle logistics, solve issues with food and beverage, and keep the meeting running smoothly. "I couldn't do that with two children and grow that part of my business," Oldham said.
Meanwhile, Stubbs likes having someone who can help her think differently for her corporate clients. "Two heads are better than one," she said of her daughter, who has extensive corporate travel and meetings experience, as well. "It's easier to come up with ideas for clients brainstorming with someone you respect and trust. I bounce things off of her all of the time."
"We complement each other from our past experiences," Oldham said.
Additionally, Stubbs is learning the leisure side of the business. "It takes a lot of time to book vacations. Jenny has repeat customers and built her business from word of mouth because she does a wonderful job with them. I didn't realize what that takes until I got into the business."
Trust also gives Oldham the ability to take more fam trips, and attend TPI and industry events. While on a recent AmaWaterways business trip in Europe, Oldham received an adventure travel inquiry to California. Stubbs took the call, and booked the woman and her companion on an active travel trip that will include whale watching in San Francisco and hiking in Yosemite.
Not for everyone
While working together has drawn mom and daughter even closer, parent/child working partnerships might not be for everyone, Oldham cautions.
"You have to have a strong relationship to begin with to go into business together. We have always been really close. We have a tight-knit family. If we didn't get along well to begin with, I'm not sure this would work," she said.
"I see how Jenny handles her clients, vendors, her business, along with her children," Stubbs said. "I always admired how she has taken care of her girls."
That mutual admiration translates to a collegial workplace, mom and daughter said. "You are working together constantly, texting, on the phone, email back and forth. You need the camaraderie in place to make that work," Oldham said.
"Some of the systems, like the cruise booking tools, take time to learn," Oldham said. Working with her mom has reminded Oldham of how long it took to develop the expertise and efficiency she has today. "I have to be patient. It took me ten years to get to this level."
"TESS — there is a learning curve to that," Stubbs said laughing. "Jenny probably rolls her eyes when I call her a second or third time when I am working on it."
Oldham isn't sure yet how large she can grow this business. "We're setting some realistic goals, and will see what it takes to get there. Then decide."
"We may need more employees at some point. I'm thinking about it, testing the waters," said Oldham, whose sister (who also has two daughters), works as a speech pathologist. "She isn't currently looking to join the travel agency business, though she has our work ethic, so she could fit in well."
"I have friends that tell me all the time, 'I would love to come work for you.' But it takes a lot of training," Oldham said. "With my mom coming on, since she had that corporate perspective, flights, groups, it made it so much easier to expand."
For the short-term, Premier will remain a mother/daughter combo.