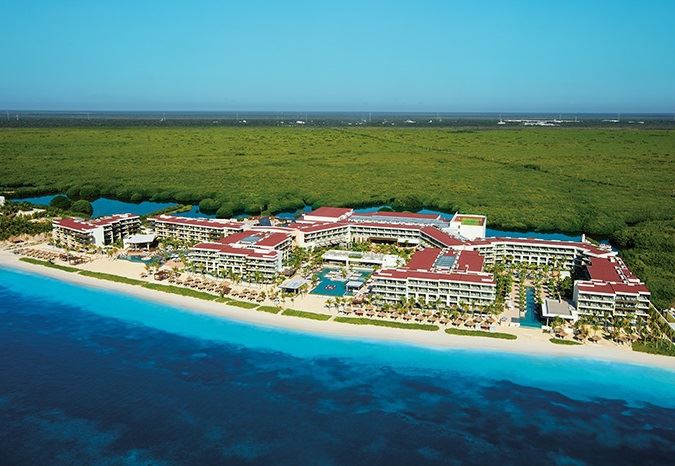 While 2020 presented many challenges for the travel industry, AMResorts – with brands including Zoëtry Wellness & Spa Resorts, Secrets, and Dreams, among others – closed the year with unprecedented growth. The ALG subsidiary ended the year with 69 hotels and a development pipeline of 59 properties in their branded portfolio across Mexico, the Caribbean and Europe, marking an 85% increase in room inventory.
Currently, the AMResorts development pipeline includes 22 new builds and 37 conversions. Upon completion, the hospitality giant will be on track to reach its goal of 103 branded properties by the end of 2021.
Javier Coll, group president for AMResorts' Global Business Development, said the coronavirus presented a situation of hotel owners and investors selling hotels at a rate higher than in the past 10 years.
"That was the main motivation," adding that location played a factor, because "in the Americas, banks are holding off on loans and refinancing which prevents us from growing faster. In Europe we see a lot more instant capital, so that was the high percentage of growth."
Indeed, AMResorts more than tripled the European portfolio in 2020, ending the year with 13,590 rooms and becoming the fourth largest hotel brand, by number of beds, in Spain.
In total, 36 properties were added to the European footprint, representing a combined investment of more than 100 million euros to bring the properties to Secrets Resorts & Spas, Dreams Resorts & Spas, and Alua Hotels & Resorts brand standards.
As part of its European expansion, AMResorts announced three new properties in the Greek islands of Crete, Corfú and Zante, bringing the first Dreams Resorts & Spas and Alua Hotels & Resorts-branded hotels to the destinations. The three properties will undergo extensive renovations before debuting as AMResorts hotels in 2022.
The company also marked its entry into the Iberian Peninsula, announcing an agreement to bring the first Alua-branded properties to the Spanish regions of Andalucía and Murcia, beyond the Canary and Balearic Islands and in destinations that cater mainly to Spanish tourists.
"Europe is about traffic and passengers, and Spain is the number one destination in the south of Europe," Coll told Travel Market Report. "We were not present in the mainland so we did reinforce our presence in the main destination. We added assets to the south of Spain, a big location for tourists."
Coll said AMResorts is also "looking at opportunities in Portugal, Italy eventually Croatia, and Turkey," representing "primary and secondary destinations based on volume that we want to be in. We started in Spain where most of the activity happens but those other destinations we have a long way to go."
In the Americas, AMResorts opened Secrets St. Martin Resort & Spa, Secrets Riviera Cancun Resort & Spa, Dreams Macao Beach Punta Cana, Dreams Vista Cancun Golf & Spa Resort, Dreams Natura Resort & Spa, and Dreams Royal Beach Punta Cana, while preparing for the debut of Secrets Playa del Carmen Resort & Spa in 2021.
The region remains a cornerstone of ALG's strategy to expand the AMResorts footprint, and Coll is already eyeing new destinations to bring the brand.
"The Bahamas is the third largest destination in the Caribbean, we're not in there yet and it's a place we need to be and want to grow," he said, as well as St. Lucia and the Dutch side of St. Martin.
The second phase of growth in the Americas, Coll is "looking at Cartagena, Colombia, we believe as a first step in South America it's the first way to start, closest to U.S., but eventually we'll go down to Brazil."
"We're growing very fast – the most important about growth is to execute it correctly and open the hotels the right way," Coll said. "We have this challenge about the global situation, so we need to be extra careful.
To-date, all AMResorts branded properties in Mexico have re-opened. In the Caribbean, all have opened with the exception of Secrets St. Martin Resort & Spa, which will begin to welcome guests in late January, and in Central America, Dreams Playa Bonita Panama will re-open in March.
"We already implemented the protocols for COVID-19. For us, it's not a temporary thing, those things are going to stay. They're still compatible with our product and attributes, to keep everything safe and under control."
As far as what's to come, Coll is optimistic. "By 2023, we'll be at the same levels of occupancy and rates as we were pre-COVID. We'll see it start to ramp up during 2021 and 2022."
"Everyone is desperate to go back to travel," Coll said. He expects to see a boom of travel once vaccination levels are upwards of 80%, "so we just have to go through these times and do the best we can. It may be painful in the short term, but our hope is end of the summer we should go back to normal," Coll said.
"We hope the rest of the industry is optimistic and agents can infuse that to their customers, and we'll do the same, and hopefully all together we can push this industry to where it should be."