Op-ed: How Can the Travel Industry Recover?
by Paul Ruden /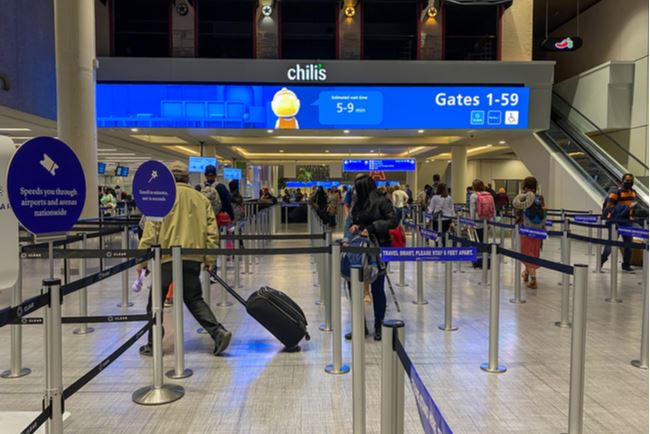 By now, everyone knows that the COVID pandemic has devastated every aspect of the travel industry. Hotels are empty, planes are grounded, cruise ships are docked. Businesses that depend on travel are shuttered, many never to reopen. People who crave to travel, for personal growth, business needs, or just plain fun, are stuck at home in various forms of quarantine, lockdown and healthcare emergencies that have killed more than 210,000 Americans and crippled an unknown additional number.
The virus continues to run rampant in many parts of the country, some of which have imposed travel lockouts and quarantine rules on travelers from other parts of the country. New York, Connecticut and New Jersey, for example, have a 14-day quarantine requirement for travelers from about 35 states based on a seven-day rolling average of positive tests in excess of 10%, or a rate of positive cases exceeding 10 per 100,000 residents. The states on the list are in constant flux.
I will not indulge here in arguing how we got into this catastrophic situation with no end in sight and no more government economic relief on the near-term horizon. Instead, I want to suggest how the travel industry can, within realistic limits (that are significant), begin to break out of the black hole into which it has fallen.
First, it's important to have some principles of decision. The most relevant principles are these: (1) do not let the search for the perfect defeat achieving the good – there is no perfect here; (2) competition, of which the travel industry has plenty, is the enemy of realistic near-term solutions to the core problem;(3) the core problem is consumer uncertainty regarding what may be somewhat low-risk behaviors that have very high-risk and far-reaching consequences; and (4) recognize and exploit the fundamental truth of the interdependence of the industry – travel advisors sell the most remunerative travel, airlines deliver those travelers to destinations where they stay in hotels, depart for cruises and so on. The travel business is inter-modal in every sense.
Consider now the issue of consumer uncertainty in a time of economic pandemonium and incipient collapse. For more and more Americans, money is tight and prospects are few. Moratoriums on evictions are running out, interest rates are near zero for such money as people still have, job opportunities for people who have been laid off or furloughed are negligible. On top of that, the school year has started and the early viral-spread returns from the colleges are disturbing though not unpredicted. Families with young children are terrified of what may happen to them at school. Hope for a near-term vaccine is slim and assured treatments for COVID-19 remain aspirational.
No one can reasonably argue that consumer uncertainty in these circumstances is unjustified. What has the travel industry done to address the uncertainty?
Not enough, I suggest, respectfully. There is much talk of the innate desire many people have to travel and that is accurate. Travel remains one of our most basic and strongest objectives. But as the consumer looks at the travel landscape, he or she sees mostly chaos or a close approximation. Since the beginning of the government-imposed lockdowns and quarantines, each element of the travel industry has had to largely fend for itself. Individual companies have adopted advanced cleaning, filtering, social distancing and other policies, but these policies have changed frequently, sometimes within days of adoption. Happy talk about the safety practices of cruise ships was overwhelmed by the realities of the Diamond Princess infection, announcements of countries denying docking privileges and passengers stuck in cabins for weeks on end. A large share of the cruise market consists of more senior travelers who have higher-than-average risks when contracting COVID-19.
Airlines, which in many ways are the carotid arteries of the travel system, were similarly troubled. Despite scientific evidence supporting mask-efficacy, the Department of Transportation refused to mandate mast-wearing. Faced with that vacuum of leadership, one airline would announce that it was requiring masks for passengers, but travelers discovered, and used social media to publicize, that there was little or no enforcement. Flight attendants disclosed that their instructions were to cajole, but not demand, compliance. The same thing happened with the issue of seat use rules – lateral separation, front-to-rear separation, different rules for different aircraft types and boarding practices. These issues were compounded by reports, with accompanying videos, of passengers who were intoxicated or otherwise refusing to mask-up, exposing other passengers to often failed attempts by carrier staff to negotiate with irrational and angry travelers. Airport rules were obscure and variable.
International organizations and governments, each facing unique and unprecedented struggles of their own, were not much help. Guidances, policies and directions were changing almost daily, or so it seemed. And what "seemed" is the controlling problem.
What would one reasonably expect of consumers' reactions to this constantly changing mish-mash of rule and enforcement changes, combined with videos of sometimes violent confrontations with non-compliant travelers? I believe that it scared the hell out of most people, so that even when the opportunity to fly was presented, with all manner of previously sacred cancellation rules suspended and favorable pricing offered, people said "no, thanks. I simply can't rely on the assurances that steps are being taken to protect me and my family. I'll wait for better times."
It's easy to point fingers, of course, and I don't want to be misunderstood here. The industry was caught largely unaware and had to scramble initially to figure out what to do. And, this is crucial, they had to resolve these problems in an environment of near-constantly changing government policies regarding the nature of the pandemic threats and the practices that should be followed to reduce risk. Moreover, in normal circumstances the industry is highly competitive and it was natural for firms to act independently even as their various associations struggled to propose innovations while avoiding confrontations with an administration that insisted all was going just fine.
Trust in the traditional instruments of government health policy was undermined from the outset and has worsened as the pandemic has progressed. It is hardly a surprise that the industry has faltered in these circumstances. Its cooperative behaviors appear to have been limited mainly to joint attempts to induce the government to grant economic relief in a free-for-all involving every major segment of American industry. Even that effort has been only partially successful and has now effectively died with the president's announcement that relief negotiations are over until after the election unless … whatever.
So, what's the answer at this late stage to restoring some attainable level of consumer confidence that travel is safe?
I suggest that the atomization of the industry's approach must be replaced with an across-the-board cooperative regime of joint decision-making to which individual firms commit to total compliance for a significant period into the future. For example, and as a great beginning, the cruise industry players (of which there are relatively few independent entities) have undertaken a collective effort to establish firm rules about how ships will be sanitized, how masking and social distancing will be applied and so on. Obviously, the science behind this is still evolving, but much is already known about how to manage indoor environments. I believe that the new rules should be vetted with a representative sample of cruise travelers to evaluate whether the rules are understandable, practical and reassuring. The likely outcome is not a return to full-on unlimited cruising and many economic challenges will remain. The concept is not a cure-all but an attempt to establish a common and trustable arrangement that will permit business to resume on some scale.
A similar process should be undergone by the other travel segments. These days there aren't so many airlines flying large aircraft domestically that they cannot find ways to engage in cooperative negotiation, with perhaps the aid of their industry trade associations, to address the questions consumers have about safety.
Such a process faces many obstacles, including distrust among the competitors and the reality that some assets simply cannot be adjusted as required, placing some firms at a potential disadvantage. It may be helpful to bring in outside professional mediators to assist the parties in getting to 'yes.' Mediators don't force outcomes, but they can be extremely effective in helping parties find commonly acceptable solutions.
Particular attention must be paid to how the rules are enforced. Today, for example, some airlines have said they "reserve the right" to ban non-compliant travelers from future travel for indefinite periods. That is fine but does little to assure the other travelers who must sit near them and are exposed potentially to deadly infection when these travelers refuse to comply when in flight. It may be necessary to enlist law enforcement so that these people face criminal charges upon landing, a prospect that might discipline behavior more effectively than the mere potential of being banned.
Because of the inter-modality of the industry, additional attention must be given to the interfaces between the steps in most trips. The ride-hailing, limo and taxi services have pretty straightforward rules on masking, for example. But what happens when the consumer arrives at the airport? At the gate? On the plane? At the next airport? Upon arrival at the hotel/resort? As long as consumers are unsure of what to expect, many will resist their innate longing to resume traveling the world as they did before the pandemic. The key is to reduce the uncertainty through unified and coordinate action. And governments and international health organizations must aggressively support these efforts to get everyone on the same page.
I don't claim to have all the answers. I'm arguing for a process that could lead to comprehensive, uniform and enforced policies that could reassure consumers that traveling is as safe or at least safer than many of the other activities in which they routinely engage without much consideration of risk.
To further clarify, I understand that my proposals for inter-company cooperation and agreement may raise antitrust concerns. While there is good reason to doubt that industry cooperation on the subjects at hand has competitive significance, the risks can be eliminated through well-known mechanisms for quickly securing Justice Department consent to joint action. This situation cries out for a flexible government approach.
To sum up, there is little the industry can do to solve the problems of uncertainty arising from perverse government policies that have instilled distrust among consumers. There is, however, a plausible chance that smart people (with which the travel industry is well-populated) could, working together, produce a viable regime of enforceable rules and practices that would begin to restore public confidence in travel. This won't be easy or fast, but salvaging this industry, which is one of the central arteries of economic growth and national development, is worth a try. Continuing down the traditional path of every firm for itself has not worked – it's time to try something else.