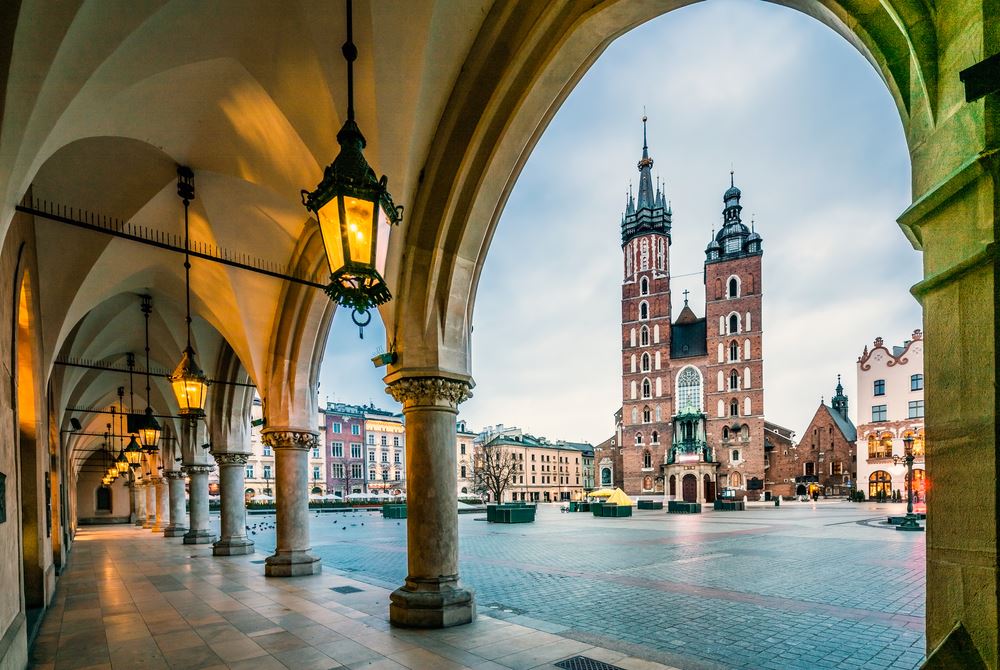 Is it time for Poland to have its day in the sun as a tourist attraction?
If Sophia's Travel's current booking trends are any indication, the answer would be yes. The travel agency/tour operator is seeing a strong surge in interest in Poland. While the agency's top destinations continue to be Italy and France, bookings for Poland jumped 45 percent in 2018, year over year, edging out the Czech Republic as Sophia's Travel's third most popular destination.
This year is the 75th anniversary of the liberation of Auschwitz and the 80th anniversary of the invasion of Poland in 1939 that kicked off World War II. During these historically significant anniversaries, it seems that the travel world has also come around to recognizing Poland as a great place to visit.
Sophia's Travel's owner, Sophia Kulich, is seeing a lot of interest in Bialystok (the Polish city that is credited as the home of the bialy roll), as well as in more high-profile cities such as Warsaw and Krakow.
Kulich leads small group tours and arranges private FITs for clients. She handles a lot of heritage travel for people of Jewish and of Catholic backgrounds seeking to trace their ancestry in Europe.
"We personally research each itinerary to help our travelers discover the towns and sites associated with their family's past. In addition to visiting historical and cultural areas, we provide a unique emotional journey for our travelers," says Kulich.
Kulich was born in Kiev when Ukraine was part of the Soviet Union and Jews were not permitted to travel out of the country. In the 1980s, the restrictions eased; and in late 1982, she was able to leave the country with her husband, young son and her parents. The family settled in Rome. Later, they were able to gain entry to the U.S. and settled in New York City. She initially took a job in IT; and then in 1993, she opened her own travel agency.
Her experience growing up in Eastern Europe gave her an edge in researching heritage-related travel. She works with a genealogist and archivist in Poland who helps her discover the family histories of clients seeking to trace their roots.
Tours to the Ukraine, Romania and Poland
Sophia's Travels recently set up three different tours to the Ukraine, Romania and Poland to take place May through June of this year. The trips focus on local culture, cuisine and history. Although they contain elements of Jewish heritage, they are open to people of all faiths.
"The Ukraine Klezmer Festival" tour is an 11-day/10-night trip from Lviv, in western Ukraine, to Odessa on the Black Sea. It starts with attendance at the International Klezmer Festival in Lviv and a tour of that city before departing by minibus through the Carpathian Mountains to Chernivtsi in Western Ukraine to explore sites connected to Ba'al Shem Tov, founder of Hasidism.
The tour, departing on June 11, 2019, also includes visits to the monastery of Pecherska Lavra in Kiev, a UNESCO World Heritage site; the catacombs of Odessa; and the folk art museum in Kolomya, to learn about traditional Carpathian mountain life.
Sophia's Polish "Jewish Heritage Journey" is an eight-day/seven-night tour beginning with three nights in Krakow, which includes the central features of Jewish traditional life in Krakow, the Royal Castle and the Old Town; a Polish food tour with visits to a farmer's market; and a look at sites used in Stephen Spielberg's film, "Schindler's List."
The trip, which departs on May 28, also includes a full-day tour of Auschwitz-Birkenau; two days in Gdansk; and three nights in Warsaw.
The third itinerary, "Tracing Legends and History in Romania," is a seven-night/eight-day trip departing on June 24. It begins and ends in Bucharest. The tour spends two nights each in Buchares (the ski resort town of Sinaia in the Busegi Mountains) and Brasov (in Transylvania), and one night in Sibiu.
Tour participants will be able to sample local wines and culinary specialties; enjoy a home-cooked meal with a local family; travel the Transfagarasan Mountain Road; and ride cable cars to the sacred mountain of Kogaion and Balea Lake (a glacial mountain lake), for panoramic views of the surrounding mountains.