Scenic Luxury Cruises and Tours See Encouraging Booking Trends Heading into 2021
by Daniel McCarthy /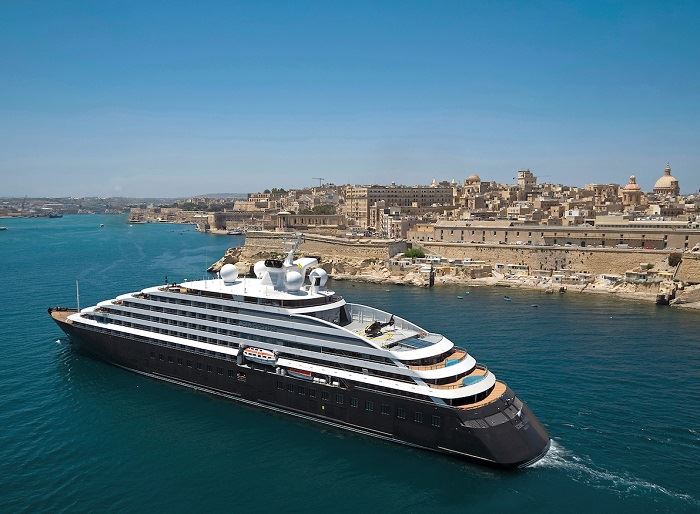 It's been a little over a year since Ann Chamberlin joined the Scenic Luxury Cruises and Tours as vice president of sales. Chamberlin came onboard right as the group was launching Scenic Eclipse, one of its biggest launches ever, during a star-studded ceremony that include Dame Helene Mirren in New York.
Since then, Chamberlin has taken the reigns of Scenic in the U.S., with a goal of showcasing the brand's all-inclusive offerings and a growing fleet of vessels to both consumers and travel advisors in North America.
Speaking to Travel Market Report last week, Chamberlin discussed Scenic, its sister brand Emerald Waterways, and how both brands have evolved and dealt with the COVID-19 pandemic.
"I knew it was a big responsibility," she said of her move back into the cruise side of the industry after spending so many years with ASTA (Chamberlin, prior to ASTA and Virtuoso, spent time with Holland America). "We deal with double brands with Emerald and Scenic and now the new yachts. It was a lot to learn with 25 ships."
Chamberlin's education began with a sailing on Scenic Amber on the Danube River. She said what stood out was both the ease of booking and the ease of operations onboard—no lines at check-in or check-out and an all-inclusive fare that included all the basics.
She said the brands are still the "new kids on the block," with only seven years of experience in the U.S. market, which makes part of her responsibility educating the travel trade. Still, even with the task at hand, Chamberlin said she "felt like I hit the jackpot with the innovation and quality" of the brands.
Positive booking trends
During the brands' Black Friday sales, Scenic and Emerald saw the highest booking rate since the pandemic started, Chamberlin told TMR. In fact, booking volume has increased steadily since April, with November passenger new bookings up 208% over April.
"Those are really encouraging signs," she said, adding that the team is seeing a steady nine-week upward trend.
It was one of Scenic's most aggressive sales and opened before Wave season, which would traditionally be the time to do something like this.
"We went in early and it has paid off for us," she said.
Those gains have been made without a push on the marketing side, too, as Scenic and Emerald have put marketing on pause since early March. While, currently, the brands have started putting a small amount of resources into marketing through the end of the year, it's not nearly at the level it was at in 2019.
"We anticipate turning it on incrementally," Chamberlin said. "We're going to go quarter by quarter. We're going to be smart about where we are being strength in the market."
The booking numbers have mostly come in through the travel trade, which Scenic and Emerald consider to be its most important sales channel.
Chamberlin – whose past life included nine years at ASTA Small Business Network and another four-and-a-half years as senior vice president of membership and strategic partnerships with ASTA along with nearly a decade at Virtuoso – told TMR that guests were "looking to their trusted advisor to tell them about the product."
"I saw advisors really rolling up their sleeves and being needed to make the clientele make those information decisions about putting money down during the pandemic," she said.
Chamberlin said her and her team worked hard during the time to "clear as many roadblocks" as they could to help them support the trade's business.
"We turned into servicing for the trade - that is still our most important thing. We want to help the travel advisor look successful to the client. That's what I felt most of the year is about."
Scenic and Emerald will continue to run their webinar and advisor training series through the end of the year, educating clients on what they need to sell smaller ships, which Chamberlin believes will benefit from an accelerating demand through the new year. They will also look to facilitate group business, a lot which is coming from the IC community.

Emerald Azzurra during its float out. Photo: Scenic.
Fleet update
At the moment, Scenic has voyages through March 2021 suspended. Chamberlin said she doesn't expect to start sailing until "it's safe to do so," with the focus remaining on the second half of 2021 and 2022.
Still, that doesn't mean there hasn't been movement for the brands. Emerald recently floated out its first ocean ship, Emerald Azzurra, at the Halong Shipbuilding Company in Vietnam.
The 100-passenger luxury ship is expected to debut in 2022, sporting 50 cabins. It will join Emerald's nine other ships, all of which are currently river cruise ships sailings in Europe, on the Mekong in Vietnam, and on the Volga River in Russia.
The Azzurra came at "a perfect time" for Scenic, Chamberlin said, as the company's founder, Glen Moroney, vision was to build a fleet of ocean yachts that would hold a special place in the market, sailing under 200 passengers.
Azzurra, which will sail in non-polar regions, will join Scenic, which does the same in polar regions, Chamberlin said.