Seabourn President Josh Leibowitz on the New Definition of Luxury
by Daniel McCarthy /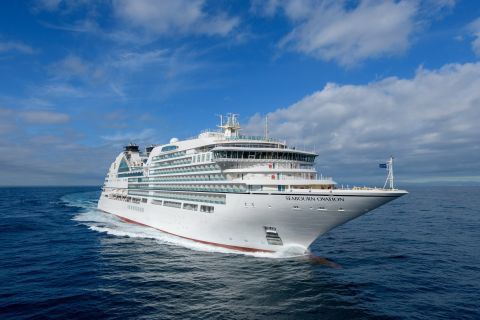 Josh Leibowitz, the former senior vice president for Cunard North America, was appointed the new president of Seabourn late last month, taking over after Rick Meadows' retirement at the end of May.
Leibowitz takes the reins at a time when no ships are sailing, a precarious position to be in. It provided a number of challenges, some of which are still ongoing, including repatriating crew and putting a health and safety plan into action. But it offers some opportunities that might not have been available when things were status quo.
"It offers a few unique opportunities becoming a leader at this time," Leibowitz told Travel Market Report. "I have an opportunity to go on a listening tour – I've been talking to well over 100 people so far in a few weeks – guests, travel agents, onboard crew, shore side crew, people at home. It offers us a nice opportunity to really focus on what makes Seabourn so special – that's the Seabourn family – the guest, the travel agents, and the onboard."
"I love the fact that there's a learning curve, it allows a fresh set of eyes and ears on the business and we are presented with a unique opportunity and a unique challenge," he said.
Coming from Cunard, another Carnival Corp. brand where Leibowitz also served as chief strategy officer, Leibowitz is bringing over experience sailing luxury consumers and working with luxury advisors, which gave him a partial leg-up at Seabourn.
"It offers some extraordinary luxury experiences, having dealt with so much of the luxury travel trade in that role, I am definitely excited to bring that over. Both are also global brands. Those experiences allow for the ability to integrate with the Seabourn team."
What COVID-19 means for Seabourn
Seabourn's categorization in the ultra-luxury space also means something new in light of COVID-19's impact on the industry, Leibowitz said.
"I think the newest definition of luxury is that people want to feel that safe. We have our mind towards policies and procedures and protocols that allow people to feel way."
That means developing health and safety protocols by engaging some of the world's leading medical doctors and public health experts on an ongoing basis to have the information and data the line needs to mitigate risk both among its guests and its crew. It also means watching "what's happening in the broader world," including procedures and policies already in place that are working and ones that are also not working.
Seabourn's return to regular operations, like the rest of the North America cruise market, is still on hold, but when it does restart, it could do so starting with one region at a time.
"We benefit from the ability to engage with those markets and identify with the places where those pre-conditions exist to restart in a phased way," he said.
Seabourn has a couple of advantages when it comes to that normalization process in that it does serve an international guest base, instead of primarily one made up of North American travelers. It also has the advantage of having smaller ships, which is something that "perhaps gives us the opportunity to manage the environment in a unique way."
When things do return to sailing, the cruise industry won't be able to just flip on all at once. It's going to happen in a phased way.
"I expect we'll turn things on more in a cadence and it won't be a lights on," he said, adding that it's still "impossible to know, it would be impossible to speculate, we don't know."
What advisors need to know
The nature of a booking with Seabourn, mainly its price point, lends guests to book heavily through the advisor community.
"A voyage on Seabourn is a big decision for people to make, they'd like to have someone to talk to so the trade provides an important role in that. We are very fortunate to have an incredible support with the trade.
And while the near term "has as much uncertainty as much of us has ever seen," Leibowitz said, the medium and longer term holds opportunity for advisors to give their clients some kind of certainty that has been absence by getting a vacation on the books.
"Even if you booked a vacation a year from now, your guests should have least have something booked. We have very generous change policies," he said. "Getting something on the books helps break the ice, gets you some earners, and gives the consumers a mindset shift."
It also allows advisors to get some commission as Seabourn is currently paying commission at the time of payment in full and guarantees their client is able to reserve a sailing before inventory inevitably fills up and prices increase.
"We are going to raise prices and there will be less inventory. People are booking. This is a good time to book. If people want to be able to get away, this is the time. I would tell you when I talk to past guests, they all say the same thing that they can't wait to go on Seabourn. When you hear people say that, you have to get them to lock something in."
For next year, "Alaska is looking very good as is the Mediterranean," Leibowtiz said.