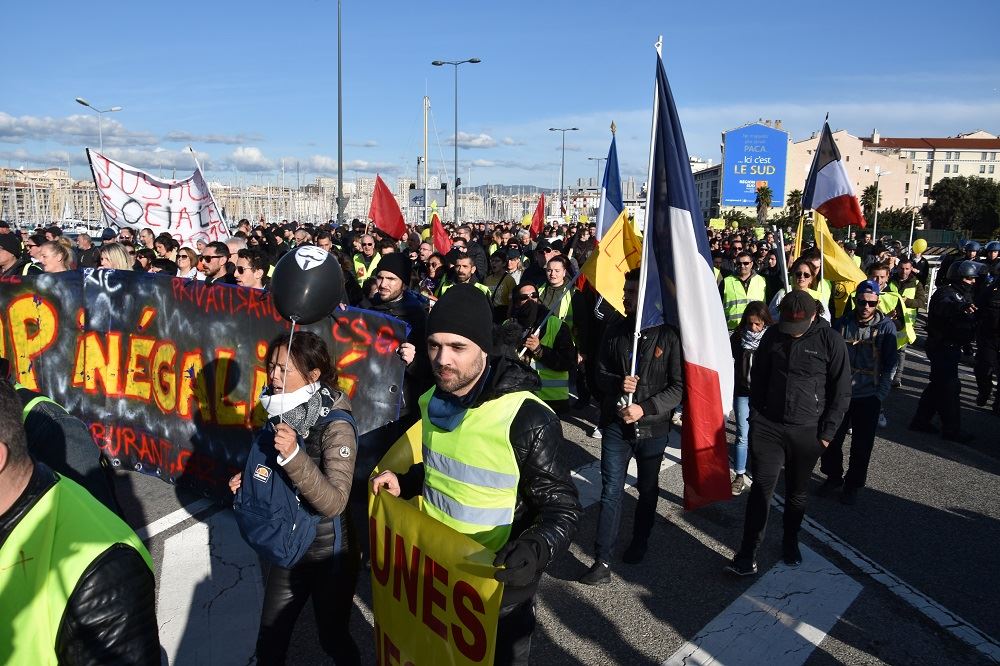 Strikes across France entered its second day on Friday, causing more widespread travel disruption as union workers protest the government's pension reform.
It follows Thursday's 245 demonstrations against President Emmanuel Macron's proposed plans for pension changes. Many were peaceful, although there were some reports of police deploying canisters of tear gas.
According to the Ministry of the Interior, more than 800,000 people demonstrated on Thursday, with 65,000 in Paris, marking the biggest mass strikes France has seen since 1995.
A new universal points-based pension system, which would change how pensions are calculated, would effectively give full pension benefits only to workers who retire at age 64. France's official retirement age is 62.
Organizers have currently set no end date to the general strike of the country's unions, though demonstrations and disruptions are expected to last at least through Monday.
There have been 285 flight cancellations and 288 delays to flights in and out of Paris, according to Flightaware. France's civil aviation directorate said on Friday, 20% of all flights going in and out of Paris-Charles de Gaulle, Paris-Orly, Beauvais, Lyon, Marseilles, Toulouse, and Bordeaux will be canceled; and warned delays on Saturday were possible.
On Thursday, 90% of France's national railway company, SNCF, were at a standstill. Disruptions are expected to continue through the weekend, with almost all high-speed train services canceled and most of the Paris metro shut down. SNCF has canceled ticket sales throughout the weekend.
The demonstrations also impacted key tourist attractions. The Eiffel Tower was closed Thursday, although it appears to have been reopened Friday, according to its website. The Louvre closed some of its galleries, and the Palace of Versailles shut down.