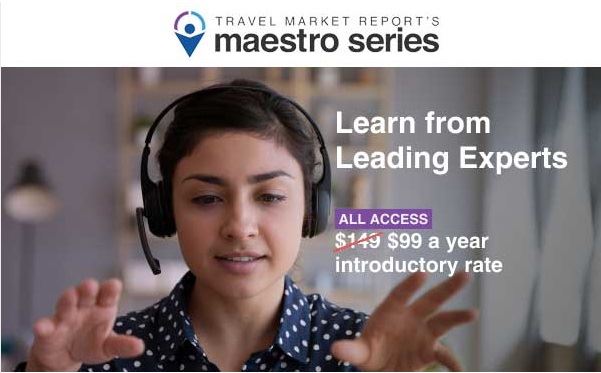 The new subscription training service, TRAVEL MARKET REPORT'S MAESTRO SERIES, is now live.
The series allows advisors to access learning videos on the business of running a business, giving advisors the access to experts and lessons they need, on their own time, to move their agency business forward.
Areas of focus include legal, finance, accounting, digital marketing, CRM, service fees, PR, sales and more, rolled out over the next few months to allow advisors to stay up-to-date in a rapidly changing landscape.
The debut lessons focus on Public Relations and Legal subject matter. All subscriptions include access to over 50 learning videos from leading experts, coaches and a "Dream Team" of lawyers covering all facets of the travel business and access to over 15 business professionals that can provide personalized guidance for advisors.