TSA Will Accept Expired Driver Licenses During COVID-19 National Emergency
by Daniel McCarthy /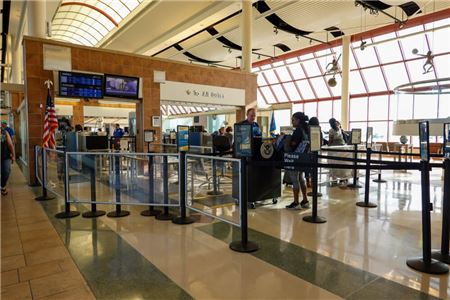 The Transportation Security Administration (TSA) said this week that it would accept expired driver's licenses for domestic flights for a year after the expiration date because of the disruptions caused by COVID-19.
"Travelers with a state driver's license that expired beginning on March 1, 2020, and who are not able to renew at their state driver's license agency may still use it as acceptable identification at the checkpoint," the TSA's website now reads.
"TSA will accept expired driver's licenses a year after the expiration date, plus 60 days after the duration of the COVID-19 national emergency."
2020 was supposed to be the year that the TSA began enforcing its REAL ID policies that would make it impossible to travel domestically without a REAL ID starting on Oct. 1, but the Department of Homeland has said that the date should be delayed because of the disruptions.
In a statement this week by the DHS, members of the Transportation and Infrastructure Committee and members of the Committee on Homeland Security and Subcommittee on Transportation and Martime Security, called on DHS Acting Secretary Chad Wolf to delay the implementation.
"The travel and tourism industry, and the aviation industry in particular, have been hard hit by this global pandemic. The last thing travelers need is more uncertainty around traveling."
The TSA announced another rule change earlier this week—it would be allowed one 12-ounce of liquid hand sanitizer in carry-ons instead of enforcing the 3.4-ounce limit.