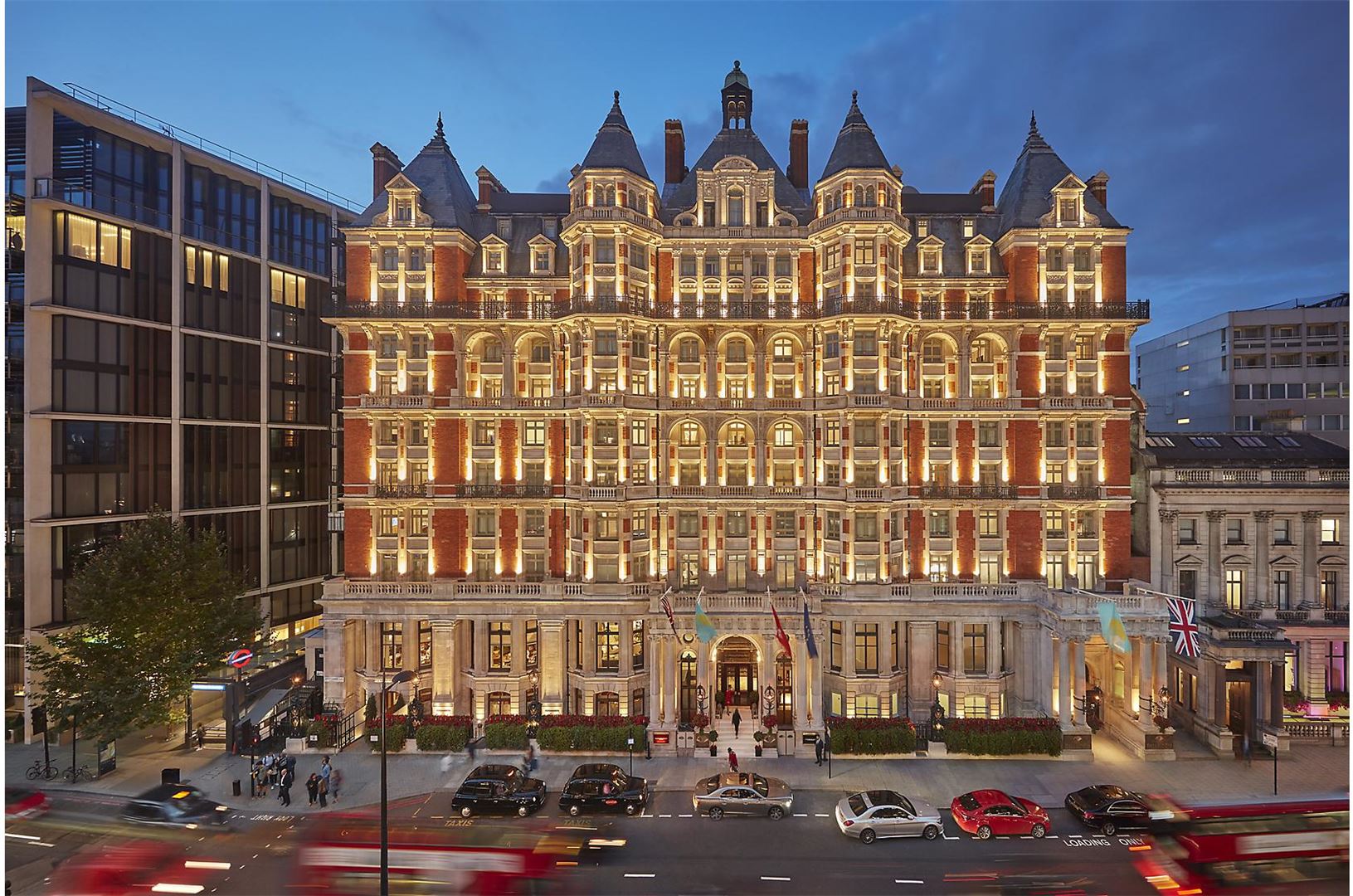 Mandarin Oriental London is back in business and, if anything, it is even more welcoming than ever. GM Amanda Hyndman wowed many discerning American travelers when she ran Mandarin Oriental Bangkok. Now, back in her homeland, she is the lady of the quintessential English house, ironically opened in 1889 as a Central London pad for unmarried gentlemen.
Those privileged men of means wanted both town and country, and this is what the 180-key hotel still offers today. Half of the rooms in the nine-floor building face directly across the street to Harvey Nichols, with Sloane Street and Harrods slightly to the right. The other rooms stress that this is the only hotel that is actually in a Royal Park; guests can look down into leafy Hyde Park to see, at various times of the day, close-up views of mounted cavalry practicing, sometimes in full military regalia.
In December 2016, hotel owner Mandarin Oriental Hotel Group started a two-year total renovation, starting with one wing and then the other. A rooftop fire on June 6, 2018, called for a complete closure, with public areas reopened on Dec. 4 2018, and bedrooms opened this April. Looking back, Amanda Hyndman, who had joined her 600-strong team in volunteering during the closure, says reopening restaurants first got her "orchestra" back into professionalism worthy of the New York Philharmonic.
Diners, of whom 80% are from outside, immediately flocked back. Why is this hotel such a draw for Knightsbridge residents and others? They love the modern-Brit DINNER by Heston, looking straight into the Park. Daniel Boulud's burgers, and steak and frites, in cozy Bar Boulud attract some carnivore regulars several times a week. Afternoon tea in the Rosebery Room is perfect for Ascot-type hats and catching up with what's on. And as for the bar, well, this is private equity personified, and not only at the end of a long working day.
Let us look at the rest of the hotel. Joyce Wang has managed the marvel of marrying English history with nature today. The former, formal reception area is now a big-windowed lounge, across from chic desks that suffice for check-in until the obvious evolution means most want to check-in digitally. Upstairs, corridors are shades of pale green with a pale-brown carpet that apparently was even paler before the GM said it just was not practical.
My first thought on entering suite 222 was this is a highly livable, London apartment – salon and bedroom separated by a large bathroom, all three with park-view windows. Coloring of the main rooms is shades of taupe, rising from soft carpets inset in pale wood surrounds, up via paneled walls to backlit cornices framing ceilings. The salon ceiling bears a horizontal light fixture with 16 frosted glass acorns, and the dark marble ornamental mantelpiece is flanked by framed stacks of wood logs.

The penthouse suite at the Mandarin Oriental. Photo: Mandarin Oriental.
A well-thought-out selection of books, with authors as diverse as John Le Carré and Sir David Tang, is next to an umbrella, furled and ready. The bathroom is a white marble haven, with Villeroy & Boch furniture, Gallarde robes, Liddell towels, both Jo Hansford and Miller Harris toiletries, and a plastic duck. The bed has a dark green padded leather headboard with fiber optics, Josephine Home linens; and, nearby, a closet with proper traditional wood hangers, plus a yoga mat in a leather bag. My night turndown includes a wrapped lens cleaner with the Mandarin Oriental fan logo on it.
In the morning, my favorite newspapers hang outside the door, without request. I head down to the 24/7 fitness center. As I work the Technogym – some pieces are Citterio – I look one way to the pool, the other to an Arke set and Invanko weights. On the way out, I notice the spa has Bastien Gonzalez, plus Nescens, Philip Kingsley, Sodashi, Voya, and more.
After last night's Boulud burger – the one with wagyu and foie gras - breakfast is at DINNER, at a park-side table (wear male servers wear complementary dark green suits). Johannes from Munich offers the daily juice, a thick blackcurrant tincture, and, "What kind of coffee?" Plain dark wood tables have charcoal mats, white Studio William china, wood Peugeot mills, lemon-colored Porthault napkins. The buffet is good on gluten-free, fruits and hummus, and Brown Cow Organics yogurts. Slices of already-cut, nut-filled breads are brought toasted, with Netherend Farm butter wraps, and Tiptree plus Wendy Brandon preserves. Eggs are cooked to order.
Perhaps, to celebrate feeling so at home here in London, I should splurge on a glass of Möet plus Petrossian ossietra? Perhaps those prefer breakfasting overlooking the Thames would prefer, say, Corinthia London, or The Savoy. But for those wanting a Royal Park, this is the ideal London home.