Three Orlando Victims Have Ties To The Travel Industry
by Daniel McCarthy /
Edward Sotomayor Jr. Photo: Facebook
Three of the Orlando shooting victims have ties to the travel industry.
"We are sickened by the violence and hate on display and stand shoulder-to-shoulder with our Florida members, the broader travel and tourism industry and the LGBT community in condemning this attack and supporting those who need our support during these difficult times," the American Society of Travel Agents (ASTA) wrote in a statement on Monday.
A number of the victims had travel-industry ties, including one who worked at a travel agency, a Universal Orlando employee, and a former cruise line and theme park entertainer.
Edward Sotomayor
Edward Sotomayor Jr. was a brand manager at Al and Chuck Travel in Sarasota, a Travel Leaders agency. The 34-year-old, who was known to his friends as "Top Hat," had been working at the agency since August 2014. He was a tour leader on the agency's Caribbean cruise in January and was set to launch marketing for the agency's 2017 Cuba cruise this week. He was also the national coordinator for the agency's "Drag Stars at Sea" cruise.
In a statement on Facebook, Travel Leaders wrote that "we have lost one of our own," and that "all of us are mourning the overwhelming loss of so many lives extinguished in yesterday's senseless attack striking at the very heart of one of America's premier travel destinations, Orlando."
According to one of the owner's of Al and Chuck, Al Ferguson, "Eddie did what he loved."
Ferguson told the Orlando Sentinel that, despite the dangers of LGBT travel in certain parts of the world, Sotomayor "was a person who said, 'We cannot be afraid.'"
Luis Vielma
Luis Vielma, 22, was a worker at Orlando's Universal Studios.
Vielma, who was from Acapulco, Mexico, had been working at Universal for three years to pay for his studies; he was enrolled as an Emergency Medical Services student at Seminole State College.
In a statement, Universal Orlando president and COO Bill Davis said the theme park is "deeply saddened over the loss of our Team Member. We are working to support his friends and colleagues here at Universal Orlando. Our thoughts and prayers are with Luis, his family, and all the victims of this tragedy."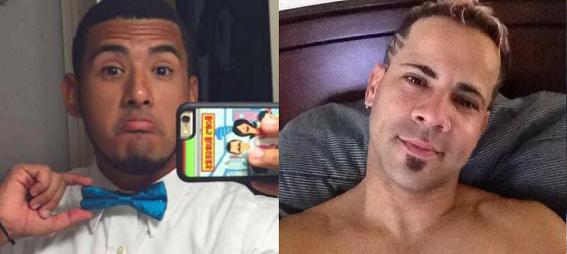 From left to right: Luis Velma and Xavier Emmanuel Serrano Rosado. Photo: Facebook
Serrano Rosado
Xavier Emmanuel Serrano Rosado, 35, was a former performer at Walt Disney World and on Norwegian Cruise Line.
The father of one had also worked on Disney Live's Mickey's Rockin' Road Show.
Several of Rosado's friends and family took to Facebook this week to pay tribute, including Kyle Vest who wrote that Rosado was "one of the best fathers I know" and Eric Torres Santiago, wrote that "heaven has gained a talented salsa dancer who had a lot of dreams and aspirations."