U.S. Virgin Islands Reverses Course, Closes Doors to Tourism Again
by Daniel McCarthy /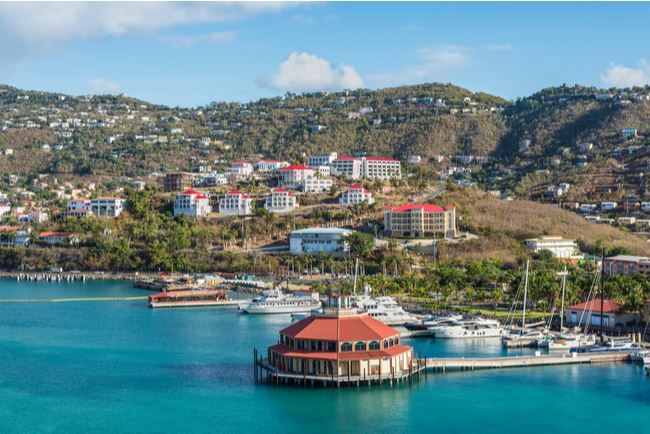 The U.S. Virgin Islands (USVI) on Thursday announced that it would again be closing its doors to leisure tourists starting on Wed., Aug. 19, "in an effort to contain the spread of [COVID-19]," USVI Tourism said in a statement.
According to USVI Governor Albert Bryan Jr., USVI will go back to its "stay-at-home" phase of its COVID-19 response for the next two weeks, when it will again reevaluate the decision.
The move is in reaction to a bump in USVI COVID-19 cases—according to Worldometers, the USVI has 197 active cases and has had 682 total active cases, and 9 deaths, of COVID-19 since the pandemic began.
"When we announced our COVID-19 alert system in May, I indicated at that time that we would retreat … to a more cautious state of alert if conditions warranted. Unfortunately, we have arrived at that point this week," Governor Bryan said during a press conference Thursday afternoon.
Starting on Aug. 19, all hotels, villas, Airbnbs, and other accommodations will not be able to accept or book any new reservations or admit any tourists for at least 30 days, Bryan Jr. said. Government travelers, flight crews, and other emergency personnel will still be able to make reservations as long as they have written authorization from the government agency they are visiting.
USVI restaurants will now be allowed to offer takeout and bars, nightclubs, and cabarets are to remain closed for as long as the state of emergency lasts.
"We appreciate the concerns of our tourism partners and stakeholders, however, with the recent spike in cases we are seeing, especially in the St. Thomas-St. John district, we must reset, take stock, safeguard human life, and prepare for restarting our tourism economy at a later date," said Commissioner of Tourism Joseph Boschulte on Thursday.
USVI originally closed its borders at the end of March and had started to reopen to tourists in July. It was requiring anyone traveling from a state with a COVID-19 infection rate greater than 10% to take a negative test (molecular/PCR/rapid) five days prior to travel.