United Airlines Grounds All Boeing 777s After Engine Fails Mid-flight
by Daniel McCarthy /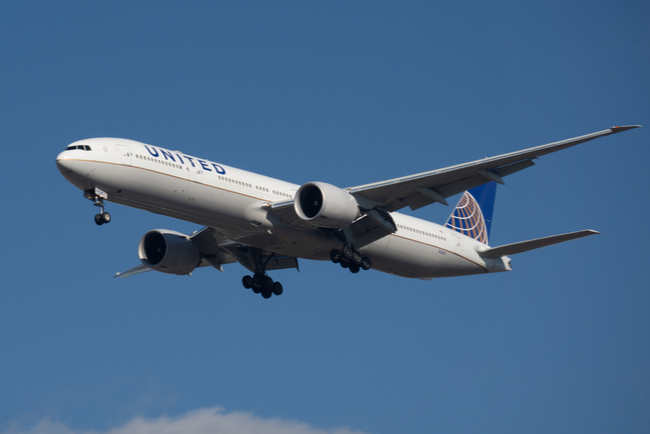 United Airlines is grounding all of its Boeing 777 aircraft after a flight on Saturday from Denver to Honolulu had its engine's fan blades fractured and fall off shortly after takeoff.
Videos published on social media, taken by passengers onboard, showed the engine fire mid-flight along with debris falling to the ground in Broomfield, Colo., a city a little over 30 miles away from Denver International Airport. According to Police in Broomfield, no residents were injured or harmed by the falling debris
Flight 328 @united engine caught fire. my parents are on this flight ???? everyone's okay though! pic.twitter.com/cBt82nIkqb

— michaela?? (@michaelagiulia) February 20, 2021
New video of @united engine debris crashing to the ground in Broomfield. Sound up! From Mark Moskovics pic.twitter.com/X8OvKfSUpH

— Matt Mauro (@mattmauronews) February 21, 2021
The flight was able to make an emergency landing, returning to Denver International Airport shortly after takeoff, and none of the passengers or crew members onboard were injured. However, the incident caused United to make the decision to pull 24 of its Boeing 777 aircraft out of an abundance of caution, it said.
"Flight UA328 from Denver to Honolulu experienced an engine failure shortly after departure, returned safely to Denver and was met by emergency crews as a precaution. There are no reported injuries onboard. We are in contact with the FAA, NTSB and local law enforcement," United said.
"We are voluntarily and temporarily removing 24 Boeing 777 aircraft powered by Pratt & Whitney engines from our schedule. We will continue to work closely with regulators to determine any additional steps and expect only a small number of customers to be inconvenienced.
"Safety remains our highest priority, which is why our crews take part in extensive training to prepare and manage incidents like UA328. We remain proud of employees' professionalism and steadfast dedication to safety every day."
Shortly after United made its announcement, Boeing released its own statement on Flight 328, explaining that it was recommending and supporting "suspending operations of the 69 in-service and 58 in-storage 777s powered by Pratty and Whitney 4000-112 engines while the NTSB investigation is ongoing."
The aircraft likely won't return to service until the Federal Aviation Administration (FAA) gives the go-ahead—the FAA has already ordered inspections of all the 777s with that same engine. According to the FAA, the inspection "should be stepped up for the hollow fan blades that are unique to this model of engine, used solely on Boeing 777 airplanes."