Vow Renewals are a Great Business-Building Opportunity for Travel Advisors
by Richard D'Ambrosio /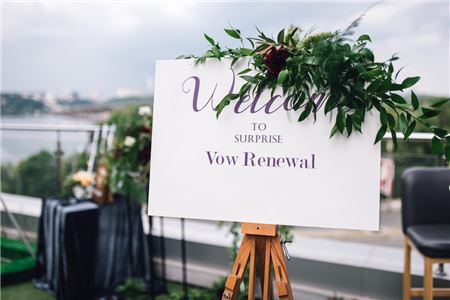 Specializing in destination weddings is one of the most popular niche strategies for travel agents today, but some experts believe that advisors lose out when they think of those nuptials as "one and done."
"Agents need to mine their database for clients who might be coming up on a significant wedding anniversary, and suggest to them how a vow renewal trip would be a romantic way to commemorate the date," said Lisa Sheldon, owner of I Do Island Weddings, in Janesville, Wisconsin, and president of the Destination Wedding & Honeymoon Specialists Association (DWHSA).
"As a travel agent, your role as an advisor and advocate goes far beyond matching clients with existing products. By listening to your clients speak about their lives, you are often in a position to suggest things like a vow renewal, that will greatly enhance not only their travels, but their lives," said Geri Bain, co-author with Susan Breslow of the new book The Complete Guide to Vow Renewals.
Experts recommend closely tracking wedding dates for clients, so that you can time your outreach, including sending anniversary cards, renewal package information, and using as many channels as possible, including mail, email and social media.
Bain sees the greatest opportunities for 10th, 25th and 50th anniversaries, with the older couples having an increasing likelihood of larger groups including children and grandchildren. "A good travel agent knows when someone's anniversary is coming up. One savvy agent I know simply sends an email, 'Hey, I see your 25th is coming up. Want to do a vow renewal?'"
But too often, travel advisors don't create marketing plans that incorporate this kind of thinking. "Sometimes agents are too focused on generating new clients, they don't comb through their existing clients to market to them, and that's a shame," Sheldon said.
Jennifer Borgh, a former Wedding Planners Institute of Canada (WPIC) "Planner of the Month" and a longtime romance travel specialist, believes agents overlook vow renewals also because they are smaller groups than destination weddings.
"A lot of [vow renewal] couples do a very small group, if not just the two of them and possibly their kids," Borgh said.
But this shouldn't deter advisors, said Bain, a former journalist who worked at both Travel Market Report and Modern Bride, because a couple might otherwise not place a vacation with you if you don't suggest it. Something is better than nothing.
According to a poll conducted by the authors at their website, OurVowRenewal.com, 43 percent of couples who held a vow renewal said they spent under $499 for their ceremony and celebration, while 35 percent reported spending more than $1,000.
They might book direct without you
Bain and Sheldon said the industry is ramping up their dedicated vow renewal packages, with some resorts and cruise lines reporting they host over 100 vow renewals a year. All-inclusive resorts like AMResorts, Playa Hotels & Resorts and Sandals, are leading the way, so a couple may get the idea on their own and book direct.
"I've talked to a lot of couples at resorts like Sandals who renewed their vows by themselves, and they said, we are going to do this again with our friends and families the next time," Bain said. "Exchanging wedding vows in a faraway locale is romantic, so it makes sense many couples decide to celebrate their anniversaries similarly."
"With people promoting bucket lists, and their activity on social media, I think vow renewals are only going to grow in popularity," said Borgh, currently the owner of the destination wedding venue Borghinvilla, Discovery Bay, in Saint Ann Parish, Jamaica. "Couples are trying to live their best life, celebrate the little things, and keep their marriage relevant."
Don't be afraid to get personal
Bain sees vow renewal trips as a way for advisors to deepen their relationship with a client for other business. "You're in your clients' lives in ways most people aren't. It strengthens the relationship with the client and puts you in the role of consultant, maybe even friend or therapist, to be helpful in their lives."
She notes how vow renewals are even more personal than a wedding, "because it's pulling on your past, the good times and bad, the children and grandchildren in your life. What a heartwarming way to celebrate to the fullest the togetherness a couple has shared. If you, the agent, can deliver that great trip commemorating all of this, you have a chance to really solidify that client's loyalty."
For those agents who feel like they are being too intrusive, Bain suggests a mindset shift. "You're not pushing something. You are tapping into the emotions of something they likely want to do," she said.
Bain recommends that agents set up a Google News Alert for celebrity vow renewals, to provide the content for emails and social media posts. (Bain and Breslow also said they can customize private label versions of their book to share with their clients as a lead magnet or giveaway.)
Author Geri Bain offers the following suggestions for agents looking to promote vow renewal trips to their clients:
Be planful: About a year in advance of a major milestone, reach out to congratulate your client on their upcoming milestone anniversary and ask if they've thought of planning a romantic trip and possibly inviting their family and/or friends to celebrate a vow renewal with them. Mention some ideas of vow renewal ceremonies they might like, based on what you know about their bucket list or favorite destinations, such as a traditional Hawaiian ceremony.
Tap into the power of their marriage narrative: Perhaps they had more love than money and couldn't afford the big celebration they wanted, or they really wanted the romance of eloping but felt pressured to have a big wedding. Now that they're self-sufficient adults, they can celebrate in a way that better reflects their taste and style. Or maybe one member of the family survived something like a life-threatening illness, and there is a powerful reason to celebrate.
Think of the children: Since most first marriages don't have the couple's children present, a vow renewal can underscore how important family is to the couple and set a beautiful example of the love between a husband and wife. This is something I hear a lot. Renewing marriage vows, especially when done in a very personal way, gives many positive messages about love, commitment and family to the next generations.
Additionally, sometimes it's the children who plan the vow renewal for their parents. If you know that your client's parents are hitting a milestone anniversary or birthday, then you may find that planting the seed about a family reunion around a vow renewal could flower into an event that makes you a real hero, just for suggesting it.
Filling an empty nest: As kids leave home to begin their own life, it's time for a couple to refocus their energy on each other. Planning and celebrating a vow renewal can help to adjust during this transitional time. For couples who are taking stock, a vow renewal — especially one that includes personalized vows — can be a way to focus on the positive attributes they each contribute to the relationship.