What You Might Not Know About French Polynesia
by Dori Saltzman /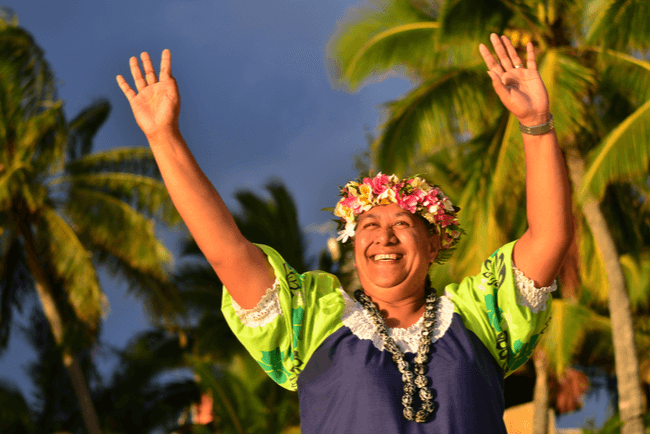 French Polynesia, the "Islands of Tahiti." Both refer to the same geographic region comprising 118 islands and five archipelagos spread over four million square kilometers of ocean in the eastern South Pacific. Technically, the country is French Polynesia. Tahiti, by itself, is just one of the islands within French Polynesia, but the two are often used interchangeably.
If that's news to you, read on for a few more things you might not know about French Polynesia, why more than just your honeymoon clients will like it, and how becoming a certified specialist can benefit you.
More than Honeymoons
The biggest misconception travelers – and advisors – have about French Polynesia is that it's only a honeymoon destination.
"I am constantly surprised how many people have the misconception that the islands of Tahiti is for honeymooners only," said Christina Turrini, a travel advisor with Frosch and a Tahiti specialist. "While it is an amazing honeymoon destination, there are 118 islands and each archipelago and island offers a unique experience."
Active travelers, for instance, can spend their days snorkeling, kayaking, and doing jeep rides around the island. Foodies will love the many flavors that come from the islands' multicultural heritage.
"I have led wine groups and also booked dance groups to Tahiti," Turrini said. "I am seeing many more families traveling to the islands of Tahiti in the last two years. There is so much to do, see, explore and experience."
The growth in family travel to French Polynesia even spurred year-round cruise operator Paul Gauguin to add kids' programming to select 2022 summer sailings.
To help combat this misconception, Tahiti Tourisme North America is actively working to reach the family and adventure travel markets, as well as green travelers, reduced mobility travelers, and the LGBTQIA community.
Beyond the Society Islands
The most visited islands in French Polynesia are what are commonly referred to as the Society Islands. These include Tahiti, Bora Bora, Moorea, Raiatea, and Huahine. But there are many more islands that can be visited, including in the Society Islands, as well as the Tuamotu Islands and the Marquesas Islands. As with Hawaii, your clients can fly between the French Polynesian islands. Alternatively, there are also some ferries clients can use to get around.
However, generally speaking, the best way to get around French Polynesia and see islands outside of the big three (Tahiti, Bora Bora, Moorea) is to be on one of the smaller cruise ships in the region, like Paul Gauguin, Windstar or Variety Cruises.
To visit some of the more far-flung islands, such as Fatu Hiva or Ua Hoka in the Marquesas, they'll need to fly or try out the one-of-a-kind itineraries on hybrid cargo/passenger line Aranui.
To make the most out of a trip to the region, most Tahiti specialists recommend combining land and cruise, something many cruisers are already doing. According to Tahiti Tourisme North America, the average stay for clients who visit by cruise is 10 days at sea and five on land.
"When traveling to the islands of Tahiti, getting a taste of two of the five archipelagos enriches the experience," Turrini said, adding she's seeing more of demand to pair destinations in the Society Islands with those in the Tuamotu Islands.
Cruise Capacity Restraints
Like many other spots in the world, French Polynesia is trying to maintain its pristine landscapes, and protect the few cities it has from being overrun with tourists. As part of this, the country enacted cruise ship capacity restraints as of January 1, 2022.
Ships that sail year-round in the region are limited to 700 passengers, while transpacific ships that turnaround in Tahiti may carry up to 2,500 (the capacity of the future Papeete cruise terminal). Transpacific ships that stop in Tahiti but don't begin or end journeys there may carry up to 3,500 guests. The islands of Tahiti (Papeete), Moorea and Raiatea are preferred for those stops.
In Bora Bora, specifically, the number of cumulative passengers cannot exceed 1,200 passengers per day. That means two ships of 1,000 passengers each cannot stop in Bora Bora on the same day.
No ships carrying more than 3,500 passengers may stop in any French Polynesian port.
Furthermore, the country is actively working to achieve a total of 1,000 calls per year with 90% of them being ships with less than 600 passengers.
Diverse Accommodations
Picturing a gorgeous overwater bungalow when you think of French Polynesian accommodations? You're not alone, but the region has more than overwater accommodations.
You can offer your clients luxury resort hotels, beach bungalows, lodges, even bed and breakfasts.
"One of the myths in traveling to French Polynesia is it has to be all luxury all the way," said Turrini. "We can mix up the itinerary and work with budgets including charming boutique Polynesian feel properties, which enhance the experience and also bring the cost down."
Turrini told TMR she likes to build up her clients' experience by having them stay in more than one type of accommodations, starting with a garden pool bungalow, beach bungalow or villa and ending in an overwater bungalow.
"Each of these room categories has a unique feature… if you are looking for more privacy, beach bungalows and villas can offer the most seclusion."
Hotel capacity continues to grow with new hotels scheduled to come online through the end of 2027, according to Tahiti Tourisme North America.
Not "Just Anther Tropical Island"
Tahiti and French Polynesia are famous for beautiful lagoons and white sandy beaches, but there's more to the islands than pristine nature. There's a diverse multicultural backdrop that might surprise more than a few clients. In one trip, visitors can interact with a wide variety cultures including Polynesian, French, and Asian, particularly Chinese.
Foodies with multicultural tastes, in particular, will be in heaven. One night they can be indulging at a Tahitian tamara'a, or Tahitian feast and the next night taking in the finest French cuisine, followed by authentic Chinese on a subsequent night. Even better? Unique fusions of the three.
"I cringe when I hear people say 'Tahiti is just like any other island destination,'" Turrini told TMR. "The culinary experience alone is unique to the islands of Tahiti. Fresh fruit and fish you would expect from an island destination is abundant, along with French-inspired sauces and styles of cooking. Then you have a strong Asian influence of spices, soy, ginger and peppers. The blending flavors are uniquely Tahitian."
Exclusive Training Program
According to Tahiti Tourisme North America, there are approximately 300 certified Tahiti specialists in the United States. While the number may seem small, the DMO told TMR the country is not interested in rapid growth. Slow, manageable growth is the goal.
To earn a Tahiti specialist designation, advisors must complete the e-learning program and book at least six trips in a year. Visiting Tahiti and booking more trips per year earns higher specialist designations and more benefits. Advisors must maintain a six-booking minimum each year to keep their Tahiti specialist status.
At the highest levels, Tahiti specialists receive leads from the Tahiti Tourisme website, are invited to participate in a Tahiti Tourisme fam trip, receive co-op marketing and advertising assistance, and can take a spot in a Tahiti destination booth at one consumer show per year.